AutoMatters: Mustangs by the Bay 2013
By Jan Wagner
One of the best things about car ownership is the opportunity to join car clubs and participate in club events, including car shows. With the long, sweeping bridge to Coronado on one side, and the modern highrises and convention center of San Diego on the other, Embarcadero Marina Park North at Seaport Village is surely one of the most beautiful places for a car show. It was time, once again, for Mustangs by the Bay, presented by the Mustang Club of San Diego.
The weather was absolutely perfect, with blue skies, thin streaks of wispy white clouds and just the right temperature. There were hundreds of iconic Ford Mustangs, organized by classes and years, and displayed on the rolling, grass-covered knolls. The cars ranged from the earliest Mustangs of the mid-60s to cars that were literally fresh off of the Kearny Pearson Ford showroom floor: stock cars, custom cars, racecars and even a few other vehicles, including Panteras and trucks. The vehicles and the backgrounds were spectacular. It was truly a photographer's dream.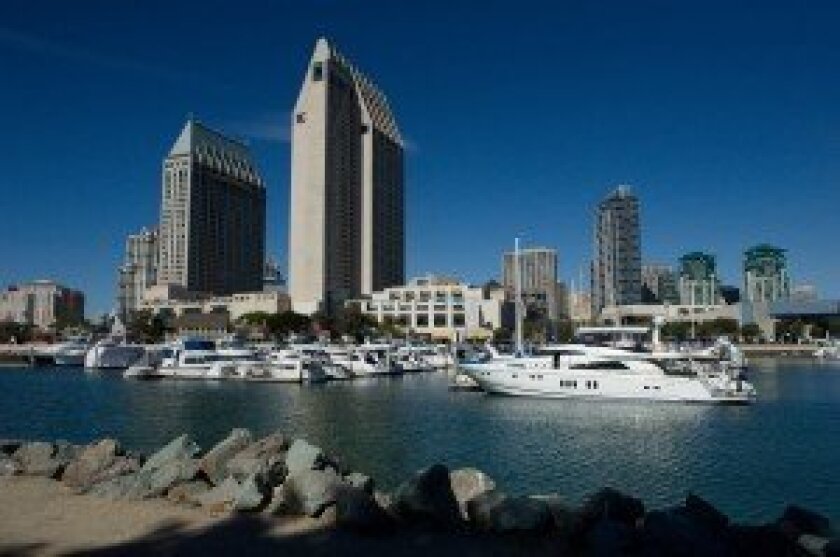 The event actually began the day before, as the Mustang faithful gathered for the club's traditional "meet and greet" Mexican buffet dinner at the Casa Guadalajara Restaurant in Old Town San Diego. The food was delicious and plentiful.
Volunteer club members arrived early the next morning to meet the mostly Mustang drivers and, using a carefully drawn map, directed them to their pre-assigned areas on the grass. It was a lot of work, but the Mustang Club of San Diego knows how to get it done.
The Boy Scouts presented the colors. Unwrapped kids' presents were brought for the VFW Post 1774's Holiday Toy Drive. We voted on around 40 different classes of vehicles.
Vendors had set up tents with car-related displays: everything from chrome plating, customs, painting, performance shops and more. J. Bittle (of the JBA Speed Shop) thrilled young and old alike by starting up the very loud, eardrum-rattling engine of his Historic Motor Sports Association, Group 6, Hinchcliff/Ross #29 Mustang, fresh from its recent and very successful outing at the 2013 Coronado Speed Festival. After passing car after car, he came in second (behind a Lotus) in a field of 30 vintage cars that included Corvettes, Camaros, Shelby GT 350s, Cobras and more.

There was a 50/50 drawing, a silent auction and my favorite, a raffle with plenty of donated prizes. While many (perhaps most) of the raffle items were new, I noticed that one of the raffle prizes was a large architectural drawing of the Michigan Proving Grounds, protected behind glass and in a frame that was well worn. Seeing that brought back great memories.
A few years ago I travelled to the Michigan Proving Grounds as a guest of Ford, for a presentation to the media of a new Ford F-150 truck. We towed heavy trailers, drove up very steep hills, crossed bone-jarringly rough surfaces, charged through mud baths, conquered challenging off-road trails and more, so that Ford could prove to us how well this new F-150 compared to the competition. It was an especially memorable experience, so even a slim chance to win an architectural drawing of that place to go along with my photos of it was appreciated. I wished I could have bid on it, but it was not one of the silent auction items. Imagine my utter surprise when one of my raffle ticket numbers was drawn and I went up to learn that I had actually won that drawing! What were the odds? Isn't it amazing how things work out sometimes? Later I phoned the person who donated it. I thanked him and asked where it came from. He told me that many years ago (in the 70s or 80s) a test driver at the Michigan Proving Grounds had given it to him as a gift. I will treasure this.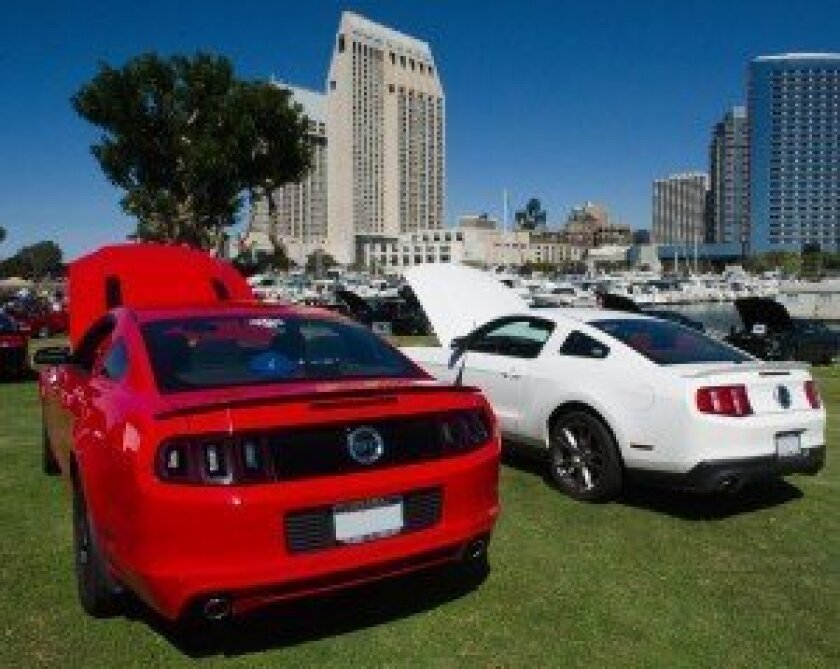 As our day in the San Diego sunshine wound to a close, the class trophies and special awards were presented. Steve Jacobs received the King of the Road Award, which recognized his years of hard work on behalf of our club.
Mustangs by the Bay ended with the drawing for the grand raffle prize: a flat screen TV, which was won by my friends Curt and Ruth. It couldn't have gone to a nicer couple. Curt had also won an award for his orange Ford Raptor.
As always, please write to me at
with your comments and suggestions.
Copyright © 2013 by Jan Wagner – #301
Auto
Matters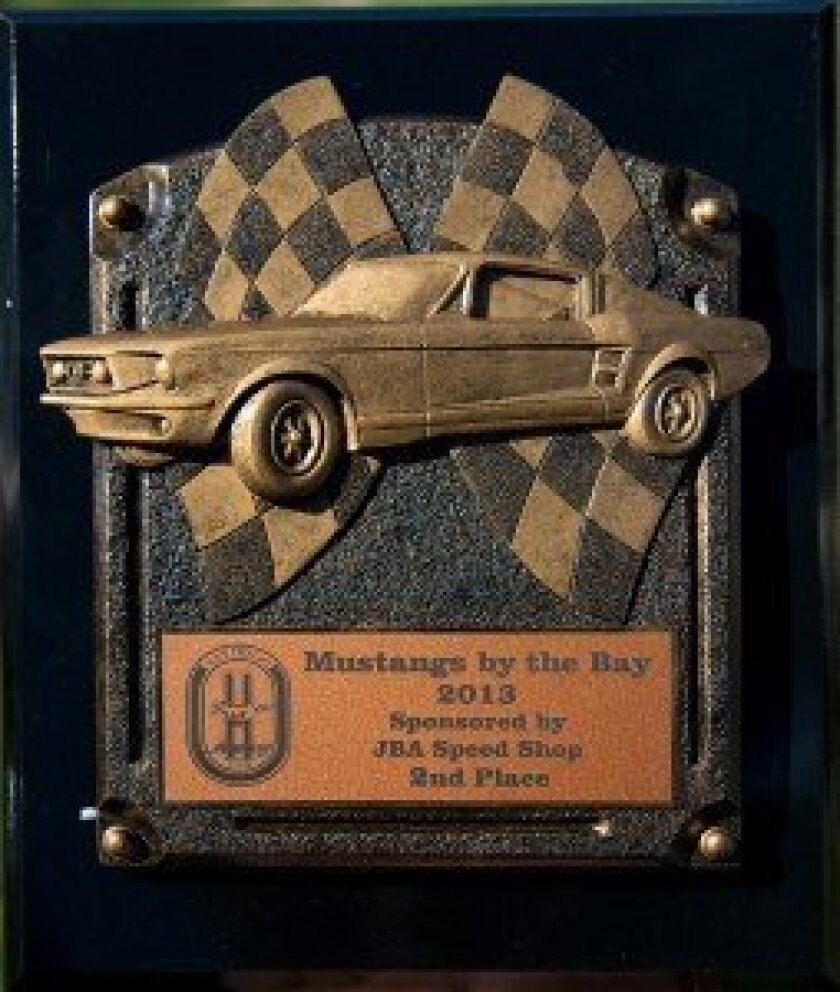 01018-20131006 Mustangs by the Bay-MCSD-Embarcadero-D3S-1of301018-20131006 Mustangs by the Bay-MCSD-Embarcadero-D3S-1of3
---