AutoMatters: NASCAR's 2013 Auto Club 400 – The Most Exciting Yet?
By Jan. R. Wagner
In the shadow and spirit of nearby Hollywood, NASCAR could not have scripted a more dramatic conclusion to the 2013 Auto Club 400. The scene was Auto Club Speedway in Fontana – a two-mile, very wide, high-speed, D-shaped oval track. The stars of NASCAR were there and eager to race. The weather was picture perfect as the fans settled into their seats for 200 laps of what would perhaps be the most exciting NASCAR Sprint Cup Series race ever at Auto Club Speedway.
Friday, at a pre-race ceremony at the track's Walk of Fame, Tony Stewart had placed his footprints in the wet cement alongside a bronze plaque, which will forever commemorate his win here last year.
The plot soon thickened as, afterwards, Stewart broke from tradition by departing immediately, leaving his loyal fans disappointed as they held out their Tony Stewart souvenirs, hoping to get his autograph. Perhaps he was preoccupied, concerned about his upcoming race on Sunday. If so, he had good reason to be.
Kyle Busch, last year's runner-up, was determined to script a different conclusion to this year's event by crossing the finish line first in his number 18 Interstate Batteries Toyota Camry. So too was Denny Hamlin, Kyle's teammate and the pole sitter driving the number 11 FedEx Toyota Camry. Adding to the drama, Toyota and Joe Gibbs Racing had never won this race before.
Kyle had already begun the weekend in fine form, winning Saturday's NASCAR Nationwide Series Royal Purple 300 race.
On Sunday, key roles in the unfolding drama were played out by Joey Logano, in his number 22 AAA of Southern California Ford Fusion; Tony Stewart, in his number 14 Chevrolet SS; Denny Hamlin and Kyle Busch. There was already bad blood from previous altercations between Hamlin and Logano, as well as between Stewart and Logano, and there would be more today.
Hungry for another win, Stewart was charging for a late race lead, but Logano would have none of it. He blocked Stewart, which slowed his advance. That relegated Tony to what would be a disappointing, distant 22
nd
He was furious.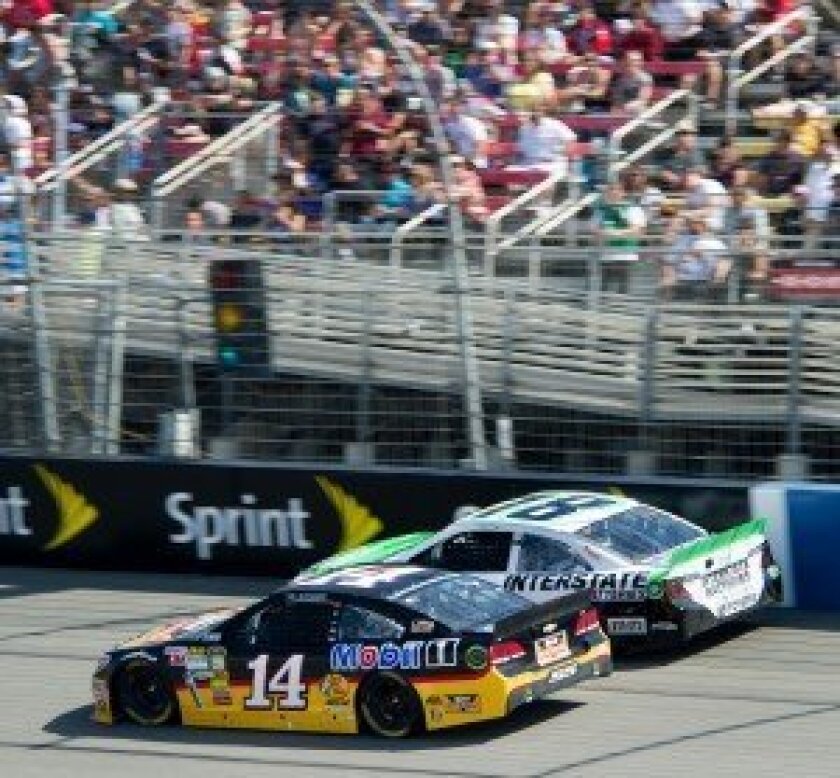 Logano also defended his position against Hamlin, sliding up and into him in the last turn of the final lap. Logano suffered a glancing blow against the outside wall and limped across the finish line in what would be recorded, in the revised race results, as third place. Hamlin, on the other hand, was not as fortunate. After they collided, his car was turned down the track. He was unable to avoid the solid inside wall, which he hit hard and almost head-on. The violent impact lifted his car up off of the ground and sent him on a trip to the hospital with back pain.
When they took each other out, Kyle Busch was there, squeezing by both of them to take the checkered flag first. He had led for 125 laps, at an average speed of 135.351 mph.
After the race, while Kyle celebrated, Stewart rushed over to confront Logano in the pits. Colorful language, a flying drink bottle and the intervention of pit crew members followed. To be continued, no doubt.
In the post-race interview, Crew Chief Dave Rogers said: "This is a really big deal. You know it's Joe Gibbs Racing's first win in California. It's Toyota's first win in California."
Kyle commented: "I did a lot of things today similar to what I did yesterday." "It's always cool when you can win both races."
"Man, I'm shocked for just everything that was going on there and how hard they (Hamlin and Logano) were running." "All I kept thinking was ... they're forgetting the third place car! They have no clue that I'm coming, they have no clue, they're just racing each other and I was like, surely the spotter has got to say something ... block the top, the 18's got a run or something ... but they were so focused in on one another that they just left the door open."
"We put on some wild races ... There at the end ... a battle through three and four, and again on pit road, another battle (between Stewart and Logano) after the race. That's part of racing sometimes, that's what this sport was built on. Just ask Cale Yarborough and Donnie Allison."
As always, I would like to hear from you with your comments and suggestions. Please write to
.
Copyright © 2013 Jan R. Wagner – #273
Auto
Matters
---