AutoMatters: You Can't Outrun a Radio!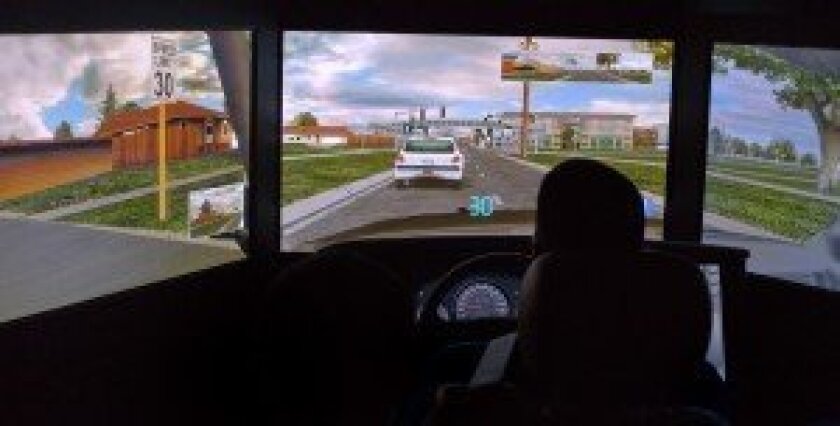 By Jan. R. Wagner
As the saying goes, in a police chase you can't outrun a radio. Combine the use of radios with the thorough emergency vehicle and pursuit training that police officers and deputies receive, and you'll see that lawbreakers really don't have much of a chance to get away. This installment of AutoMatters will reveal some of what they would be up against, courtesy of the San Diego Police Department.
The SDPD Police Academy is regional. It trains recruits for several police departments, including not only their own but also the San Diego County Sheriff's Department and police departments from Oceanside to Chula Vista, and from El Cajon to Coronado.
Driver training for recruits includes time in simulators, on the ground and behind the wheel. It begins with the basics and progresses from there. The basics include how to sit in a car properly, two-handed "shuffle steering" and more.
Some of the driver training is conducted on simulators, where recruits learn to do pursuits, emergency response driving (Code 3) and also traffic stops. If they get a radio-directed call, they have to drive to the call. It will be a Code 3, so it will be lights and siren. They will have to navigate streets, go through intersections and avoid traffic that may or may not yield to them. If they see a traffic violation, it might be that someone has run a stop sign and that they will pull over one or two blocks later – or a pursuit might go on for several minutes or longer.

If necessary, there are several ways to stop a vehicle. One is by throwing spike strips in its path. In training, the officers and deputies learn how to properly deploy spike strips, and how to judge the speed of the approaching vehicle. Their personal safety depends upon their situational awareness. Even though they are trained to use a parked police car for protection, they must be ready to move out of the way, in case the vehicle suddenly changes direction and tries to ram their vehicle.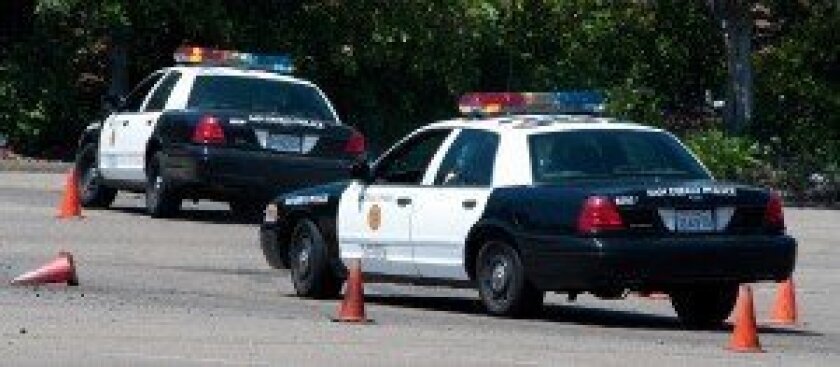 When a pursuit is necessary, officers and deputies are trained to use two police cars to chase the pursued vehicle (or, as it is known, the "rabbit). Unit number one follows the suspect and keeps him in sight, staying far enough behind the "rabbit" so that there is enough room to avoid a collision, if the "rabbit" slams on the brakes, or continue the pursuit without driving past, if the "rabbit" takes evasive action.
Unit number two, the communications car, also stays back far enough to avoid a collision, in case unit number one has to stop or take evasive action. That second officer or deputy is responsible for calling out the pursuit on the radio, giving their direction of travel and speeds, whether they are passing any cross streets and making any turns, and providing any other information that responding officers or deputies might need to know about, such as the number of occupants in the chased vehicle, if they are throwing out evidence or contraband, and if they are pointing or firing weapons. They also need to be listening to the radio so that if a supervisor asks questions, they will hear them and be able to respond. With the potential for having so much to do, all while driving in traffic and not knowing what will happen next, pursuits can be very intense and stressful.
SDPD has a variety of assets that they can call for, including tire deflation devices, canines and several helicopters that can aid in pursuits. Since this is a regional law enforcement operation, if the Sheriffs are in a pursuit, they can call SDPD for air support (ABLE) or their own (ASTREA). Chula Vista, National City, Harbor PD or other departments can also call for support.
Some officers, including SWAT and those involved in dignitary protection, may go on to the Federal Law Enforcement Training Center (FLETC) or other facilities to take advanced driver training. There they may learn about J-turns, ambush evasion, ramming to get through barricaded roads and other advanced driving techniques.
As always, I would like to hear from you with your comments and suggestions. Please write to
.
Copyright © 2013 Jan
R. Wagner – #272 AutoMatters
---