Award-winning author to speak in Solana Beach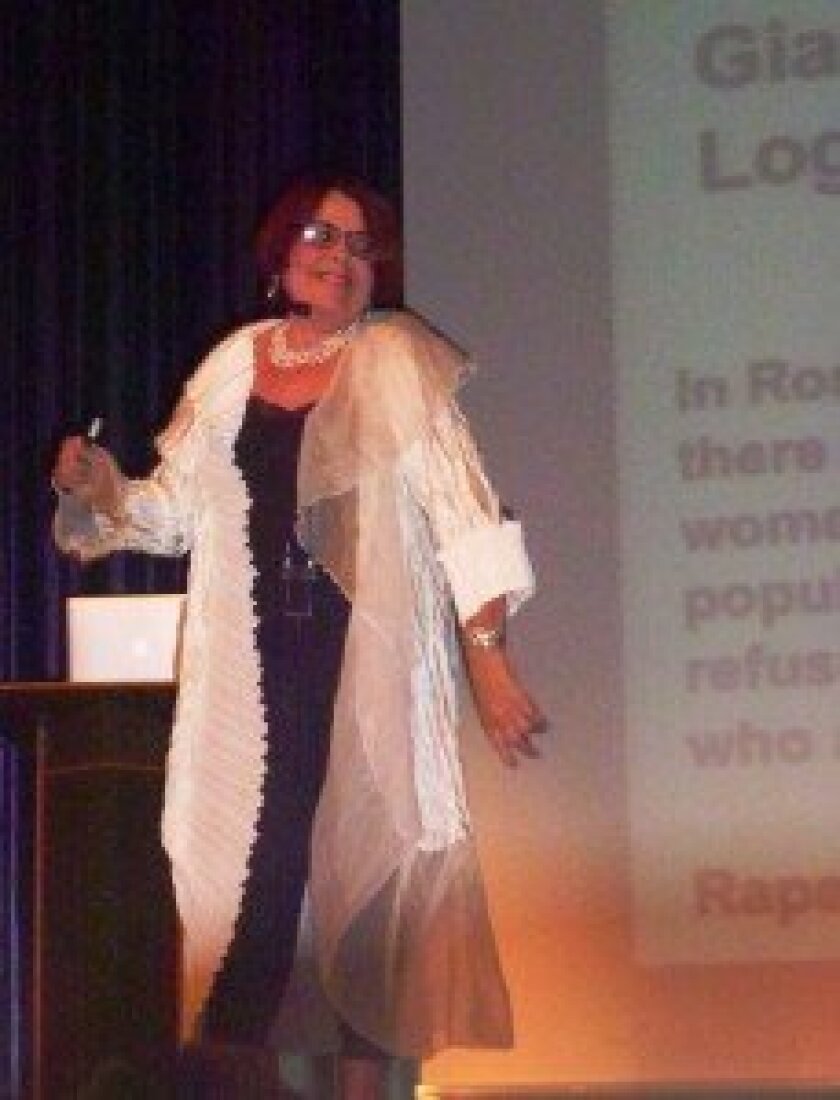 The David Alan Collection known for its stunning art and furniture will host a free live lecture series featuring award-winning art historian and cultural expert Jacqueline Hahn on Thursday, April 5, at 6 p.m. at the gallery on South Cedros Avenue. Her lecture, "Textiles of Asia," will explore the history of textiles and their importance in society throughout the ages. Refreshments will be served at 6 p.m.; the lecture will begin promptly at 6:30 p.m.
Hahn is known for the unique way in which she translates centuries of rich European history into consumable pieces of key information, and with an infectious enthusiasm and humor that makes the subjeect fun for anyone. She is an award-winning teacher, author, translator and linguistics and cultural expert specializing in continental art history, social mores, philosophy and literature.
"Textiles are extremely important in the history of humankind," Hahn said. "Their purpose is not just to cover or uncover the body, but also to illuminate our creativity, social rank, riches and spirituality. My lecture at the David Alan Collection will draw these different registers together with an analysis of how fashion and textiles influenced entire generations and cultures."
Hahn's education and expertise are steeped in European tradition. After receiving two master's degrees in comparative literature and English from the University of Grenoble, France, she taught at the Preston Manor County School while studying phonetics and linguistics at London University. She later returned to Paris, where she taught English for 11 years as a tenured professor. After moving to California, she studied and taught at the University of California, Irvine, where she received the "Distinguished Instructor" award for outstanding pedagogy. It was during this time that she began traveling extensively, devoting herself to art history, geographical and historic destinations while accumulating hundreds of slides of some of the most electrifying natural and cultural treasures of the world. Hahn is the author of three published books: two language textbooks in French and Spanish, and one cookbook, Moroccan Cuisine. She is a docent at The Irvine Museum, where she provides guided tours on a volunteer basis.
"It is a huge honor and is a sense of pride" said David Bardwick, owner of The David Bardwick Collection. "We have been fortunate enough to travel the world to find our treasures and display them for the world to see, and this is our way of way of saying thank you to our local neighbors, and gives them an opportunity to experience the history and insights of my favorite places. The goal of these series is to help further the awareness and understanding of Asia's influence and cultural traditions. Come join us for a relaxing and entertaining evening of art, food, music and fun." All of the concerts and lecture series will be held in the David Alan Collection gallery. The lecture and concert series will begin this spring and continue throughout the summer.
Bardwick has been a curator of fine artifacts and beautiful and rare wood and wood furnishings since 1986 when he started building a small business, Cut and Dried Hardwood. Bardwick's fascination with nature's simple, yet profound beauty started at an early age and has a deep and lasting effect on how he sees the world today. Bardwick searches throughout the Far East for the most unique, beautiful, and literally one of a kind pieces to be found, be it art, crafts, carvings or furniture. The David Alan Collection is also one of the largest green furniture and reclaimed furniture stores in Southern California. Bardwick's philosophy is "your environment should feed the soul."
For additional information, call (858) 481-8044 or visit www.TheDavidAlanCollection.com. For additional information about Jacqueline Hahn, visit www.JacquelineHahn.com
---