Award-winning Encinitas Nursing and Rehabilitation Center considered 'a family serving families'
By Diane Y. Welch
Three years ago when Joseph Franz took over as executive director of the Encinitas Nursing and Rehabilitation Center, located on Santa Fe Drive, it was after he'd learned the intricacies of compassionate skilled nursing care from the ground up. In so doing his intimate knowledge of how to provide quality care has been an asset that has had a winning effect on the center and its staff.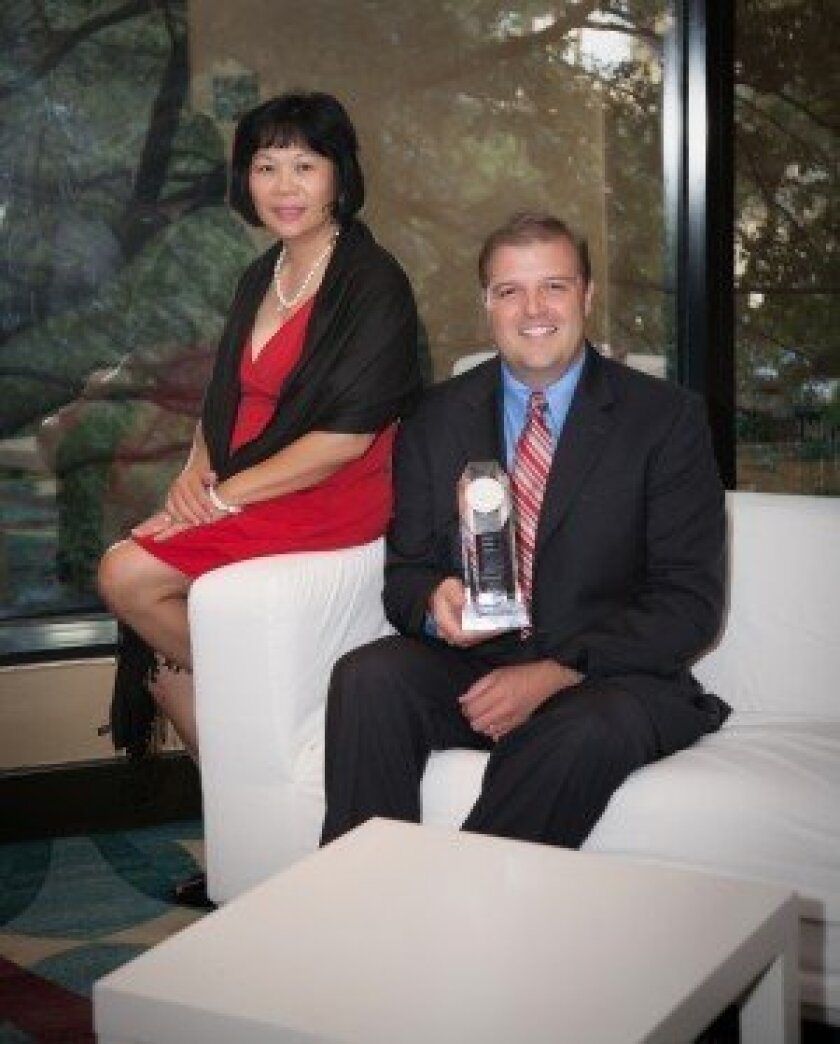 On Franz's watch, the five-star-rated center has received several national quality awards and was recently honored with the US News and World Report rating of a "Best Nursing Home."
As National Nurse's Week approaches, May 6-12, and Nursing Home Week closely follows, it's timely to celebrate the successes of the center.
"This is the time of year that we spotlight our staff and thank them for the tremendous job they are doing," said Franz.
Half of the facility is devoted to rehabilitation. For example, a patient who has fallen and broken a hip will be admitted to stay a short time during recuperation. In contrast are those patients in the long-term stays, some who have no family, or they require so much medical care, or have Alzheimer's disease or dementia-related disorders, that they are unable to stay at home, said Franz. There are over 100 staff members and several part-timers who provide around-the-clock care.
"We have one staff member for each bed in the facility," Franz explained.
Setting the center apart from other nursing and rehabilitation facilities is its out-patient license. "You don't have to be a resident here to get award-winning therapy. Before you need to go to the hospital we can get you tuned up," said Franz.
The center prides itself on providing top-rated medical care, respect, a commitment to quality and comfort, and security for its residents. But it's not only the medical care that is outstanding, the center's activities program, headed up by Christy Floyd, is innovative and fun.
In partnership with St. James Academy, the center welcomes its students to visit one Friday each month. Each child is engaged in a variety of activities and art projects with their adopted "grandparent." San Dieguito Academy high school students also earn community service hours by volunteering doing one-on-one activities with residents.
There is a karaoke singing happy hour program each week and once a month residents and their guests are treated to themed dinners. The last two years have had a theme of trips around the world, with dinners featuring specialties from far-flung places. The Director of Dietary Services, Danilo Lee, is famous for his "floral bouquets" crafted with vegetables that enhance the fancy dinners.
This year's dinner theme is murder mystery with staff acting out the murders and the residents having to guess who did it, said Franz. "One of the staff will be laying on the floor with ketchup smeared on them, supposedly stabbed in the back with scissors. It's very entertaining."
Franz came to nursing via an administrative route. After his undergraduate years at Brigham Young University, studying business, he then earned an MBA from the University of Pittsburgh. He worked in the Human Resources department of the University of Pittsburgh Medical Center for four years. Then 10 years ago he took a night job in a nursing home — as a nurse's aid — to see what it was like. The learning experience was invaluable, said Franz. "I understood fully what it was like to be on the front lines."
When Franz got the position of executive director at Encinitas Nursing and Rehabilitation Center any story that the staff would tell him, he could match, he said. "And if I ask them to do anything they know that I've done it before. But I'm a better manager than I am a CNA, (Certified Nursing Assistant)" he joked.
Despite the challenges brought on by the current changes in health care and the decline of the nuclear family, the center — considered a family serving families in a home-like setting — remains a vital source of compassionate, dignified care.
"Nursing homes aren't what you think they are, anymore!" Franz said.
Visit
www.encinitasnursingandrehab.com
to learn more about the center and its services or call (760) 753-6423.
Note: Business spotlights are developed through this newspaper's advertising department in support of our advertisers.
---