Beaming's healthy yet delicious organic food helps people make a lifestyle change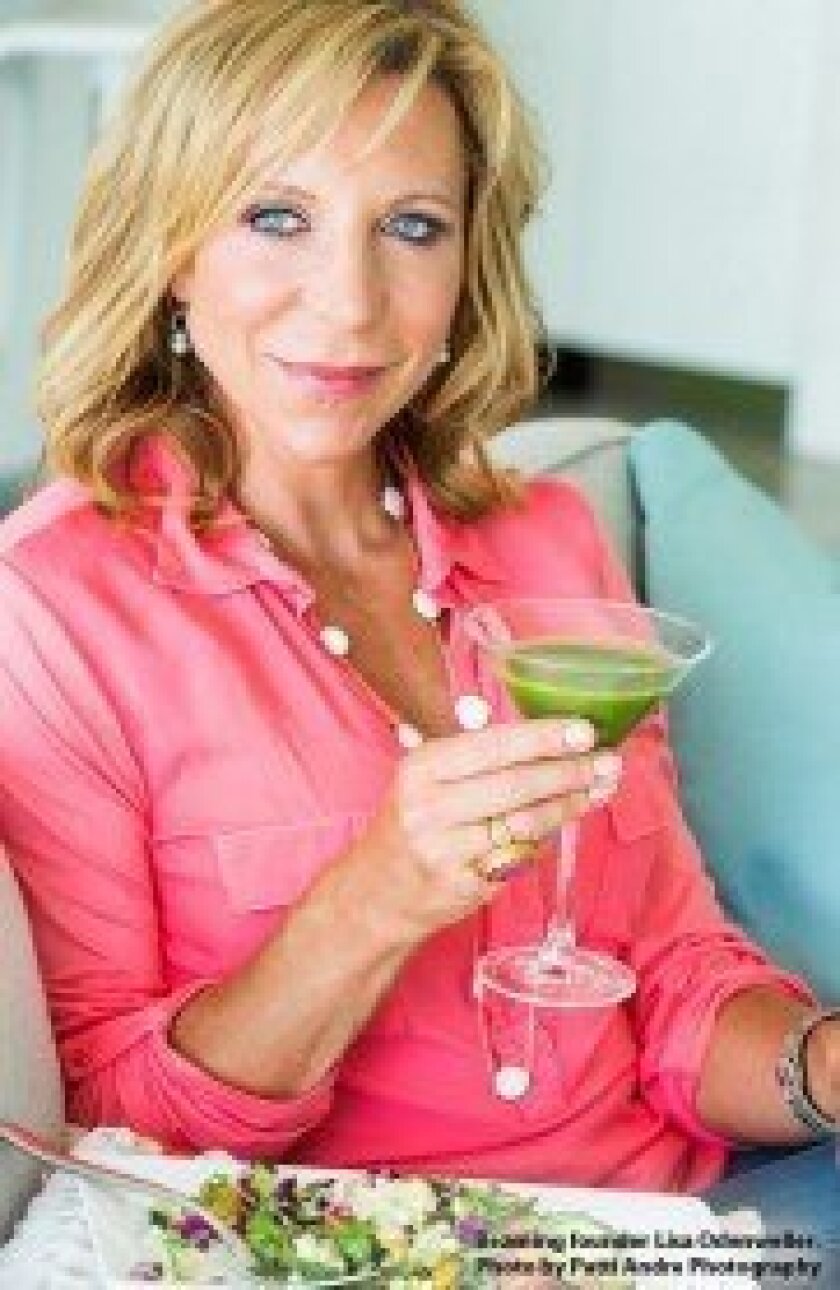 By Karen Billing
For most people, it is difficult to make something healthy that also tastes delicious. For most of her life, Solana Beach resident Lisa
Odenweller has been trying to solve that problem and has found success with Beaming, her new convenient, healthy gourmet "superfood vitality bar" in Del Mar.
The popular superfood spot serves up juices, smoothies and raw foods that are all organic, vegan, gluten-free and dairy free.
"Since the day we opened, we kind of took off running, " said Odenweller of the 10-month-old Beaming. "It's been wonderful to see the community embrace us."
One of the reasons why Beaming has done so well is that it had already built a strong following with its raw food cleanses that were
available online. Odenweller said her cleanses became popular because they redefined what a cleanse could be: Rather than focus on depravation, the cleanse was done with "nutritionally powerful and powerfully delicious" juices, raw foods and smoothies. They became more than a cleanse but a lifestyle change —whereas with a typical cleanse people couldn't wait to get off it, with Beaming they were invigorated to continue to feel good and realized what they put in their body made a big difference.
The lifestyle that Beaming promotes is one of balance. Odenweller herself is not vegan but believes that everyone can benefit from more vegetables.
"Everyone's body is different and I believe in finding a balance that works for them. I don't preach one way," Odenweller said.
Odenweller has always had an interest in wellness, health and exercise. She was a "mix-master" in the kitchen, taking on challenges such as making a chocolate chip cookie that is healthy but still tastes good. As a foodie, she was never formerly trained but blessed with a good palate.
In developing a cleanse to share with the public, she enlisted the help of "Super Cleanse" author Adina Niemerow and raw food chef Matthew Kenney; together, they played around with recipes and figured out ways to make raw food hip and cool, how to take really good, healthy things and put them together — ingredients such as almond milk, chia, kale, maca, mint and raw honey.
Beaming launched its first cleanse to the public in November 2011. Its signature cleanse is four days which Odenweller feels is the perfect length of time, a "complete mind and body reset."
The four-day cleanse includes daily two juices, a smoothie, raw soup, superfood elixir and a raw dish or salad.
Beaming also has a three-day option which is its version of the juice cleanse with a daily menu of three cold- pressed juices, raw dish or salad, an elixir, almond milk with protein, and a Beaming protein bite. Beaming's one-day "Reset" cleanse is perfect coming off a weekend to start the week off right, let the body heal and restore balance. It is its most restrictive cleanse, but still includes a raw dish or salad, four cold pressed juices, almond milk, a Beaming bite and a protein blend.
Odenweller said they've had many success stories with their cleanses.
"[People] wake up to the power of food as medicine," Odenweller said.
Odenweller said that eating nutritious and delicious food helps people to have better mental clarity, their inflammation goes down, their mood stabilizes and they become more mindful about what they put into their mouths — Odenweller says it's a personal victory when she can wean someone off Diet Coke.
The superfood store in Del Mar is a way to make this kind of lifestyle conveniently available to the public, according to Odenweller. It prompts many exclamations of "I never knew raw food could taste like this," Odenweller said.
"We expose people to superfoods but in a playful, energetic and delicious way," Odenweller said.
The menu changes daily but they always have quinoa, a farmers market salad, a raw food entrée and a raw soup. Sample items have been raw lasagna with zucchini replacing the noodles, and a cashew cheese sauce or ceviche made of coconut meat instead of octopus.
Beaming's walls are stocked with bottled cold-pressed juices such as the Skinny Cooler with a spicy mix of pineapple, cucumber, mint and jalapeño, and the What's Up Doc which, according to Odenweller, promotes eye health and immunity with carrot, orange, ginger and turmeric.
Behind the bar is where Beaming's smoothies are made to order and can be customized with superfood boosters such as almond butter, kale, berries, probiotics, cacao nibs or one of Beaming's raw plant protein blends.
Beaming makes all of its own almond milk on site for the smoothies. The High Five pairs that almond milk with a fruity mix of strawberry, banana, blueberry, raspberry and spinach.
The Euphoria is known as "the happy one," a mood and energy booster with almond milk, coconut water, Beaming protein, cherries, chia powder, banana, lucuma, coconut butter and date.
The Rockstar is really popular with male customers, Odenweller said — the smoothie perfect for post workouts, promoting muscle recovery.
Many of Beaming's menu items are "super kid friendly,"such as its chia pudding and chocolate almond milk.
"I'm a mom of three so I understand how hard it is to make healthy choices kid-friendly," Odenweller said.
It's one of her personal missions to support families in living a healthy lifestyle and to see a child happily devouring an acai bowl "lights my soul more than anything", she said.
Odenweller also had a vision of Beaming being a social spot and that has come true as well — she said the store has a great vibe, people are often sitting on tables outside or indoors at the funky bar or in the cozy loungers.
Beaming's boom has been a blessing for Odenweller.
Odenweller and her staff will start working out of a new 4,000-square-foot kitchen as they outgrew their old one, with the intent of more retail and shipping of cleanses and packaged goods nationwide.
The opportunity is also there for another storefront, hopefully two more in the next six to nine months, Odenweller said.
"You put something out there that you're passionate about and you believe in and you just hope people show up," Odenweller said. "It really does just blow my mind how many people responded and say 'I feel so good.' It's been really cool to see all of it come to life and my dream come true."
Beaming is located in the Albertsons shopping center, 2683 Via de la Valle (across from the Flower Hill Promenade).
For more information, call (858) 481-1222 or visit
For more on Patti Andre Photography, visit
---