If I Was A Bird Yoga Studio specializes in yoga for kids, tweens/teens and families
At If I Was A Bird Yoga Studio, kids practice poses with a child's enthusiasm, participating in creatively crafted and playful yoga classes that help keep them engaged.
If I Was a Bird has been open since July in Torrey Highlands Village off Camino Del Sur, the third San Diego location. The studio owned by Christina Quatrino offers classes for age groups, 2-5, 5-8 tweens and teens.
While Quatrino was raised by her Ashtanga yoga instructor mother, she had never considered becoming a yoga teacher herself until her daughter started taking yoga at the If I Was a Bird studio in Point Loma when she was 5.
"She's a third generation yogi," Quatrino said of her daughter, who is now 7.
Quatrino convinced founder and creator Tiffany Gullberg to let her bring the If I Were A Bird concept to North County, where she knew it would really work. Quatrino became a certified yoga instructor and now owns and operates the studio in addition to her day job working at a law firm.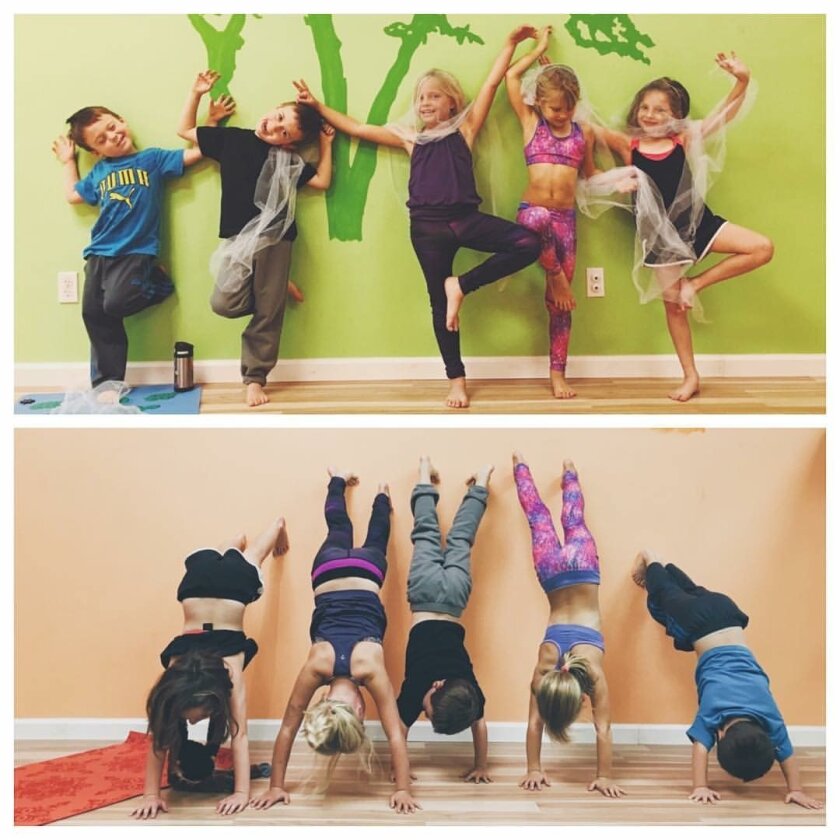 She has private adult clients but she really loves teaching the kids, especially the tweens, "It's such a fun group to reach," said Quatrino, who has also been a Court Appointed Special Advocate for the last four years.
Each hour-and-15-minute class starts with a craft activity on that week's theme. As a recent week's was an arctic theme, the younger kids made snowy owls. The teens and tweens' crafts are always a little different — they have made aromatherapy bath salts, lip balm with coconut oil and during the "Heroes" theme week, they wrote letters to troops overseas.
The crafts serve as kind of a centering activity, to get the kids to focus and calm down.
The little yogis do a Vinyasa breath to movement practice; have a creative movement time to get the wiggles out; work on balancing and finish with Shavasana, a peaceful relaxation where the kids are covered in blankets to lay calmly, receiving a foot massage and have their foreheads marked with jasmine oil.
Class always ends with a positive affirmation, like: "I am loved. I am kind. I am peaceful."
"Our classes are fun, this isn't sleepy yoga. We encourage the children to move," Quatrino said.
Classes incorporate props such as hula hoops, parachutes, breath balls, scarves, pom poms, bubbles and feathers. The kids love the ribbon wands.
"We want them to focus but focus on a kid's level. We have to make the focus fun," Quatrino said.
Yoga has a ton of benefits for the young ones, Quatrino said, especially with concentration and focus. Yoga also helps with proper spine development, posture and muscle control, and can lead to a lifelong love of health and wellness. Children on the autism spectrum and children with ADHD (Attention Deficit Hyperactivity Disorder) can benefit from yoga's aid in concentration, relaxation and developing motor skills. The tweens and teens can gain self-awareness, self-esteem and friendships.
"There are few activities that children do that are not competitive," Quatrino said, noting that in class they are only competing with themselves, working on developing their flexibility and balance. "I tell the teens and tweens, 'yoga is a practice not a perfect.'"
She said some classes at other locations have evolved into "Mommy and Me" type classes and Quatrino said she would be open to having that happen at her studio but she hasn't seen the need just yet.
"The kids are really using this as their own space and their own time," Quatrino said.
She has coordinated with nearby Studio Barre to schedule classes at the same time as adult sessions so parents can drop off kids for yoga and get in a workout of their own at the same time. The two studios have also worked out a pricing deal and she plans to do the same with the kickboxing and Pilates studios that are slated to open in the center.
Quatrino has enjoyed every aspect of owning her own studio: planning the crafts; stocking the studio's boutique with adorable kid's yoga attire and water bottles; putting kid-friendly song playlists together for classes; and talking and sharing with clients.
"We have such amazing families that come to our studios," Quatrino said. "What the kids accomplish in such a short amount of time is incredible."
If I Was A Bird Yoga is located at 7825 Highlands Village Place Suite E104. Pre-register for classes at ifiwasabirdyoga.com; email Christina@ifiwasabirdyoga.com or call 858-252-8770.
---