C-SPAN bus comes to Carmel Valley to honor Canyon Crest Academy student filmmakers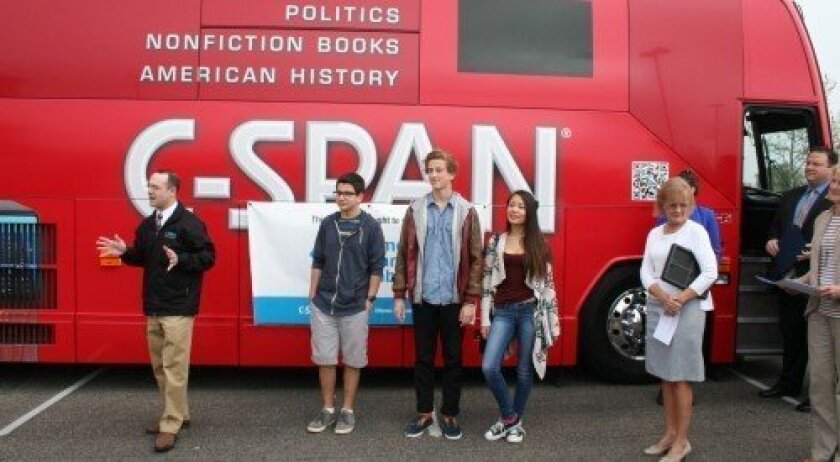 By Karen Billing
The C-SPAN bus rolled into the Canyon Crest Academy parking lot on March 14 to honor three CCA Envision Cinema students who were honorable mention winners in the national C-SPAN 2013 StudentCam competition.
CCA students Ari Moutal, Blake Finley and Emily Wong won the honorable mention for their advanced video/film project "Bullying: A Threat to Our Nation." The video was selected out of a record 1,800 videos submitted on the theme "Message to the President."
The students' video features interviews with CCA students and staff members as well as footage from C-SPAN on the topic of bullying. The film shows ways CCA is dealing with improving awareness and encourages the president to look for potential funding for widespread programs to inform the country of the issue at hand.
As Blake says in the video, bullying can affect an entire community, break up families and result in tragedies like suicide or homicide.
"Communities are darkened by tragedies as well as a lack of effort to put any end to it. This issue runs generations deep and it is our generation's duty to change our communities into more flexible and accepting places," said Blake. "It isn't up to us to wait for a change, it's up to us to create the change and call to attention the seriousness of an issue long not regarded on a level at which it should be addressed."
In addition to getting the opportunity to tour the C-SPAN bus, the students were also showered in certificates of achievement from Senator Marty Block, Assemblyman Brian Maienschein and San Diego County Supervisor Dave Roberts.
Amy Herman, a San Dieguito Union High School District board member, was also on hand to celebrate the students' accomplishment.
"We're really excited to see how this program has grown," Herman said.
Check out the winning video at https://
---