California Department of Fish and Wildlife seeks applicants for Natural Resources Volunteer Program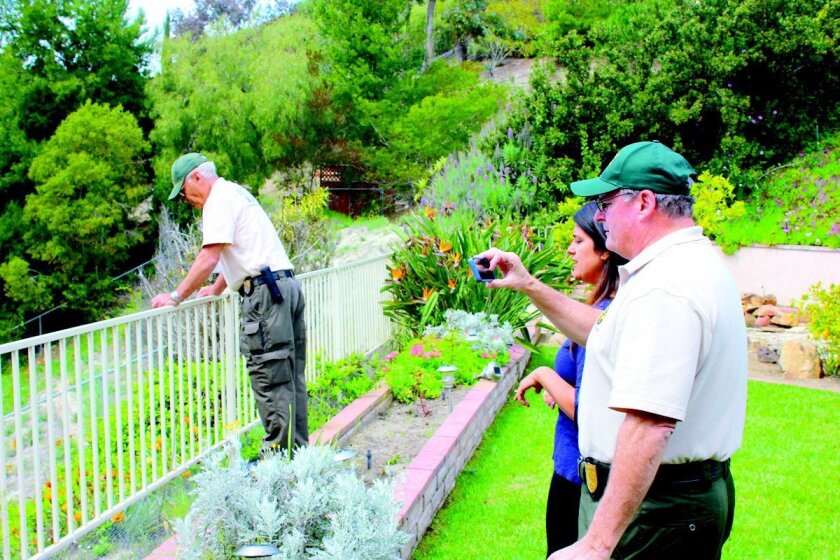 IMG_5023By Joe Tash
Andria Guzman looked out the window into her back yard, and saw a 40-pound cat on her lawn.
The Oceanside woman walked outside and tried to shoo the animal away, shouting "Git!" several times. "He looked at me like, 'Who do you think you are?'" Guzman said as she described the incident to a pair of state wildlife volunteers.
Eventually, the animal — most likely a bobcat, according to the volunteers — jumped over the short fence at the back of Guzman's yard and perched on a large stump before wandering away.
The house call on a recent afternoon was all in a day's work for Bob Gaskin and James Drost, members of the Natural Resources Volunteer Program, which comes under the auspices of the California Department of Fish and Wildlife.
State officials describe the volunteers as the eyes and ears of state wildlife biologists and game wardens, assisting with a variety of tasks and providing valuable work hours in an era of tight government budgets. The department wants to expand the program in San Diego, and is seeking applicants for an upcoming weeklong training academy that will start in May.
Along with assisting Fish and Wildlife employees, the volunteers act as "conservation coaches," whose mission is to educate the public on how humans can safely co-exist with their animal neighbors, said Lt. Kent Smirl, who founded the volunteer program in San Diego in 2002. Since then, it has expanded to nine chapters across the state.
About 20 volunteers are active in San Diego County, which will increase after the upcoming training academy. Volunteers are expected to put in at least 24 hours per month, and also pay for their own uniforms, at a cost of $250 to $300.
Gaskin, 60, an Olivenhain resident, works part-time in the biotechnology field, and has been with a wildlife volunteer for the past six months. "It's something I always wanted to do, giving back to the community," he said.
Drost, 76, is retired from the U.S. Navy, and lives in Clairemont. A fisherman and hunter, Drost said he enjoys meeting people and educating the public on wildlife and conservation issues.
Volunteers perform such tasks as fielding phone calls, delivering documents to court, patrolling nature preserves and assisting with conservation projects. Recently at the Batiquitos Lagoon in Carlsbad, volunteers cleared away brush and weeds to aid nesting by California least terns and Western snowy plovers, two endangered species.
"It's important to have dedicated people interested in helping the department," said Warren Wong, a wildlife biologist with Fish and Wildlife. "It's really helped us a lot."
The volunteers wear white dress shirts or polo shirts, depending on their tasks that day, green baseball caps, dark green pants, volunteer badges and photo ID cards. While they can offer advice and information, they are not authorized to write citations or confront members of the public in any way. They are not even allowed to ask people to show their fishing licenses.
But their presence in vehicles clearly marked with their volunteer status probably does deter some illegal activity, the volunteers said.
Some 90 percent of the calls received by the state wildlife office in San Diego are about coyotes, said Drost, but the office also receives calls about bobcats and mountain lions. Volunteers sift through the calls each day, and decide which ones warrant a home visit. Based on the information they receive from residents, they also determine whether the call should be referred to game wardens.
In the case of Guzman, the Oceanside resident, the volunteers were shown photos of the four-legged visitor that Guzman had captured on their cell phone.
The pair advised Guzman to keep her two small children inside for the time being, and suggested ways of trying to scare off the intruder, such as making loud noises or using a large children's water gun to douse the animal with a mixture of water and household ammonia.
If the cat did show up when she was outside with her children, they said, she should not bend over to pick up the toddlers or turn her back and run with the kids, because the cat could then perceive the family as prey. ("You're the mouse and that's the cat," Drost said.) Instead, she should put herself between the animal and the children, stand upright, extend her arms and make a lot of noise, while backing toward the house and keeping the children behind her.
"You raise the biggest stink in the world," Drost said.
The volunteer program has provided a big boost statewide for the Department of Fish and Wildlife, said Smirl. According to the program's 2012-13 annual report, in the program's southern district, which includes San Diego, Orange County and Los Angeles, volunteers logged 17,000 hours with a value of $421,000. Statewide, the totals were 43,000 hours worth just over $1 million.
"We get a lot of committed people. We're very proud of them," Smirl said.
Anyone interested in applying for the volunteer program should log onto www.dfg.ca.gov/volunteer/nrvp, said Smirl. But before filling out the online application, he urged them to call him at 714-448-4215 to learn more about the program and its requirements. They can also email him at kent.smirl@willdlife.ca.gov. Those with wildlife-related questions or concerns can call the department's San Diego office at 858-467-4257.
---