Canyon Crest Academy Envision teachers' expertise extends beyond Carmel Valley school, but returns to enrich it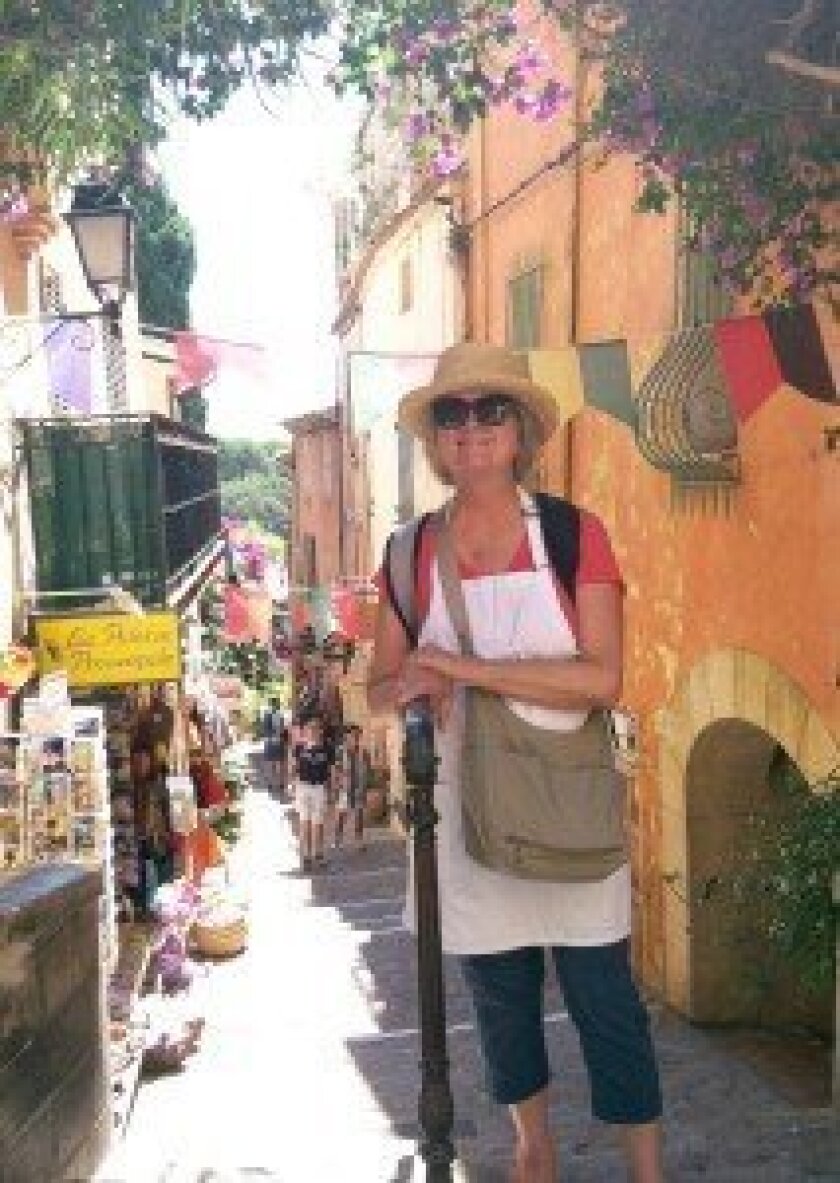 By Diane Y. Welch
Envision arts offered through Canyon Crest Academy invite visiting artists to enrich the students' experience. Supported by the school's foundation, these professionals are role models and show students what is possible. A recent event at CCA's Proscenium Theatre presented the artists' work to an appreciative student audience.
Also taking part were several of CCA's Envision faculty who performed on stage or had art pieces exhibited in the lobby. Like the visiting artists, CCA staff are fully engaged in their respective fields and each has strong views as to why the myth of "Those who can, do. Those who can't, teach!" is just that: a myth.
Rachel Edwards, who teaches drawing classes and digital imaging, said, "I am a very strong proponent that all teachers, not just arts teachers, should have a passion for pursuing their personal interests and bettering their career skills outside of the classroom."
Edwards has had shows in Los Angeles and Orange County as well as San Diego. She has also taught workshops on figure drawing — her area of expertise — for local arts organizations and at the Said Space gallery in Encinitas.
Visual arts coordinator Jessica Matthes, a fine artist, has been commissioned to paint large-scale murals for Kid Ventures in Liberty Station. She recently took part in "Perspectives: The Berlin Wall," a collaborative show featuring several San Diego artists.
"Each artist utilized actual pieces of the Berlin Wall in their work," said Matthes.
The exhibition will be coming to Carlsbad's Front Porch Gallery next month.
Angela Jackson, also a fine artist, brings her work into the classroom.
"I think when you are able to share your passion about why you chose your career with your students, it shows another dimension of yourself," she said.
Students critique her works in progress and learn from the processes she uses. Jackson recently ended a solo show at the Solana Beach City Hall and has a second at the North Coast Repertory Theatre Gallery through December.
Cinema coordinator Mark Raines, a former local reporter and news anchor, continues to work outside school in the field of videography.
"It keeps my skills fresh and helps me to keep up with new and emerging technologies in the career area I teach," he explained.
In recent years, Raines went to Haiti after the 2010 earthquake and produced compassionate documentaries on his return. Raines creates video productions with his students and helps with segments of CCA's weekly television show.
"It's a great way for me to teach by example and work with students, instead of just showing them what to do," he said.
Some of Raines' students volunteered as tech crew at the 2013 TEDxYouth@SanDIego event where Raines was a presenter.
Being an artist is something innate, said dance teacher Tracy Yates. "You couldn't ignore it if you tried. It just keeps gnawing at you until you do something about it!"
This drive means that Yates, also a vocalist, regularly performs in shows with her band, Super Nacho, which will take the stage on Friday, Oct. 17 at the Belly Up Tavern.
Each summer, dance coordinator Rayna Stohl produces a show at The Vine, an intimate black-box theater owned by Mojalet Dance Collective on the grounds of the Bernardo Winery.
"I am also currently in talks with the organizer of The Fringe Festival in San Diego, and I am going to be working closely with some alumni and current students to get them involved," she said.
New to the school is Envision Theatre Coordinator Jeannine Marquie, who has been very active in the San Diego theatre scene working with San Diego Repertory, Diversionary Theatre, La Jolla Playhouse and the Playwrights Project. As she settles into her new role, she plans to pursue her outside theater involvements, she said.
Visual arts teacher Carol Limbach joined French artists during a summer trip to Provence and Brittany, creating plein-air artworks along the way. That experience is being brought back to her students.
"I am going to be using some of the historical information, as well as some of the art techniques, in a collaboration between myself, my sculpture students and French students. We'll then create art work for permanent display at CCA," said Limbach.
Envision coordinator and vocal music coordinator Anne Whatoff performs with the St. Paul's Episcopal Cathedral Choir, Bach Collegium San Diego, and the New South Coast Chamber Choir.
"To be involved in our outside pursuits helps keep us fresh in our art and constantly learning new things," said Whattoff.
Students benefit from this renewal as these ideas are then shared with them.
"And while our teachers are out in the community, they are also outreaching to other artists," Whattoff said. "In this way, they can be exposed to professionals who could potentially join CAA as visiting artists."
---