Canyon Crest Academy Envision Theatre presents 'Avenue Q: School Edition' March 21-30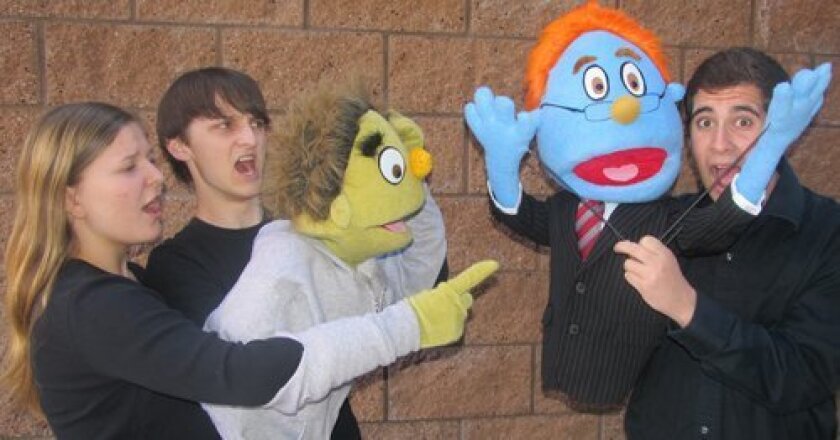 Award-winning Canyon Crest Academy's Envision Theatre will present "Avenue Q —School Edition" March 21-23 at 7 p.m.; March 28 at 4 p.m.; and March 29-30 at 7 p.m. at the Proscenium Theatre. The production will be guest directed by Dana Carr, with musical direction by Stephanie Saban and puppet direction by Lynne Jennings, San Diego Guild of Puppetry.
Winner of the Tony "Triple Crown" for Best Musical, Best Score and Best Book, Avenue Q is part flesh, part felt and packed with heart. Avenue Q School Edition is a laugh-out-loud musical that tells the timeless story of a recent college grad named Princeton who moves into a shabby New York apartment all the way out on Avenue Q. He soon discovers that although the residents seem nice, it's clear that this is not your ordinary neighborhood. Together, Princeton and his new-found friends struggle to find jobs, dates, and their ever-elusive purpose in life.
Because the original Avenue Q has some content elements that have previously made it a difficult choice for some high school productions, MTI has worked with the Avenue Q authors to create an adaptation that maintains the dramatic intention and integrity of the piece, while editing it to make it more appropriate for high school audiences and performers. Suggested for mature audiences.
Tickets can be purchased online at https://www.cca-envision.org/events.html or at the door. Canyon Crest Proscenium Theater is located at 5951 Village Center Loop Road, San Diego, 92130.
CCA Envision Theatre is supported by the Canyon Crest Academy Foundation,
a parent-led 501(c)(3) organization providing fantastic opportunities across academics, athletics, and the arts, and creating an environment where students can thrive.
Your tax-deductible donation to the CCA Foundation is vitally needed to
continue our support of these programs. You can donate online at
www.canyoncrestfoundation.org.
Avenue Q: School Edition, with music and lyrics by Robert Lopez and Jeff Marx; Book by Jeff Whitty; Originally produced on Broadway by Kevin McCollum, Robyn Goodman, Jeffery Seller, Vineyard Theatre and The New Group. "Avenue Q" School Edition is presented through special arrangements with Musical Theatre International (MTI). All authorized performance materials are also provided by MTI, 421 West 54th Street, New York, NY 10019. Phone 212-541-4684; Fax: 212-397-4684; www.MTIshows.com.
---