Canyon Crest students in Carmel Valley win a variety of awards at Encinitas Film Fest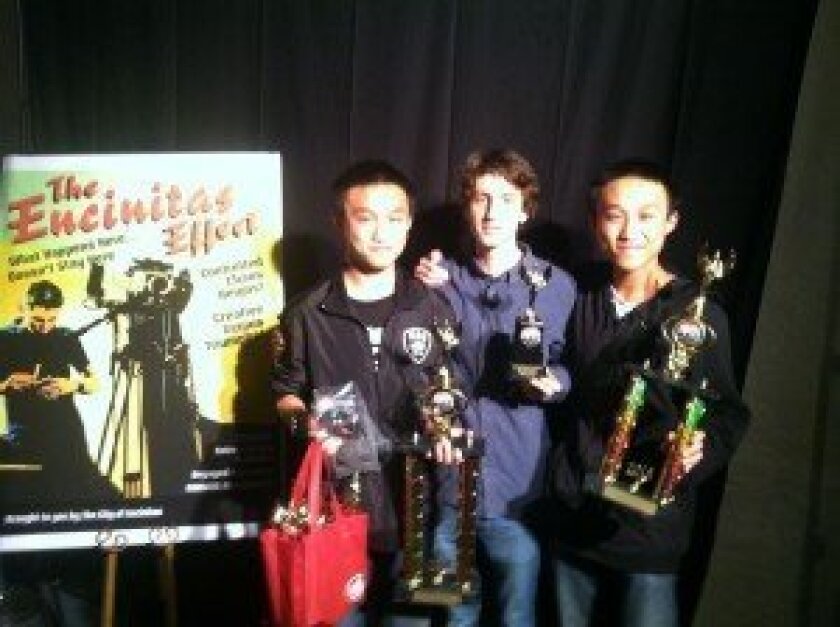 By Rob LeDonne
At the recent first annual Encinitas Student Film Festival, four students from Canyon Crest Academy's Envision Cinema department took home top honors and received the Award of Excellence, Award of Distinction, and People's Choice Award for their short film "Milquetoast." The film, about at a girl who can't express her emotions facially, was the brainchild of senior Jason Phillips and classmates Richard Duan, Jennifer Smart and Andrew Boyles.
"Getting congratulated and praised for 'Milquetoast' is an amazing feeling," Phillips said. "We're really honored and thankful that it was received so well and all the hard work we put into it paid off." Added Mark Raines, the Envision Cinema coordinator at Canyon Crest: "I am so proud of how well our students did at the festival. The creativity and production value displayed in their work is awesome."
Canyon Crest had a total of nine films in the festival and they were produced by students in the Academy's after-school program, Envision Cinema Conservatory. According to Raines, the conservatory is "a credited high school visual art course designed to train, prepare, and guide students in video and film production."
"I first got involved in the conservatory through meeting other members," said Phillips, who is planning to go on to study film production at USC in the fall. "It's been an amazing experience to learn about film and start making these shorts. Plus, Mr. Raines is a huge mentor to all of us. He teaches teamwork and leadership, and I've learned so much about myself as a filmmaker from what he's taught us."
Along with making short films, the students at Canyon Crest work on a variety of projects throughout the year, including editing TED Talks, producing minute-long short films, and two-minute-long documentaries. The submission to the festival was done through its official website. The chosen films were screened at the historic La Paloma Theater in Encinitas, and films were split up into two categories: the Junior Division (with films made by students who are between 1st and 8th grade) and the Senior Division (9th through 12th).
Raines said that seeing his students succeed is one of the many perks of his job: "I have the amazing opportunity to create an environment that helps students find, discover, and explore an exciting visual art area that could lead to a career in video, film, or television, but I also really enjoy teaching students skills in a real world context that could help them in every aspect of their personal or professional life. Plus, I'm extremely fortunate to work at a school where the administration empowers the staff and students to thrive and succeed."
For now, the students at the Conservatory will continue to hone their craft and perhaps set their sights on Hollywood. "After college, I hope to work in film somewhere," said Phillips. "I'd like to direct and maybe act... but first I have to see where the world takes me."
---