Carmel Valley author conquers news, novels and nature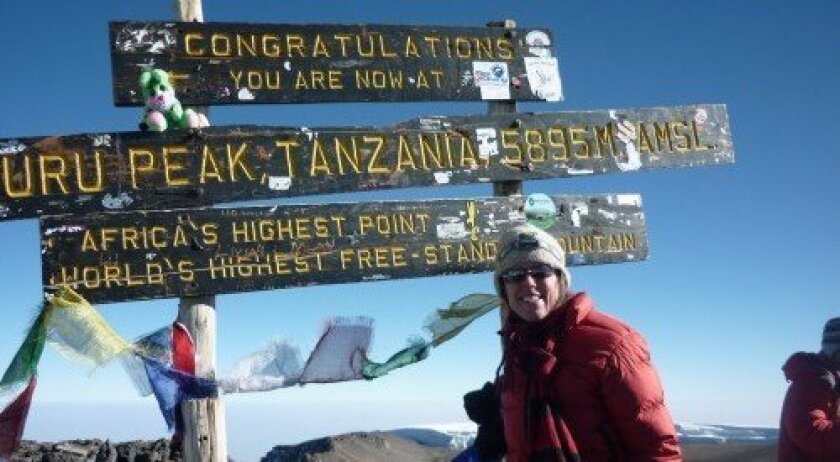 By Rob LeDonne
Author Janice Coy was reaching limits she never knew she had during a strenuous hike up Africa's Mount Kilimanjaro a few years ago. "It was so different from what I had imagined," Coy explained from her Carmel Valley home. "I'm an active person, but it was still the hardest thing I've ever done in my life. You don't know where your limit is until you reach it, and I did."
Coy learned a variety of lessons during that fateful trip, and the entire experience is the inspiration for her second book, "A Table on Kilimanjaro," which was released this past Valentine's Day to rave reviews, and has already landed a coveted spot as one of the top 400 in the general fiction category of the 2013
"Breakthrough Novel Award Contest."
The book focuses on success, something Coy has enjoyed throughout her career as a writer — but it wasn't always easy. Starting out as a daily newspaper reporter, first for a now-defunct publication in Colorado, and then for this newspaper group's family of papers, Coy enjoyed the perks of the job.
"I basically fell into newspaper reporting, and loved everything about it, from the deadlines to the variety; every day is different, and it was a lot of fun," she explains. "At first, I did hard news reporting, so I wasn't the most welcome person when I was reporting on stories. I then transitioned to features, because at least when I showed up to places, people were happy to see me."
Growing up, Coy was a "voracious reader," and regularly devoured novels by the likes of Mary Higgins Clark and Carolyn Keene. "I had always wanted to write a novel and thought it was going to be so easy. Little did I know, writing a novel is completely different than writing a newspaper article," she said.
When Coy was writing articles, she was accustomed to "just writing the facts. It's a bare-bones kind of writing." Penning a novel, on the other hand, is a whole different beast: "I had to learn the structure of novel writing, and there's a lot of work involved; but it's like anything — the more practice you have at it, the better you get."
To help shake her journalism habits, Coy took a novel writing class at UCSD Extension.
"I went there awhile, and then formed a critique group with some fellow students I met," she remembers. "Being in a group and having deadlines was awesome."
Coy's next step was to garner some interest in a manuscript she was working on. The problem was that in today's literary climate of diminishing profits and smaller outfits, getting published and even landing an agent can be almost insurmountable. "I met with different editors and agents, but it's a very subjective business. I had agents tell me that they loved my story but didn't like my writing, or that they loved my writing and didn't like my story," Coy says. She estimates that she sent out about 80 queries, all of which were met with rejection.
She was ready to put her novel aside when one of her three daughters proposed the idea that she put the book out herself. "She encouraged me and said that if only one person buys it, it's better than just sitting unread in a drawer somewhere."
Coy posted her first novel, "A Grave in the Vegetable Garden," on
shortly thereafter, and 17,000 downloads and a plethora of rave reviews later, she couldn't be happier.
"Among authors, going the self-published route is becoming a very viable option in today's industry," Coy said. "The path is so much easier, and it's more rewarding in the long run."
"A Table on Kilimanjaro," was also self published and the lessons in its story, which focus on a father's and daughter's hike up the mighty mountain, also echo through Coy's life: "In the book, the mountain is almost like another character, and the theme of everything is the nature of success. Why do people climb mountains, how important is it to make it to the top, and how do you determine what success is?"
For Coy, her own lesson is simple: "You can't let other people determine for you what success is."
Coy has also been chosen twice for publication in the anthologies A Year in Ink Volumes 4 and 5, by San Diego Writers, Ink, a nonprofit literary organization. In addition, she has received honorable mentions in the national Writer's Digest Competition, most recently for her inspirational piece "On the Frigid Slopes of Mt. Kilimanjaro."
More information about Coy can be found on her website:
---