Carmel Valley Bobcats 2012-2013 8th Grade Champions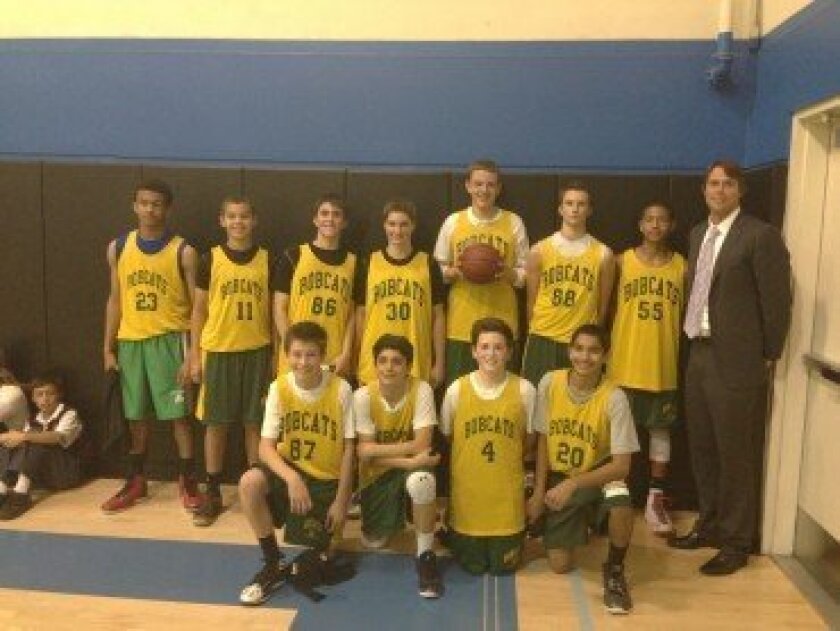 In another great basketball season hosted by the Boys and Girls Club of San Dieguito, the Carmel Valley Bobcats won the 2012-2013 8th Grade Big 8 Championship.
The Bobcats were led to a championship by Jacob Schneider #88 and Jake Gilliam #89 with much help from Zachary Green, Gavin Crout Blackwell, Jordan Karam, and Michael Gadinis. After the game, the two captains Zachary Green and Jacob Schneider were interviewed and they said, "This is probably the most talented team we have ever been on and everyone contributed to get us here." Jacob Schneider and Jake Gilliam were then asked to sign autographs for a little kid. Jacob said, "It really touched me that a kid wanted my autograph, I felt blessed."
Batisse Kashanchi, Nick Clapp and Hayden Helfrich drove the Carmel Valley offense all season with their ball handling, precise passing and 3 pointers. Bhargav Ram Bindiganavile was arguably the best 3-point shooter on the team, while Tyler Lytle and Jake Edwards were always an offensive threat and extremely aggressive on defense.
Coach Tim Wade said " I want to thank the Boys and Girls Club, especially Max McArthur, for going above and beyond for this program. This is such a cohesive, talented 8th grade team, I'm looking forward to seeing these guys play in high school and beyond."
---