Carmel Valley couple's Pilates studio a perfect marriage of therapy and fitness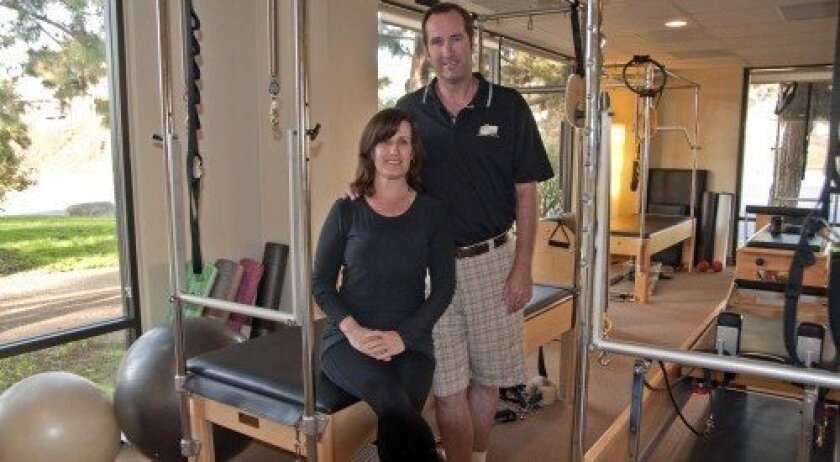 By Claire Harlin
Dave and Doreen Hall say their clients are like family. And they have a really huge family.
After 15 years, Dave Hall still sees his first-ever Pilates client. She's now 76 years old and has endured hip, shoulder and knee replacements.
Doreen Hall has even done physical therapy for a man, now in college, who used to accompany his dad at age 5 to Pilates People, which was located in Carmel Valley for 10 years before moving to 11300 Sorrento Valley Road, Suite 101. In all, there are about a dozen original clients who they still see regularly.
Some clients come to Pilates People to recover and some to simply further their fitness routines. They see the young, middle-aged and elderly, and they say Pilates seems to keep their clients "young" too, such as with one woman in her 40s who plays competitive soccer with 20-something players. Many are neighbors in the Halls' own community of Carmel Valley, and many come from La Jolla, Rancho Santa Fe, Del Mar, Solana Beach or further — as Pilates People is the only facility in San Diego County that incorporates Pilates and physical therapy into a single healing regimen.
The couple opened their first studio in 2001, with Dave bringing his graduate work in exercise physiology to the table and Doreen having more than a decade of physical therapy practice under her belt. And since they expanded the business in 2006 to begin accepting all forms of insurance, the studio has been flooded with clients who are interested in combining their physical therapy with Pilates.
"It's unique in that the Pilates and physical therapy overlap," said Dave. "People who come in for PT often transition into a fitness program, and because a lot of people come in for fitness, they don't even know they are being rehabilitated too."
Dave said Pilates can be a form of rehabilitation in that it can pinpoint muscles in the body that are either weak or imbalanced, and it's imbalances such as those that can, sometimes unknowingly, place strain on the body and cause injury. A back problem may be attributed to a weakness in one hip, for example.
"A body needs to work like a symphony," said Doreen. "As you listen to music all the instruments have to come in at the right moment, and the body is just like that; the elements may come in at different times, and coordination and neurological control of muscles is important."
Sometimes, Doreen said, even a past injury can seem healed, but because the person was compensating for weakness from the injury in the process, imbalances can occur and actually exacerbate the injury later on.
"People say, 'Wow, I blew out my back picking up the car keys,' but it doesn't work like that," said Dave. "Usually they were exacerbating the injury the whole time due to compensating for weaknesses."
Dave said that had he himself not found work in physical therapy and Pilates, he may have ended up on the surgeon's table as he has broken at least 10 bones in his lifetime from practicing action sports. Doreen has been practicing physical therapy since 1989.
When Pilates first hit the fitness scene as a new and unique concept, both Doreen and Dave fell in love with the practice and all it did for the body.
"Back then, people couldn't even pronounce the word, and it didn't even come up in a Google search," said Doreen.
They embraced Pilates into their practice from the very beginning, learning all the ins and outs along the way. Following and utilizing the practice as it has evolved over the years, the Pilates gurus now have the knowledge necessary to tweak the practice according to each individual, whereas many Pilates studios employ the same workout for all.
"Exercises can be broken down for any issue, and you can see how every little muscle works and any imbalances can be seen," said Doreen. "The training we do has evolved over 30 years, and we modify and customize it. You won't come here to simply find a traditional workout."
For more information, visit
.
Note: Business spotlights are developed through this newspaper's advertising department in support of our advertisers.
---