Carmel Valley doctor at forefront of women's health research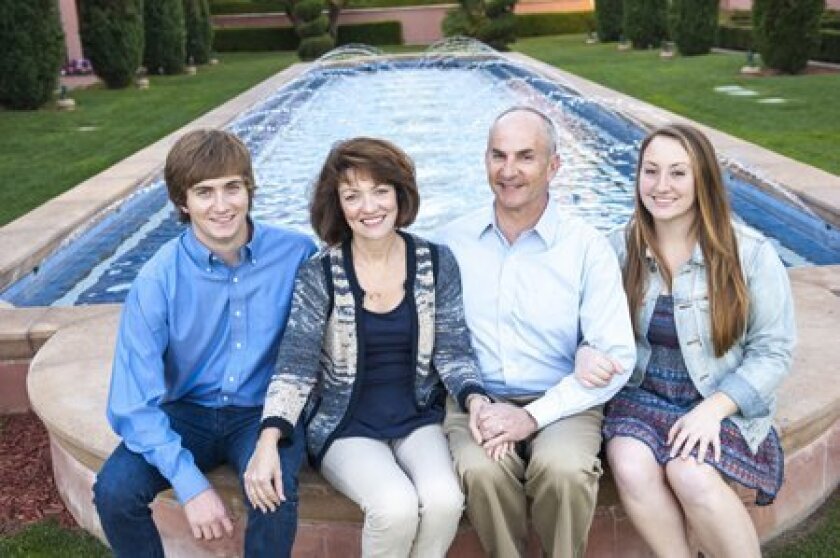 By Kathy Day
Dr. Bruce Kahn acknowledges he's one of those guys who likes to stay busy. And he's not kidding.
A quick glance at the Scripps Health physician's curriculum vitae tells only part of the story. A gynecologist with a subspecialty in female pelvic medicine and reconstructive surgery, he was one of the first Scripps physicians to perform hysterectomies through the navel.
A Carmel Valley resident, he is at the forefront of research in women's health, an adviser to a wireless medical device company, chairman of graduate medical education at Scripps Memorial Hospital, and a frequent contributor to medical journals and speaker at a wide range of conferences.
He and his wife, Janet, who received an MBA from the University of Chicago and works on a project basis as a management consultant, are parents of twins who graduated last spring from Canyon Crest Academy and are now firmly planted in their freshman years at college in Chicago and Boston.
"I love my job," Kahn said in a recent interview. "I usually have several things going in my work life and out."
When asked whether he ever sleeps, he retorted with a laugh, "Sleep is a necessary evil."
He has built a reputation in the new medical subspecialty of urogynecology, which combines urology and gynecology and is particularly respected for his work in interstitial cystitis — or painful bladder syndrome. He's one of an estimated 700 physicians in the country to pass the board exam given last year — the first in which it was administered by the American Board of Obstetrics and Gynecology.
"It's different taking a board exam in your early 50s," he said, adding that "it's a very special privilege to be part of the initial class."
While conceding he's "a true academic at heart," Kahn stresses that his first love is for his patients. "The best part is working with individual patients, developing that physician-patient relationship and helping find solutions to their problems."
Years ago, physicians didn't like treating pelvic pain in women, he said, because "they kept coming back, and there was not a good track record."
Now, with newfound knowledge that the problems are often related to the bladder, there are a number of "great solutions" that are nonsurgical and can be done in the office, he added. When surgery is necessary, he looks for the least invasive procedure, including robot-assisted surgeries and laparoscopic hysterectomy.
quick factsWith the introduction of "belly button hysterectomy" in April of this year, he noted, it is possible to hide the incision "if you have a good innie." That's a big change from the large abdominal incision previously required for this type of operation.
Kahn, grew up in Orange County and is a graduate of UC Irvine (as is his wife) with a degree in biology. He received his master's in physiology and his M.D. degree from Georgetown University, and worked in several locations before joining the Navy reserves.
"Most people do it to see the world; I did it to get to San Diego," he said.
He served at the Naval Medical Center San Diego and UC San Diego before joining Scripps in 1999. With his passion for teaching, he's taken on directorship of the Scripps Fellowship in Minimally Invasive Gynecologic Surgery and chairs the Graduate Medical Education Program at Scripps Memorial. He also heads the post-graduate education program in obstetrics and gynecology.
As if that's not enough to occupy his time, he's involved with the Scripps Translational Science Institute in a project to use smartphone technology to reduce the rate of cervical cancer in developing countries.
An Israeli biotech startup called MobileOCT, headed by Ariel Beery, has developed technology that enables a smartphone to take digital images of the cervix that can be analyzed remotely. By identifying cancer cells before they develop to an advanced stage, the device can make cost-effective and potentially lifesaving diagnoses available where access to health services is limited, he explained.
Kahn said he first met Beery in Tel Aviv during a conference that was part of the Scripps Mobile Health Initiative.
After a two-hour meeting, the two knew they had a compelling case to alter the course of the No. 1 cause of cancer for women in developing countries. So they applied for a grant from the Vodafone America Foundation and won $300,000 that will enable them to advance their work. Kahn will head the testing at Scripps as well as at a clinic in Tijuana.
While some might hesitate at entering the competitive world of startups, Kahn has no fear.
"It's fun," he said. "It's a very different project for me."
With one of his underlying life philosophies being "If you don't fall down once in a while, you're not trying hard enough," it seems only fitting that he would take on this challenge as he has the role of investigator on a number of other research projects.
Somewhere along the line, he also found time to start up dads' clubs at Torrey Hills, Del Mar Hills and Ocean Air schools, where his children attended school. That all started at Sandyhill preschool, when he pitched in as a volunteer every six weeks.
"It was really fun not being the doctor and just being a helper," he said. That experience led him to approach Gary Wilson about the idea for a dads' club and events like Take Your Dad to Lunch, astronomy campouts, field days and barbecues. "It was a great way to get dads engaged."
As his twins grew, he stayed involved by helping with their softball and baseball teams, doing whatever he could.
Now that they've been away at school for a few weeks, he said, "I'm really looking forward to the next chapter in my life."
---