Carmel Valley eye surgeon grateful for a life filled with three great passions: family, medicine and sports
By Kathy Day
Dan Coden likes to tell people he's the only eye surgeon in San Diego who can "handle a surgical scalpel and a baseball bat with equal skill."
Oh, and by the way, he also can play a mean rhythm guitar and showed off that talent at his son's bar mitzvah at the House of Blues when the family treated guests to a band featuring son Ben — "a sick rock guitarist — on lead guitar and his wife and daughters as go-go dancers. With Dan adding vocals, and joined by a professional drummer, they rocked out to the Guns N' Roses song "Sweet Child of Mine."
The native of Southfield, Mich., a "typical idyllic suburb" outside Detroit, who has lived in Carmel Valley since 1990, didn't set out to practice ophthalmology in San Diego. In fact, he didn't set out to practice ophthalmology at all. He wanted to be an orthodontist because he "loved straight teeth," he said.
But Liz Nederlander Coden, then his college sweetheart at the University of Michigan to whom he has been married for 28 years, convinced him medical school was a better bet. (A devoted mother who has been involved in her children's schools, their soccer leagues and the community, she became a Realtor a couple of years ago once their three children got older, he said.)
So off he went to Wayne State University Medical School, which he said is "the largest medical school in the country … located in the dregs of Detroit."
Although he only had one week of exposure to ophthalmology while other specialties were given three months, he settled on it because "it was the only specialty where no one had to take their clothes off."
And then, with a bright sense of humor matched by his bright blue eyes, he added, "It suits me. I'm sort of obsessive compulsive, nitpicky and anal … it's so detail-oriented and deals with numbers that it is a good fit."
Wayne State, he said, was "a great training ground. We saw drug overdoses, prostitutes, gangbangers – we got to do everything," he recalled. He also had his car stolen twice and found twice, he added.
From there it was on to an internship at William Beaumont Hospital in Royal Oak, Mich.
When it came time for the "match" to determine where he would do his residency, he got an envelope – it wasn't computerized then, he noted – that said he was going to UCSD.
"It was not one of the schools on the top of my list," he said.
But now, he looks back and realizes how lucky he was.
He did a year-long fellowship in orbital, oculoplastic and reconstructive surgery at the famed Manhattan Eye, Ear & Throat Hospital and considered an offer from his mentor to stay in New York City.
Instead, he went back to Detroit for a year after their first daughter was born, thinking he would practice where his family was, and still is.
But then he got a call from Art Perry and Steve Pratt at La Jolla Laser Vision & Eye Center, where he has been for 22 years. The practice, which formed in 1980, is located in the Ximed building located adjacent to Scripps Memorial Hospital, where Coden is a senior staff physician.
"It was a gut-wrenching decision, knowing that all four grandparents were there," he said. "We wrestled with it mightily."
But now, he said, he knows it was the right choice. ""They are the most wonderful guys ...they've been stable forever."
In the time he's been practicing, he has seen dramatic changes in the technology available to them.
Even so, technology wasn't the answer to what was probably his most challenging case.
He was called into an emergency surgery on a construction worker.
"He had felt something hit his eye," Coden said. That something turned out to be a 4-inch nail that had hit him after a co-worker tried to un-jam his nail gun by banging it on the concrete.
The nail hit the man in the eyelid, closing it down over his eye. It went under the orbit of the eye, missed the eye and the optic nerve, a major blood vessel and lodged in his brain.
"The neurosurgeon called the 'eye guy," he said. "It wasn't something you read about in a book, but there it was."
Coden made a small incision below the eye and "found the nail" but then had to ask what could be used to extract it.
With a Kocher clamp – sort of like pliers — normally used by orthopedic surgeons, he got on top of the man and unscrewed the nail.
"All of a sudden there was clear fluid (cerebral spinal fluid," he said. "The neurosurgeon said, 'Sew it up."
So he did, later repairing the fractured eye socket.
Calling it an amazing case, Coden said the man had no brain injury, no vision loss and, in fact, had 20-20 vision when he was fully recovered.
"If you see the X-ray, he should be dead or blind," he added.
In talking about changes in the science and practice of his specialty, the 54-year-old physician said, "I'm not that old" but he has seen advances more marked than in any other specialty. "The ability to do what we do now is so amazing."
The most exciting changes have been in cataract surgery, he added, giving a somewhat graphic description. It used to be that the surgeon made a 12 millimeter incision "and then squeezed the eye and it would pop out like a pumpkin seed."
"Fast forward 25 years and now we make a cut of less than 3 millimeters in diameter that is so small it seals itself and all the work is done through that tiny incision," he explained. "In the old days we would hope the eye survived. Then, we hoped the eye would survive and see better. Now, patients can see better with the naked eye, and with multifocal lens implants we can make them see better at distances and near."
One of the newest improvements is the increasing use of laser technology, he added in a followup e-mail.
"The FDA has recently approved a technology called LensX, which utilizes a laser similar to what we have been using to create LASIK flaps, to allow us to perform certain aspects of the cataract procedure with unprecedented precision. This will especially benefit our patients with astigmatism, and we are very excited to watch the future unfold."
As for laser vision correction, he said, "The growth has been explosive. When I started I never dreamed refractive surgery would evolve to what it is today. … (It) is an absolute life changer."
While Coden can talk a mean streak about eye surgery and why people should pay attention to their vision – especially after 40 – get him going on baseball and you'll find out a lot more about how passionate he is about the sport.
"I'd still be good if I played one game," he said, but the next day and the next day, well not so good.
He throws the ball around almost daily with his son, a baseball, soccer and football player at La Jolla Country Day, but it's sharing tales about the six fantasy baseball camps he's attended since he turned 40 that fires him up.
He and his brother celebrated that birthday at a Detroit Tigers camp "with my boyhood heroes," he said. On his brother's 40th birthday, they went again.
Since then, even though he's not a Dodgers' fan, he and a group of friends have gone to four of that team's camps.
"It's a great way to have a whole lot of fun and a great way to get injured," he said, without revealing any specific injuries of his own and preferring instead to talk about being fit in his 50s. "You play real baseball on a major league field, coached by ex-pros and major league umpires."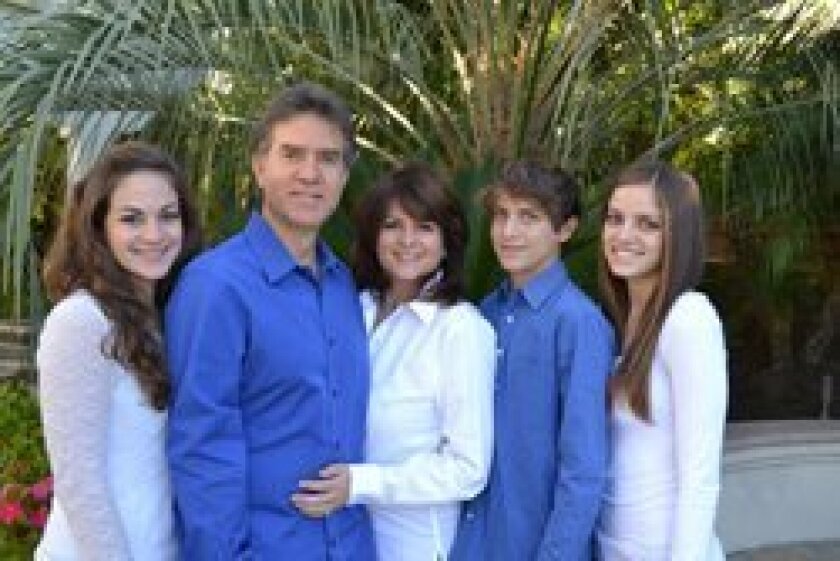 He also shared his love of the game – and other sports – through the years with his children. "I've coached everything for a zillion years," he said.
In those "zillion years," he's said taken heed of what a physician at Kaiser hospital told him were three pieces of a successful life: "Have one home, one wife and pay up your disability insurance."
"I've been privileged and lucky and blessed, he said. "They say it's all about who you marry and where you live. … How lucky I am."
Quick Facts
Name:
Daniel Coden, M.D., F.A.C.S. (Scripps Health Opthalmologist)
Distinction:
Senior Honor Award for Teaching, American Academy of Ophthalmology; named "Young Leader in Opthalmology," Ophthalmology Management in 1989. Previously taught at UCSD School of Medicine and served as consultant to Veterans Administration Hospital and Naval Hospital San Diego. Team ophthalmologist for the San Diego Gulls hockey team as well as for the original San Diego Sockers. Currently sanctions fighters for the California Athletic Commission for boxing and Mixed Martial Arts.
Family:
Wife: Liz Nederlander Coden, college sweetheart, married 28 years, real estate agent (Windermere, Solana Beach). Children: Lauren, 23, USC Viterbi School of Engineering graduate; Jacqueline, 20, junior economics major at University of California, Santa Barbara; Ben, 15, sophomore at La Jolla Country Day School - High Honor Roll, three- sport athlete.
Interests:
Huge sports fan, especially baseball and football (Chargers' season ticket holder since 1994); classic rock, financial investing, current events. Main interest is hanging out with my kids for as long as they'll let me.
Reading:
Favorite book is "Lonesome Dove" by Larry McMurtry – over 1,000 pages about a cattle drive, but it's so good you wish it was 2,000 pages. Last book read was "Calico Joe," John Grisham's latest book about baseball and father-son relationships – easy read and can be finished in one day.
Favorite films:
I can watch "Goodfellas," "Casino," "Boogie Nights" and "American Beauty" again and again. "Stepbrothers" is great stupid humor to enjoy with your teenagers.
Favorite getaway:
I like to hide in my car where no one can find me. My newest favorite getaway is San Francisco. It's easy to get to, and my oldest daughter (whom I miss immensely) lives there . My favorite recent trip was to Madrid, Spain.
Philosophy:
In the words of the great John Lennon., "Life is what happens to you while you're busy making other plans."
---