Carmel Valley gardener wins San Diego conservation landscape contest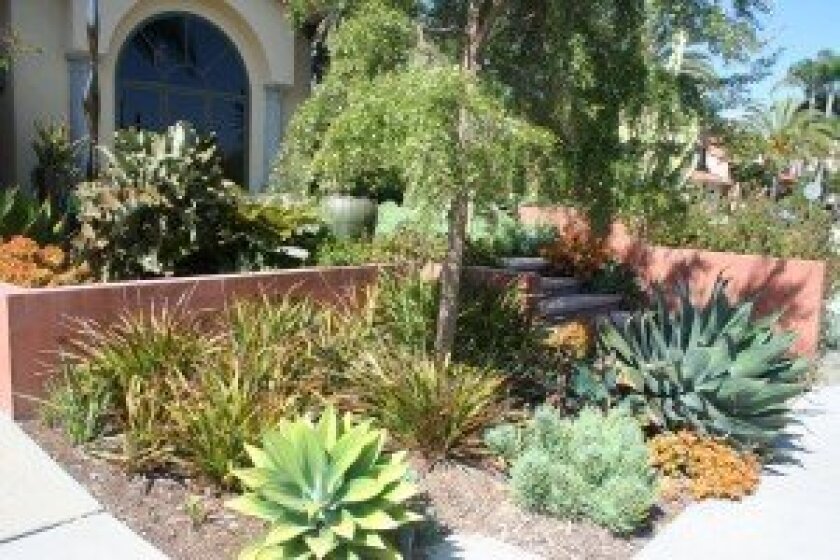 Second Carmel Valley gardener earns honorable mention in same competition
By Karen Billing
Two Carmel Valley gardeners have shown that being water-wise and having drought-tolerant landscaping don't have to mean "ugly."
Carmel Valley's Amelia Lima was named the winner of the California Friendly Conservation Landscape Contest sponsored by the city of San Diego's water conservation program and public utilities department, while another Carmel Valley resident, Nancy Dalton, received an honorable mention.
Both women's gardens are alive with more than just rocks and a couple of cactuses — they are colorful, lush and full of visual interest.
"I'm very concerned about water in our climate, as everyone should be," said Lima, a landscape horticulturist who owns her own landscaping company.
Lima said between 50 and 60 percent of all water in Southern California is used outdoors and, for the most part, people overwater their gardens. She said many people mistakenly think if a plant is not doing well, it's because it lacks water. Her biggest tip is instead of dousing those struggling plants with more water, to find plants that actually want to live in this unique environment.
Lima said that San Diego is a Mediterranean climate and only four other regions of the world share that climate — the Mediterranean basin, South Africa, Australia and Chile.
"Of all of those places, San Diego receives the least amount of water," Lima said. "Our plants need to be tough — this is a tough environment for them to live in."
When Lima moved into her Carmel Valley home 14 years ago, the front yard looked drastically different than it does today. Grass covered the sloping lawn, and a virtual jungle of cycads was so overpowering that you couldn't even see her home from the street.
"I knew grass had no place here for several reasons," Lima said. "Because of the incline, it's not safe to mow, and in our climate, you should not have grass unless it's for dogs or children to play on."
Little by little, Lima made changes, but three years ago she started a serious overhaul. Cutting down a wall in her yard from 4 feet to 2 feet, she created a set of steps, making sure to leave a space between the steps and the wall. That space is now teeming with succulents.
Most of those cycads were removed, although some were transplanted to other parts of her yard. She said her neighbors must have thought her crazy when she planted several tiny cuttings of agave and other succulents throughout the yard. Now their rosettes colorfully fill every corner.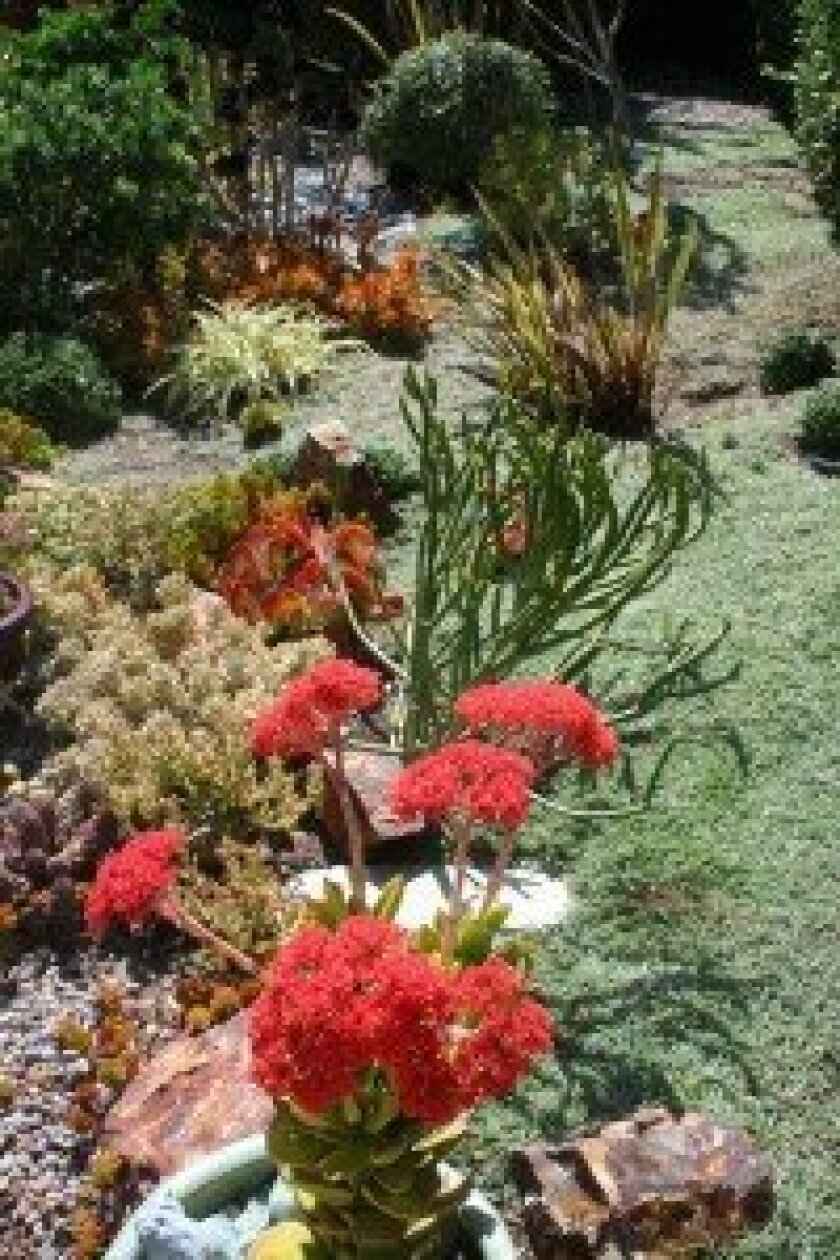 She placed one succulent,
Agave bovicornuta,
very close to her stone path because as the leaves unfurl, it leaves markings that she finds beautiful, and she wanted to be close enough to see them. The succulent has happily grown huge and Lima loves it, even thought the spikes on its leaves are precariously close to the walkway.
Dymondia, a very drought-tolerant ground cover, grows in between stepping-stones, and the garden has no flowers.
"You can do a very colorful garden without flowers," Lima said.
Dymondia is also a big feature in Dalton's lovely back yard. Dalton moved to her Carmel Valley home 20 years ago and both her front and back yards used to be grass. She started the transition away from grass in her back yard four years ago and in the front yard a little over a year ago.
"My main motivation was to cut down on water," she said.
In her front yard, a stone pathway cuts through gravel ground cover and succulents of all shapes, sizes and colors. Michael Buckner harvested plants for her, and she poked them in wherever she wanted.
In her back yard, she worked with Barrels and Branches Nursery in Encinitas. Lush dymondia coats the ground between succulents in oranges and greens, purples and blacks. Hummingbirds are constantly attracted to one of the red flowering bushes.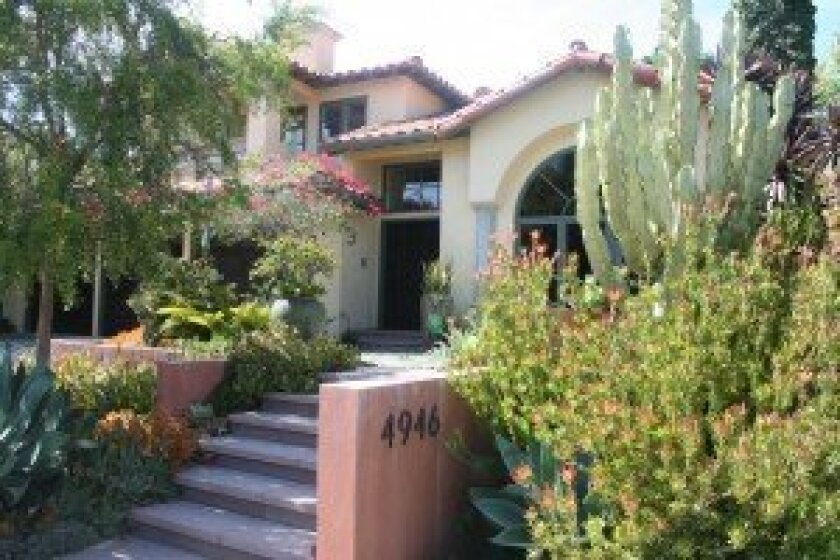 One of the gorgeous features of her garden is a bed of river rocks where each rock has been placed just so, creating a sweep about 2 feet long and a foot wide.
"It took four people two days to put it down," Dalton said. "That was really labor intensive. You have to dig out the area and stand every stone individually."
She likes the rock bed, as it gives her garden some movement — it doesn't just lie flat.
Cactuses of all kinds are featured around Dalton's home, in pots and displays. One she calls her "old man cactus" looks a bit like the Addams Family's Cousin Itt — inexplicably hairy. Another twisty, curvy one in a pot near her front door just won't stop growing, she said.
"I just dig pieces out and poke them in someplace else. They don't take much care or much water, and they're very forgiving," Dalton said. "I don't like cacti in the main parts of the garden because they bite you."
Dalton uses a graywater system at her home, where all of the washwater from her laundry waters a large portion of her property.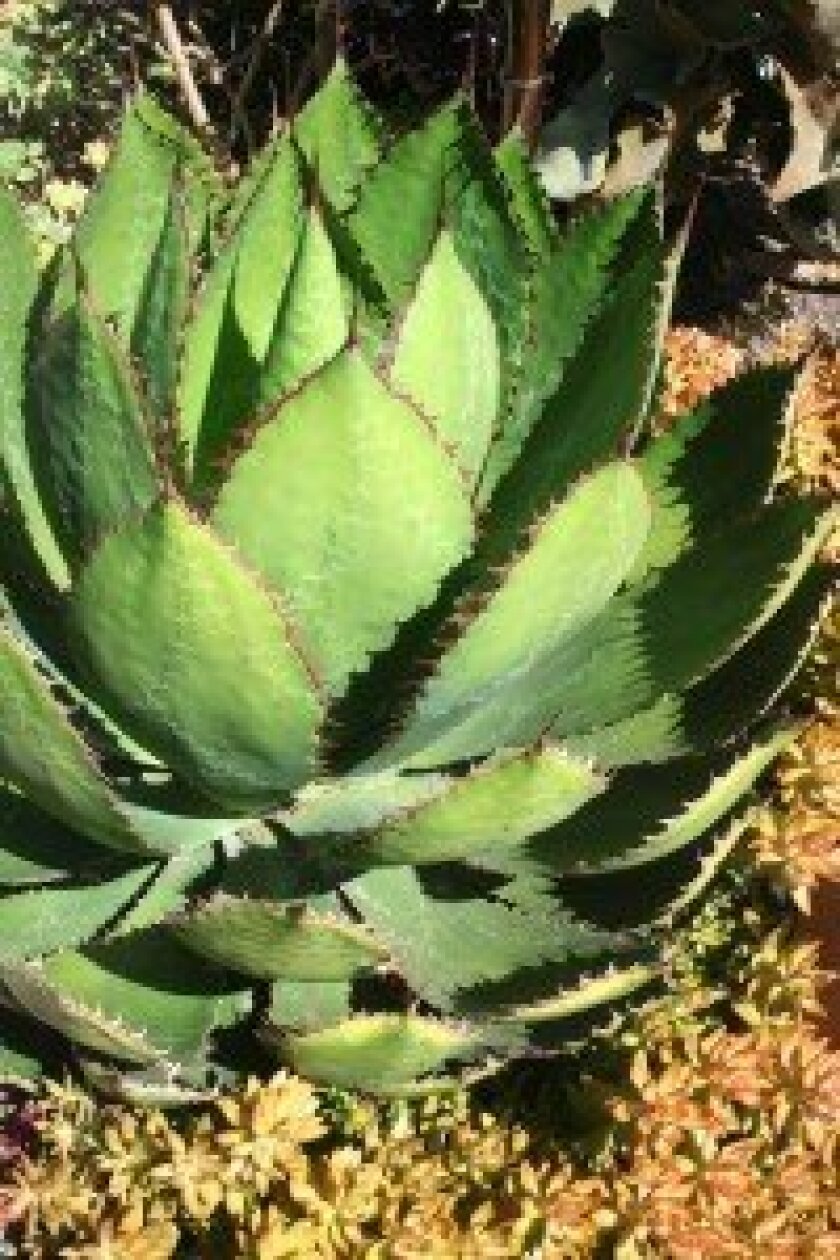 She waters her yards only once a month. Typically, during the winter, she does not water at all. However, this winter was especially hot and dry. Her many potted plants do get water every other week.
Thanks to her graywater system and removing all of the grass at her home, her water bill has decreased about 52 percent.
Lima said she waters her garden every nine days.
"You will never see water running in my garden," she said. "The water that I put on my garden stays on my garden."
She uses a Netfim drip irrigation system: Pipes are set up on a grid on the topsoil and the water is put out very slowly, about .6 gallons an hour. Over time, the small pools of water meet and the whole surface has been watered.
Lima said with that system, her stepping stones also never get wet. As she noted, Southern California water is full of minerals, so any surface that is watered all the time will start to show calcification. She does not have that problem.
As Lima has only one downspout in the front of her house, next to her garage, she connected it to a perforated pipe that crosses the entire yard.
"Rather than all the water running into the street, it's diverted to my garden," Lima said.
Lima said that homeowners should remember that they don't have to apply all the water at the same time. On a day that they water, she advises using three smaller cycles. "You never want to see the water run," she said.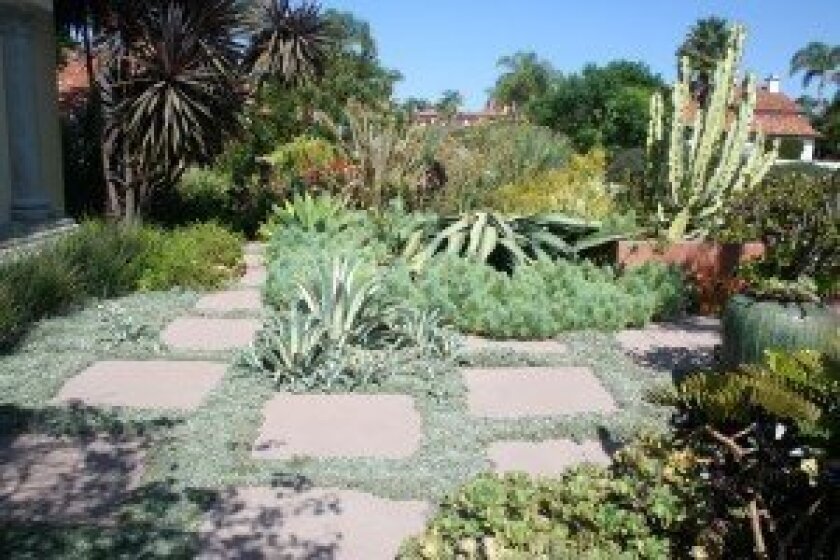 Lima likens soil to a sponge — if you put a lot of water on a very dry sponge, it will run off and fail to be absorbed. But if you apply a little at a time, the sponge has time to breathe and absorb it, thus holding the water longer — just like the soil.
Besides choosing the right plants, another of Lima's big tips is to use at least 3 inches of ground mulch in the garden.
She said mulch helps keep the moisture where it's supposed to be and if you choose good-quality mulch, when it breaks down, it actually feeds the soil.
A centerpiece to Lima's garden used to be an agave in full bloom, with a stalk that had grown taller than her house. Lima said it was "amazing," but over the past month, it was knocked down.
"Gardens are all about evolving," Lima said. "Start to enjoy and find beauty around you. A garden is where you should find peace in your environment. Gardens should not be fussed about."
Dalton said her garden will evolve, too — she is getting ready to get rid of all the rock areas on the sides of her home because she wants something new. And as Lima advises, Dalton has already found peace in her garden.
"It's my therapy," she said of her time in the garden.
Dalton noted that it's very chic these days to transform your garden, and resources abound at local nurseries. Find more about California-friendly gardening, and the city's residential rebates and survey offerings, at
sandiego.gov/water/conservation
.
---