Carmel Valley Girl Scouts seeking donations for care packages to help the homeless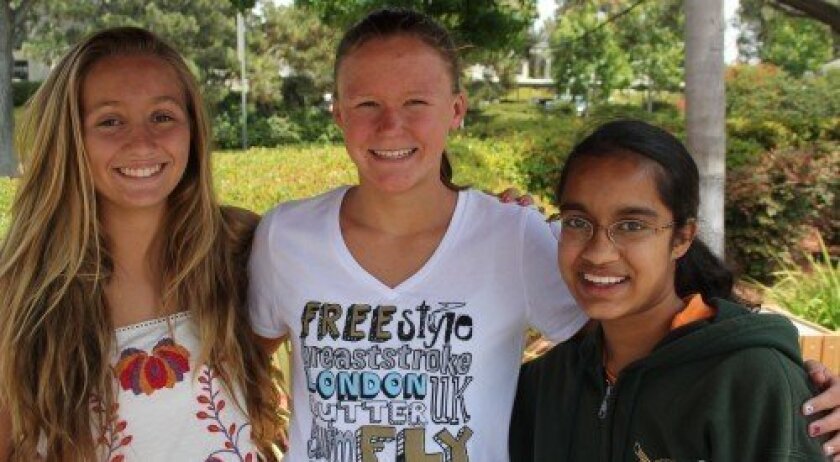 By Karen Billing
As part of their Girl Scout Senior Award project, three teenagers are tackling the issue of homelessness in San Diego. Dionne Rasquinha, Jaime Wisnia and Katherine Lauerman of Girl Scout Troop 1156 are spending numerous volunteer hours at local charities and are seeking donations to put together 150 care packages to hand out to those in need.
All three will be freshmen in high school in the fall: Dionne at Canyon Crest Academy, Jaime and Katherine at Torrey Pines High. The girls have been visiting local dentists, hotels and grocery stores to ask for donations for their care packages.
Dr. Christopher Hydo and Dr. William Rawlings, who have offices in Encinitas and Solana Beach, donated 144 tubes of toothpaste. Dr. Thomas Kujawski's dental practice also donated 45 toothpaste tubes, 15 toothbrushes and 30 flosses.
"People are really willing to donate, which is awesome," said Katherine.
They are also hoping that the community will help them out with donations. Items needed for their care packages include shampoo, conditioner, lotion, band aids, individual pocket-size hand wipes, bottled water, granola bars, toothbrushes, hand sanitizer, socks, sunblock, soap, pocket-size Kleenex, chapstick or Vaseline and small notepads.
Collections for donations will be held on Monday, Aug. 13, and Saturday, Aug. 18, from 10 a.m. to 12 p.m. in the parking lot in front of Solana Highlands School (3520 Long Run Drive, Carmel Valley, 92130).
In picking their service project, Katherine and Jaime had first intended to try and do a bookmobile for seniors, but they ran into too many roadblocks for it to work out. Dionne had a fulfilling experience volunteering packing food for the homeless at her church, St. Therese of Carmel, so the girls decided to join forces and do their project serving the homeless.
"We see homelessness in San Diego so much and it looks pretty tough," said Katherine.
"I found out that in San Diego, if we don't help it will cost us a lot more money than if we do help," said Jaime, referencing the costs to the entire community for the homeless accessing public services such as healthcare and police.
According to the Regional Task Force on the Homeless, San Diego County's homeless population is now at approximately 9,800, representing an 8.6 percent increase from 2011.
The Silver Award requires 50 hours of logged volunteer time. Places the girls have volunteered at so far include Bread of Life Rescue Mission; St. Vincent de Paul Village; TACO (Third Avenue Charitable Organization) run by First Lutheran Church of San Diego; making sandwiches and care packages at Solana Beach Presbyterian; and serving at Friends and Family Community Connection (FFCC).
"I really liked working at FFCC because it's almost like a store," Katherine said of the organization that lets people browse among donated clothing items and food.
"I like St. Vincent de Paul," said Dionne. "Before I didn't think that a lot of people would be there to volunteer but there were and it was inspiring that so many people are willing to help out the community."
As the Silver Award is also about completing a project that will be an ongoing process, the girls hope to prepare write-ups of all the local homeless charities to encourage and inspire others to volunteer their time. Jaime said a lot of their fellow high school students need community service hours, and they hope it will be a helpful resource.
Katherine, Dionne and Jaime have all been Girl Scouts in the same troop since they were kindergartners and they enjoy the experience and plan to stick with it.
"For me it's really the environment, all the girls in our troop are good children," said Jaime. "We're down to five or six girls from 12, but it's nice to have known them for a long time and we're all very good friends."
The troop still meets and goes on camping trips, which Katherine said is the best part. They don't sell cookies anymore, but have the opportunity to do a lot of meaningful community service.
"I like that we're able to see what's happening around us," Dionne said.
---