Carmel Valley planning board approves San Diego's first hydrogen fueling station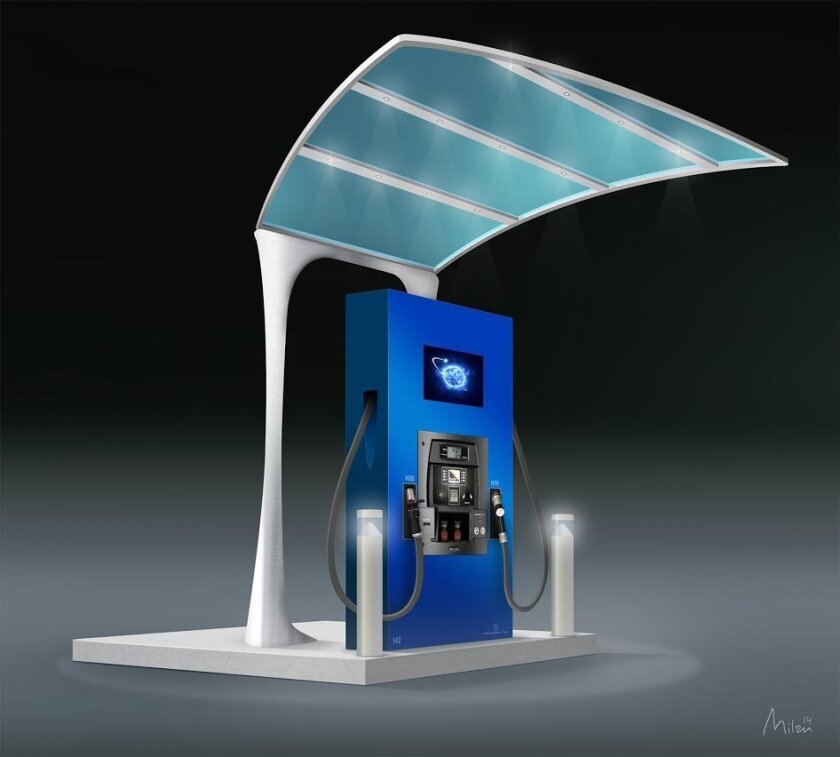 Carmel Valley will soon be home to the first hydrogen fueling station in San Diego.
At its March 26 board meeting, the Carmel Valley Community Planning Board voted 12-1 in favor of the 805-square-foot pump by FirstElement at the Shell Station on Carmel Valley Road and Interstate 5.
FirstElement is the first company in history to provide a retail hydrogen fueling station network, waiting patiently for the vehicles to take hold and for the market to grow.
Dr. Shane Stephens, chief development officer and principal for FirstElement, said the company aims to get approval from the city in the next few months and hopes to start construction by mid-summer.
"We're really excited to come here. This is a big market that's been untapped," Stephens said.
The state of California is committed to the success of the hydrogen fueling network as Gov. Jerry Brown's Zero Emission Vehicle (ZEV) Action Plan seeks to have 1 million ZEVs on California roadways by 2020 and 1.5 million by 2025.
California plans to have 68 hydrogen fueling stations by the end of 2015 in order to adequately serve the first 20,000 fuel cell electric vehicles. Southern California stations are in Torrance, Los Angeles and Irvine.
The California Energy Commission has provided FirstElement with a $27.6 million grant for 19 hydrogen stations.
In addition to the state grant money, the company is also receiving financial support from Toyota to build its stations.
"It's a really tough business in the early years," said Stephens. "We're heavily dependent on state funding."
The fuel cell electric vehicle uses fuel cells to power an electric motor using oxygen and hydrogen. It takes five minutes for a vehicle to fill a tank for 300 miles or more of driving, 60 to 70 miles per gallon.
Initially, hydrogen fuel will have price parity with gasoline; but with more demand, Stephens expects it to be about half the cost of gas.
Fuel cell cars on the market include the Toyota Mirai and the Hyundai Tucson, with the Honda Clarity available for lease.
In the 12-1 vote, board member Debbie Lokanc voted no because of safety concerns with the new technology.
In regard to those concerns, Stephens said that hydrogen is nontoxic, "safer than other fuels, if not safer," and that their fueling stations have passed a number of safety tests. The station would also be surrounded by a fire-resistant barrier wall.
"Because of hydrogen's high dispersion rate — it moves upwards at a speed of 65 feet per second — it is less likely to create a flammable mixture," said Stephens. "In the unlikely event that hydrogen does catch on fire, in most cases it will create a flare going upwards rather than pooling, sticking to things and engulfing things in flames in the way a liquid fuel like gasoline would do."
The actual pumping station is a modern-looking facility that is 12 feet tall with a 13-foot arching canopy. The plan includes landscape enhancements as well as four palm trees to help shield the unit.
The walled part of the pumping station is what the planning board would most like to see hidden. In future fueling stations, the components would be underground; but in early stages the equipment is kept above ground in a structure behind the pump.
---