Carmel Valley man shares story of being a POW and WWII bombardier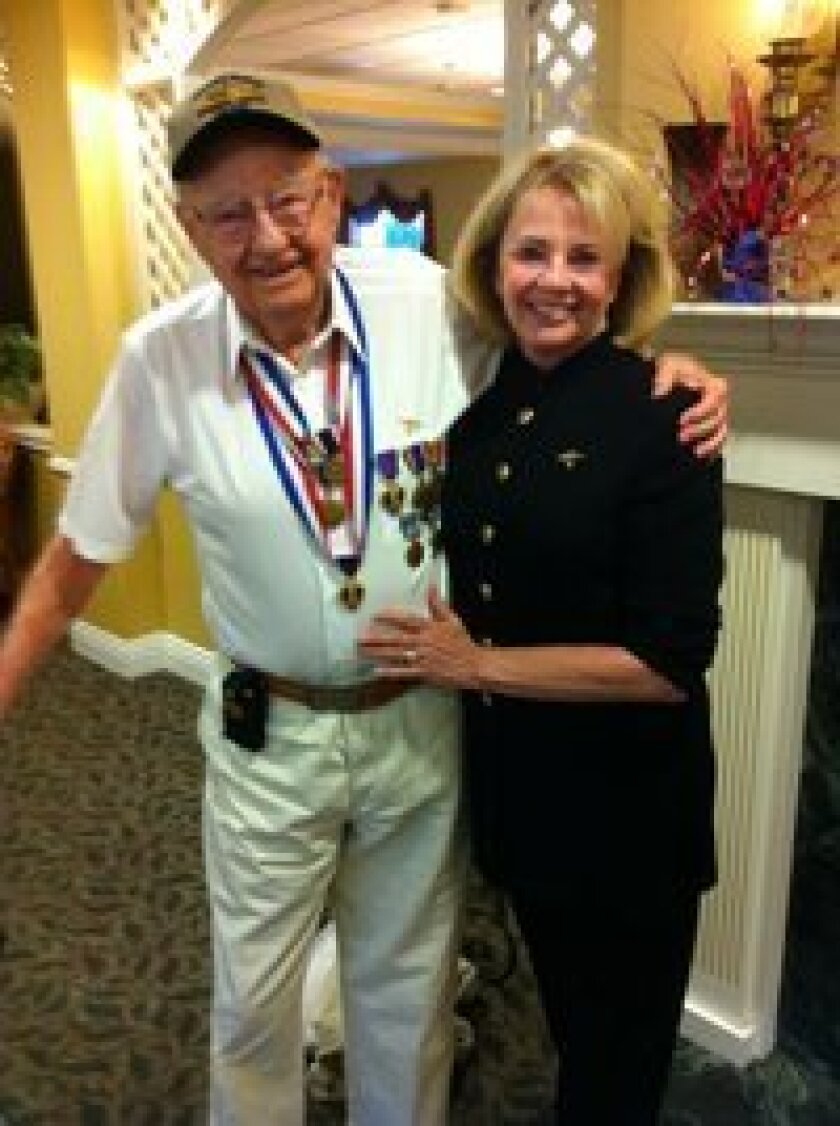 By Claire Harlin
While he may be gloriously decorated, bearing an Air Medal, two Purple Hearts and a Presidential Unit Citation, William "Bill" Laughlin will tell you that he's a survivor, not a hero.
The resident of Carmel Valley's Emeritus assisted living community will turn 92 on Sept. 8, but he still vividly remembers what he went through in 1944, when he was shot down from his B-24 bomber and captured in Romania as a prisoner of war. He endured a grueling five and a half months of detainment in a girls' school in Bucharest, eating cabbage soup, sleeping in a mattress made of hay, and withstanding lice and bed bugs. But he still says he thinks he had it pretty good compared to many other World War II veterans who were shot down over Japan or Germany, or the tens of thousands who didn't make it home at all.
"It wasn't living in the Ritz, but everything is in comparison to something else," said Laughlin, whose children, grandchildren and great-grandchildren live in Del Mar. "Had I ended up in Japan I would have had a real rough time. Many of them were tortured, and most didn't come back. In Germany, they didn't have the food to feed the prisoners."
Laughlin is not only thankful to be alive to tell his story, but he's one of a dwindling generation of WWII veterans who have lived long enough to talk first-hand about this important part of American history. That's one of the reasons Laughlin was invited by U.S. Sen. John McCain and U.S. presidential candidate Mitt Romney to join them on stage for this year's Memorial Day tribute at Balboa Park's Veterans Museum. Being a former B-24 bombardier, the ceremony was particularly special for Laughlin because the heavy bomber, also called the Liberator, was designed by San Diego company Consolidated Aircraft.
Laughlin's daughter, longtime Del Mar resident Donna Hall, had read about the ceremony in the paper and called the organizers to get tickets to the event. She then mentioned that her father is a veteran and they said, "Tell us about your dad."
"They were so thrilled because the ceremony was to be held at the B-24 memorial. When they heard my dad was a B-24 bombardier, they were like, 'Oh my gosh we have to honor this man. Can he come?" Hall said.
Laughlin added, "Then they found out I had gotten shot down and I was a prisoner of war and they went ape."
The B-24's most infamous mission was the one in which Laughlin participated — a low-level strike against Romania's Ploiesti oil fields, which turned into a disaster because the enemy was reportedly underestimated. The strategic operation was meant to cut off much- needed oil to the Axis powers so they couldn't fuel their equipment.
When his aircraft was shot, it lost power on one side and fell through a group of about 270 flying planes below, he said.
"It's hard to say what you think during all this," Laughlin remembered. "You're on fire, everybody's trying to get out of the airplane and you think, 'How'd I get in this position?' You think so fast."
There were about 300 planes in the attack, with about five guys per plane, and "nobody really expected to come back," Laughlin said, adding that he parachuted out of the plane and was "banged up pretty bad" when he hit the ground at about 20 miles per hour and landed on some large oil drums.
"Thankfully everyone got out of our aircraft before it blew up," he said.
With a broken ankle and dislocated arm, he was then taken into interrogation and later into a holding room where he would stay with about 30 other men for almost six months.
Men were scattered about, some hundreds of miles apart and in different countries. Men from the same plane might have ended up 15 or more miles apart, he said.
"All in all, we were very fortunate to be shot down over Romania because it was the first Axis power to surrender to the Allies," he said. "Had I been shot down a couple hundred miles away in any direction, I could have been a POW for another year. It was a different experience for every person shot down."
During his imprisonment, Laughlin said he had to help some of the badly injured troops to the bathroom, which consisted of two slippery concrete slabs to balance on and a hole in the ground. He said for the duration of his confinement, he wore the same clothes he parachuted down in. Luckily, he said, there were showers, and the prisoners were therefore able to keep drowning the lice, he said.
"We would have to pick the lice off of each other, and the bed bug bites were so bad and they would become infected," he said, adding that most of the men lost anywhere from 20 to 30 pounds while in confinement.
Laughlin was part of the first American forces that were liberated in Europe. He said he was released from Romania and happened to meet an American in a bomb shelter who informed him that the U.S. government was evacuating prisoners from the Bucharest airport.
After his return home, Laughlin remained in active duty and then started a career in the oil industry. Years later, he made a career switch and began producing construction materials. He was married to his wife for 66 years.
The entire family showed up to support him when he was honored on Memorial Day in Balboa Park. They dressed him up and put his medals on, and he proudly sat with his family on the stage that was filled with war dignitaries and prominent officials.
His daughter said she and her family were "so pleased that he could be respectfully honored."
His son-in-law, Peter Hall, described him as a humble man, "one of those great generation guys."
"We were so excited," he said. "[Bill] was just as touched and excited about it, but he would never show it."
---