Carmel Valley native wins Blankfeld Award for Media Critique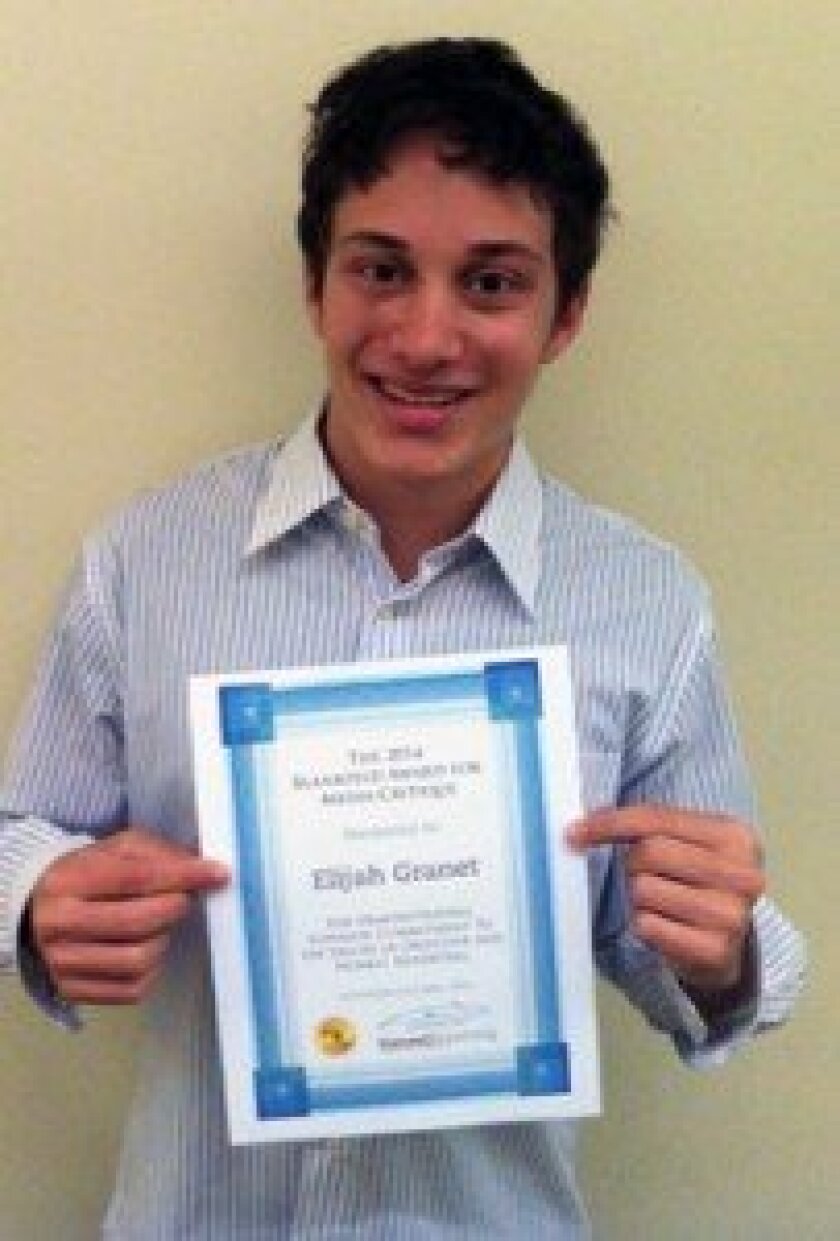 Two years ago, Elijah Granet was writing for student magazines at Carmel Valley's Canyon Crest Academy. Now, the San Diego native is being recognized nationally for his work, having recently received HonestReporting's third Blankfeld Award for Media Critique.
"It is such an honor," said Granet, 19. "To know that HonestReporting saw my writing and thought that it reflected their journalistic mission is incredibly humbling. It's very exciting."
A political science sophomore at Columbia University, Granet also studies the Talmud at Jewish Theological Seminary in New York City and is a regular contributor to the Times of Israel blog. He also wrote several opinion pieces for The Daily Californian during his first year of college at UC Berkeley.
"Particularly, I'm interested in issues related to Israel," said Granet, who founded an American Israel Public Affairs Committee club at CCA and was on the executive board of the Tikvah: Students for Israel group at UC Berkeley. "I'm interested in how things are discussed and how things are referred to — smaller things that maybe don't get in the headlines."
Formed in 2000, HonestReporting monitors the media for what it perceives as bias against Israel. The organization's Blankfeld Award for Media Critique recognizes aspiring journalists who demonstrate a commitment to the values of objective and honest reporting, specifically in the field of the Arab-Israeli conflict.
For this year's contest, HonestReporting received entries from student writers from around the globe, including the United States, Canada, United Kingdom, Australia and South Africa. The judging panel consisted of the Jerusalem Post's Political Editor Gil Hoffman, HonestReporting staff members and HonestReporting Board Member Max Blankfeld, the sponsor of the $2,000 award.
As the recipient of the Blankfeld Award, Granet has committed to write at least four pieces in 2015 for the HonestReporting website.
"It's not just an award recognizing my writing, it allows me to continue writing and work with such a great organization," he said. "It's an opportunity to do more of what I love."
For more about HonestReporting, visit honestreporting.com.
---