Carmel Valley ovarian cancer survivor lives life to the fullest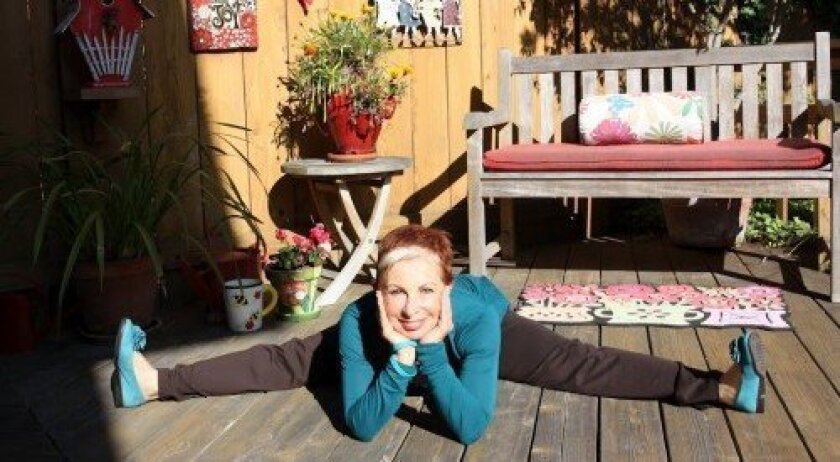 By Kathy Day
Some people facing a cancer diagnosis go into a deep funk. Others, like Carmel Valley resident Naomi Whitacre, tackle it head on – and then some.
Today, 10 years after finding out that she had ovarian cancer and nearly three years after learning she carried the BRCA1 gene, which has been tied to hereditary breast and ovarian cancer, she said she does three things: She's a human resources consultant, a volunteer for ovarian cancer and she lives "life joyously with friends."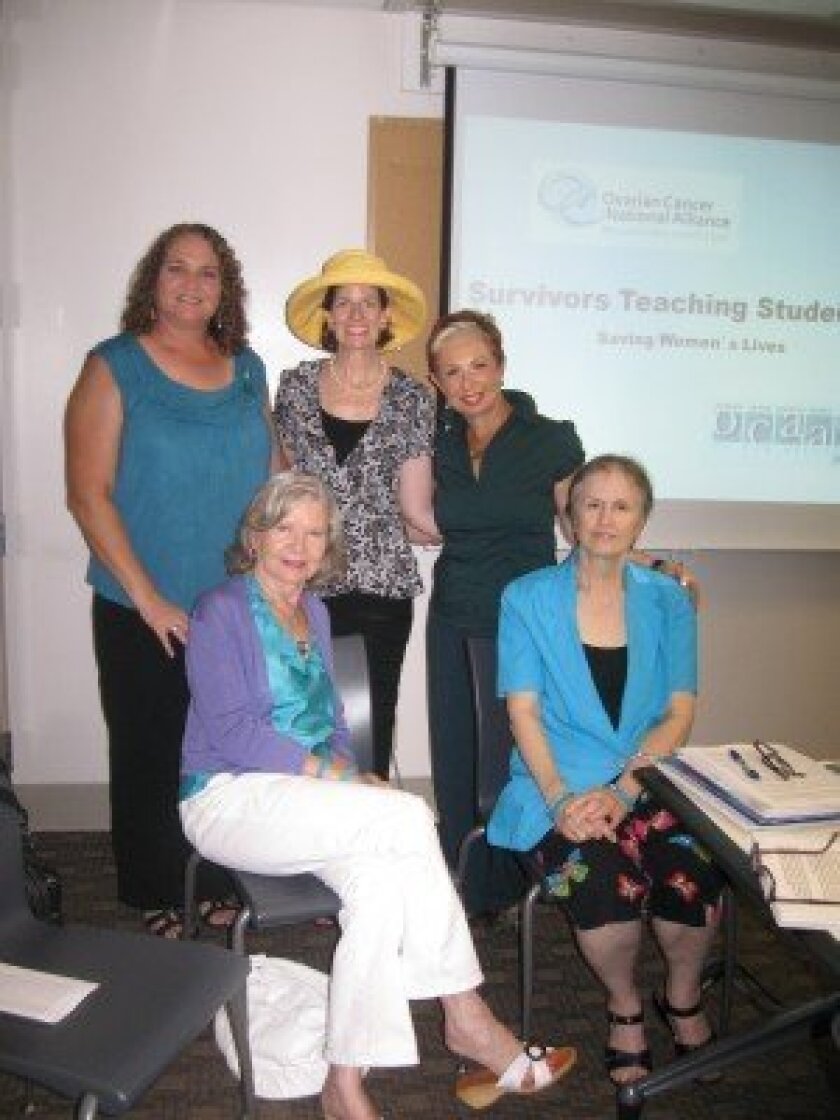 A self-described flower child who went to Woodstock and put herself through college as a go-go girl, today she does yoga, spins, hikes, takes classes at the Bar Method in Solana Beach and loves to entertain at her "Round Table" dinners where friends "talk about anything and everything in life."
She uses her own experience — and boundless energy — to inform others about ovarian cancer. And she's not just focused on assisting other survivors, but helps medical students, nurses and nurse practitioners understand what patients need. She also advocates for genetic testing and individualized treatments through the Clearity Foundation.
Oh, and in her "spare" time, she recently went on a three-week mission to assist AIDS-related orphans in Kenya.
Listen to the story about her cancer diagnosis and you'll identify with her special appreciation for life.
"Fortunately, the cancer was accidentally discovered," she said on a recent afternoon sitting in her sun-bathed Carmel Valley home.
She had been working out on the beach, but when she got home, she walked in the door with a 103-degree fever. Immediately she called her doctor, Lawrence Schlitt of Scripps Health. "I think he saved my life," she said.
And her own decision eight years later to have genetic screening done to see if she had the BRCA1 gene likely saved her sisters' lives, she added.
When she learned she had the gene, Whitacre immediately had a double mastectomy. After sharing the news with her sisters, her middle sister had her ovaries removed; when her baby sister went in to have her ovaries removed, they found high-grade fallopian cancer.
Soon, all three sisters are heading for Paris to celebrate Whitacre's 65th birthday and their own lives.
Needless to say, she's become an advocate for genetic testing.
Early testing, knowing your body and demanding answers from doctors have become her watchwords.
"Put yourself first instead of taking care of everyone else," she said.
When she fell ill after that workout on the beach that day 10 years ago, her doctor said he suspected appendicitis and told her to get to the hospital immediately, but she replied that she was too busy. Set to leave for Europe and teaching classes in human resources at UCSD, she just couldn't be bothered, she said.
"He said no, go now," she said. "I was reluctant and annoyed" but headed for Scripps anyway.
An MRI of her abdomen to check for appendicitis revealed a cantaloupe-sized tumor that had formed around a fibrotic ovarian cyst. Three days later Dr. Conlay Lacy and Dr. Bridgette Duggan removed the growth, which turned out to be stage 2C ovarian cancer.
That was followed by extensive intravenous chemotherapy and a "second-look" surgery to check to see if any microcells remained in her system.
Whitacre said 16,000 of the 22,000 women diagnosed each year with ovarian cancer die, but if detected early the survival rate is 90 percent to 95 percent.
The problem, she noted, is that there is no early diagnostic test – and a PAP smear doesn't test for it. Instead, research has shown that a group of symptoms can indicate the possible presence of the cancer. They include bloating, pelvic or abdominal pain, change in bowel movements, short-term weight loss or gain, and a feeling of being full after eating only a little.
"Acute onset of three or more of those over one month is highly indicative of the presence of ovarian cancer," Whitacre said, acknowledging that when she looked back at her own case, she had all of the indicators.
Many women ignore the signs, she added, because they are "classic menopause realities."
To reach a diagnosis — there are 30 variations of ovarian cancer — doctors utilize a rectal-vaginal exam, a transvaginal ultrasound or a sonogram or a CT scan followed by exploratory surgery in many cases.
Today the Clearity Foundation, founded by a physician diagnosed with ovarian cancer in 2008, is "on a quest to apply the knowledge of the genetic signature of ovarian cancers to improve treatment options for patients," according to its website.
Whitacre put their work in perspective: "For those that are not as fortunate, which are most women diagnosed with ovarian cancer, we need to be able to prioritize the next chemo choice from the various options. There are multiple chemotherapy options and now clinical trial choices. We should do better than guessing for next-in-line treatment."
Adding that "molecular profiling is now common on many cancers," she emphasized that "Clearity has brought this to ovarian cancer at no charge to the patient."
In addition to spreading the word about Clearity, Whitacre facilitates a group of survivors who speak to third-year medical students at UCSD, as well as nurses and nurse practitioners in training to help them connect the disease with the person.
"We are the first patients they will talk to in their educational process," she said. "They are interested in our stories and how we found out, as well has how to tell us (patients that they have cancer) and how to treat us," she said.
Eighty medical schools are involved in the program through the Ovarian Cancer National Alliance.
Whitacre, who lived in New York and developed drug education programs for the New York City schools, moved to Carmel Valley 36 years ago when her son — now a "wonderfully, ethical, kind and brilliant quantum physicist" — was born. After arriving here, she tried to find similar work but instead took a position as a temporary receptionist in a personnel department. She rose to become senior vice president of human resources, retiring in 2005.
But "retired" she's not. At 63, she's a fireball who can still do the splits and just wants women to pay attention to their health.
"When you think something is wrong, it probably is," she said.
For more information:
• https://www.clearityfoundation.org/
• https://www.ovariancancer.org/
---