Carmel Valley Paralympic skier with eyes on 2018 to attend Sochi Winter Olympics
By Karen Billing
For Katrina Schaber, the phrase "going downhill fast" is actually a good thing.
A star on the slopes at age 16, the Canyon Crest Academy junior is the youngest skier on the international Paralympic racing circuit and has won back-to-back Junior National titles.
Katrina, who has cerebral palsy, first skied when she was just 4 years old and will have the opportunity to travel to the Sochi Winter Olympics next month as part of TD Ameritrade's campaign to send seven 2018 Olympic and Paralympic hopefuls to the 2014 Games. Every mention of the hashtag #ItAddsUp helps generate miles needed to send the hopefuls to Sochi.
"TD Ameritrade is proud to support Team USA and the 'next generation' of U.S. Olympic and Paralympic hopefuls by sending them to the Sochi 2014 Winter Olympic Games with mentors who are competing this year," said Dedra DeLilli, director of marketing and sponsorships of TD Ameritrade. "Katrina is an inspiration and really demonstrates the theme of how overcoming many challenges can add up to great success."
The mentor Katrina will be paired with is Danielle Umstead, a visually-impaired alpine skier competing in Sochi. Along with Umstead's husband Rob as her guide, Umstead was a bronze medalist at the 2010 Paralympic Winter Games.
"Rob and I are looking forward to mentoring Kat more and being a part of her journey," Umstead said. "My message to Kat is never give up on your dreams…put in the hard work and always have fun."
Katrina was diagnosed with cerebral palsy when she was 8.
"Being a lot weaker physically and mentally, to keep up with people in school was the biggest challenge," Katrina said.
Cerebral palsy did not keep her off the slopes, however.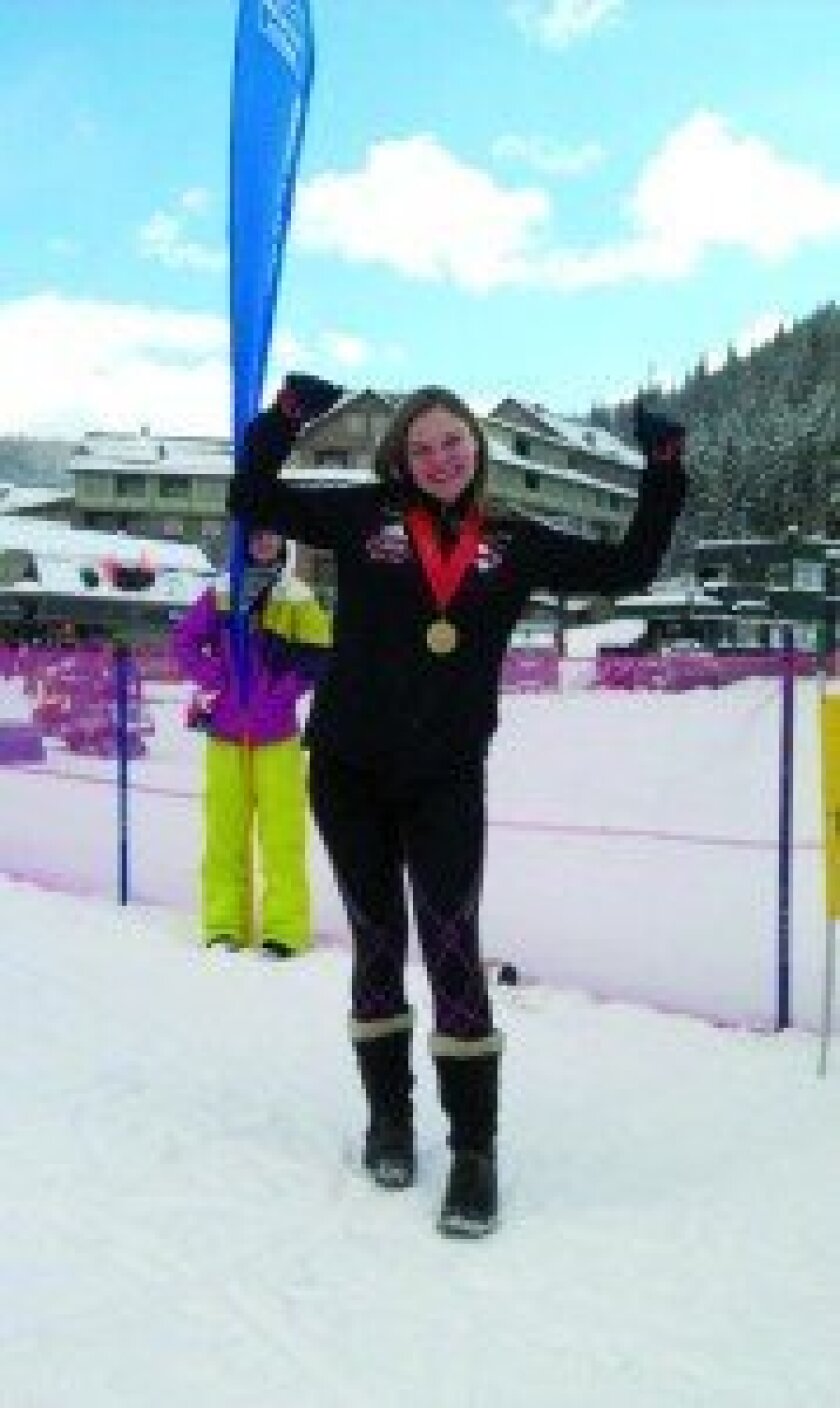 "At first I really hated the sport," admitted Katrina. "It wasn't until I was around 11 years old when I joined the adaptive sports program that I began to fall in love with it."
The adaptive sports program Katrina participated in was Disabled Sports Eastern Sierra at Mammoth Mountain, where adaptive equipment and techniques are tailored to each student's individual abilities, getting them skiing and snowboarding. The program helped make the sport easier for Katrina and as she got better she decided to start competing, mainly in Copper Mountain in Colorado. She has traveled to race in Utah and New Hampshire, but her favorite place to ski is Copper Mountain.
"I'm on that mountain a lot so I feel like I have an advantage when I race there," Katrina said.
Her competition career, which began in 2012, is short but decorated. In addition to her two junior national golds, she has won one gold, one silver and two bronze medals in the North America Paralympic Races. She also won bronze in an able body alpine ski race, competing against athletes without a disability.
"It's been a busy two years," Katrina said.
This weekend, Katrina will compete in the IPC Alpine Skiing World Cup and has her sights set on bringing home more hardware.
"It's one of the huge international races and it was on my goal list this year. I'm really happy that I made it in," Katrina said. "And it's on Copper Mountain of all places, my home mountain. I know the hill very well."
As an alpine skier, Katrina competes in all types of races, including slalom, giant slalom and downhill. She admits that the downhill can sometimes be scary — "I'm gong downhill at about the speed of a car on the highway, it's a little nerve-racking," Katrina said.
Katrina skis mostly in Colorado but depending on how much time she has, she skies in Mammoth and Big Bear as well. During the training season, she is on the slopes four to six hours a day with a two to three hours of "land training" afterward.
When not on the mountain she is in the gym seven days a week for one to two hours doing yoga, swimming or running.
"We have to be strong and fit to take on what we get," Katrina said.
In Sochi, Katrina will attend as a spectator and also be interviewed and participate in behind-the-scenes Paralympic activities — meant to get the Paralympic hopefuls a taste of what they may experience at the 2018 Winter Games in Pyeongchang, Korea, so they won't be overwhelmed by all that happens.
She is working on her Russian and while it will be a "bummer" that she won't get to ski, she is really looking forward to the trip.
"It's a great experience to have," Katrina said.
Katrina may not be used to people calling her "an inspiration," but her drive and discipline sends a message of strength and perseverance.
"Everyone has days when they want to stop, when they think it's too much or it's insanity," Katrina said. "Don't give up. There are many times I've wanted to stop but then I think 'Why would I ever stop?' when I can't believe I made it this far…how I've done this much in this amount of time and am the youngest athlete in the world competing, I can't believe it."
People are encouraged to help spread the word by using #ItAddsUp when using social media, helping TD Ameritrade's goal to make athletes' dreams a reality.
---