Outgoing Carmel Valley planning board members honored for efforts at final meeting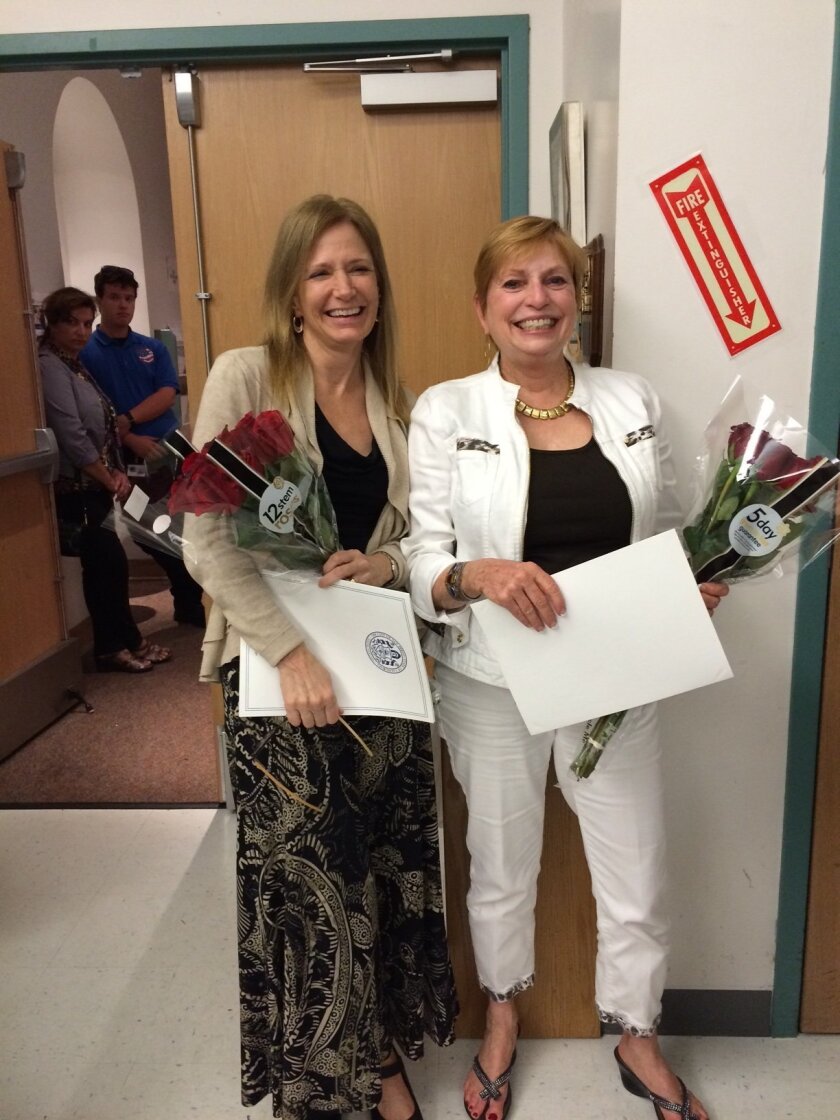 Outgoing Carmel Valley Community Planning Board members Laura Copic and Nancy Novak received special commendations from San Diego City Council President Sherri Lightner for their "hard work and tireless dedication" at their final board meeting on April 2.
As a parting gift, their last meeting stretched past 11 p.m. as they reviewed community projects like stop signs and a potential new school — just a small example of the time they commit to serving on the volunteer board.
Copic has been on the planning board for 14 years.
"I had two young children and our neighborhood was one of the few in Carmel Valley still being built," she said. "I was excited about the prospect of being involved in how the development of Carmel Valley unfolded, and having a hand in what kind of neighborhood my children would grow up in."
At the time, the Neighborhood 10 seat was filled not by a resident, but by the owner of a horse farm in the neighborhood. Copic was encouraged by her neighbors to run against him in the next election.
During her tenure, Copic said she is proudest of persuading the City Council to reject a proposal around 2003 that would have expanded development into the finger canyons, and helping to negotiate an alternative that was acceptable to the developer, city and the community.
Copic was heavily involved in fighting the Sunrise Powerlink, which would have put transmission lines along Del Mar Mesa and Torrey Hills, and through the heart of Carmel Valley.
"She was a member who without hesitation would take leadership roles on subcommittees," said Chair Frisco White. "I was most impressed early in her tenure when she volunteered to be the board's voice for the Sunrise Powerlink project. A not-so-light commitment and sacrifice on her part, being a mother and wife."
Besides her role on the board, she was active in the board's Livability Subcommittee, Regional Issues Subcommittee and the Neighborhood 10 Maintenance Assessment District Subcommittee.
"She represented Neighborhood 10 with enthusiasm, common sense and an ability to get opposing sides to talk and compromise to make her community better," White said.
Anna Yentile was elected in the March elections to take Copic's place, and Copic said there are plenty of ways to stay involved without being a planning board member. She plans to attend subcommittee meetings as much as she can, including the Carmel Valley/Del Mar Mesa Trail Fund Management Group.
Novak, a member of the board for the past four years, was a strong voice for Neighborhood 3 on the One Paseo project. She regularly was a part of regional issues meetings and represented the board at the city's Community Planning Commission.
"Nancy brought a unique perspective to the board discussions with her real estate knowledge of the community," White said. "Her energy to always be a part of the solution and stepping up to the plate when she was needed for committee assignments was second to none.
"I will miss her eagerness to always be learning about planning, project evaluations — being not only a voice for the neighborhood, but for the community, and her desire to do more than what is expected of a board member," White said.
With Novak's departure, Ken Farinsky will return to the board to represent Neighborhood 3.
---