Carmel Valley resident establishes Veterans 360 to help young veterans make a successful transition into civilian life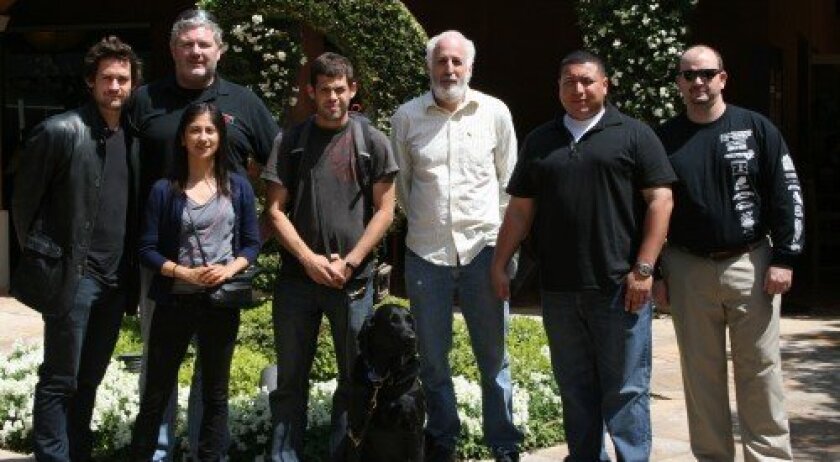 By Karen Billing
During a period in early 2011, Carmel Valley resident Rick Collins lost four friends, all members of the military. Two died in combat and two took their own lives. All were under the age of 25.
The losses made Collins, himself a veteran of the British military, think about the gaps that exist in providing these young veterans a successful transition back into civilian life.
Too many struggle, he said, and the statistics are staggering: 22 veterans commit suicide every day, the highest point since World War II. The unemployment rate for California veterans ages 18 to 24 is nearing 30 percent, with 30,000 more veterans expected to return to the state in the coming year. Among married couples, domestic violence rates are high and many spouses struggle to comprehend combat trauma and Post Traumatic Stress Disorder (PTSD).
"That demographic is really the most underserved and the most at-risk demographic we have," Collins said. "They are really struggling to find work and find their way in life. They've lost everything they've known since high school and there's just not much out there for them to sink their teeth into. If we can come together as a community and help these young veterans it will pay off in a big way."
Collins decided he would do his part to help, launching the nonprofit Veterans 360 last October. Working with a group of 12 young veterans at a time, the organization offers help in engagement, education, employment and healing.
"We're helping 12 young veterans in each squad to move into the next step of their lives, not to head to substance abuse, to become homeless or take their own lives but to be successful," Collins said. "It seems cliché to say we're saving a life but maybe we are."
Collins likes a quote from author and actor Capt. Dale Dye, retired USMC, who said, "We didn't tell them combat is easy. We need to stop telling them civilian life is."
That's his goal with Veterans 360, to connect and engage with young veterans early and get them going in the right direction early, to "prevent despondency from kicking in." If that despondency does kick in, Collins wants to be sure these young veterans have the tools and support to be better equipped to deal with it.
"It's not a handout, it's a commitment," Collins said. "It's a pretty intense process and if they commit, we'll be able to get them the education, jobs, off drugs and alcohol, and the support they need to get through the tough times."
Veterans 360 focuses on the basics of personal engagement — getting the veterans together with a team of friends going through the same experiences, to have fun but also commit to a process that helps them adjust to a return to civilian life.
They work on building their resumes and getting skill training that makes them more attractive to employers and hopefully on a path to a "meaningful job," one that Collins believes the veterans have earned.
They also participate in service projects together like a build for Habitat for Humanity and Challenge America, helping put together a boating regatta for children with disabilities.
They enjoy a few perks as well, such as a recent trip to the Los Angeles set of the new TV show "Hannibal."
The healing process Veterans 360 provides is not healing in the traditional sense, Collins said. He said he knows they won't be able to cure PTSD but there are steps they can take with the veterans so they can feel supported and understand why they're feeling how they're feeling.
"We help them with questions like 'Why am I so angry?', 'Why do I drink so much?'" Collins said.
Veterans 360 offers flexible treatment modalities that make sense for each person. Some prefer hiking, others like to surf. The Veterans 360 group has worked with other organizations on different types of healing methods: They've gone horseback riding with REINS Therapeutic Riding Program, off-roading with 4 Wheels to Heal, and worked with the David Lynch Foundation's Operation Warrior Wellness, which stresses the practice of transcendental meditation. One veteran said he felt the most stress relieved from skydiving, so they were able to facilitate that as well.
"One size doesn't fit all," Collins said.
Collins said they really hope to start a program to educate spouses as often a spouse does not understand what their veteran went through in combat and the veteran does not wish to talk about it. They may think their husband or wife is lazy for not being able to get off the couch or not wanting to play with the kids.
"If we can educate a spouse on what their [veteran spouse] has been through and how they can work together to address those issues, and what resources there are for a family to overcome this together…that could be really powerful," Collins said.
Collins said the big challenge Veterans 360 has to overcome is dealing with a group of young men and women who don't readily accept help.
"They think 'I'll fix it' and the last thing they want to do is ask for help because of the stigma attached for them. We have to show that asking for help is not a sign of weakness, it's a sign of strength," Collins said. "We won't push them through the door. If we open the door, we'll do everything we can to get them to come through but they need to take that first step."
Collins spoke of a young Navy vet who lives in her car but refuses to ask for help — yet. Collins stresses the "yet" and is determined that one day Veterans 360 will be able to help her when she's ready.
Collins said none of this will work without community support and he hopes he can get help from local businesses and individuals. Helping Veterans 360 can come in many forms: A community service project that needs to be done; a business willing to offer an internship or hire young veterans; a financial planner willing to teach them about planning a budget; even a local chef who would be willing to open up their kitchen to teach them some cooking basics.
"All of these things are invaluable," Collins said. "They are high school kids in 24- to 28-year-old bodies. They went straight into service, served in combat and then were sent back out into the civilian world. Stuff we take for granted, they haven't experienced."
Collins said his goal is to replicate what they do in other military hubs across the country.
"We're excited for the future but it's a challenge," Collins said. "Nothing worth doing is ever easy and that's for sure."
For more information, visit
---