Carmel Valley resident wins javelin gold medal at AAU Track and Field Junior Olympics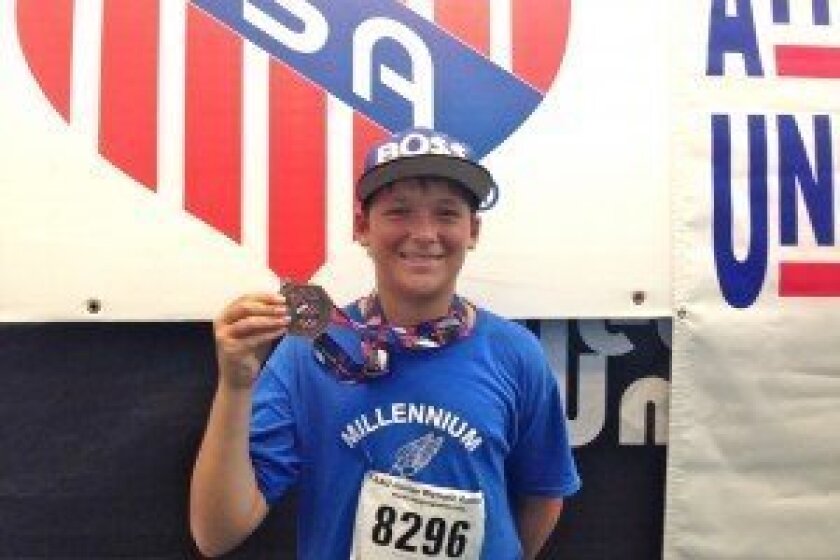 Carmel Valley resident Charlotte Maher continues her reign as javelin champion taking the gold medal recently at the AAU Track and Field Junior Olympics in Des Moines, Iowa. Charlotte won the 13-year-old girls division with a throw of 32.76 meters. Teammate Christopher White of Del Mar took the bronze medal in javelin for the 12-year-old boy division with a throw of 35.45 meters. Charlotte also took 11th in high jump and 21st in shot put for 13-year-old girls.
The prior week was the 48th USATF Junior Olympics held in Houston, Texas. Under blazing skies, Charlotte Maher placed 3rd in javelin for 13/14 girls. Del Mar resident and teammate Christopher White placed 12th in javelin, 33rd in discus and 30th in shot put for 11/12 boys. Both athletes are members of Millennium Express Track Club.
Joshua Marsters of La Jolla rounded out the regional javelin accomplishments, placing 9th in the mens 17/18 year old javelin event. Joshua is a member of Team Edge.
Peyton Rodgers of Solana Beach took 12th in the boys 8 and under long jump event. Arman Irani, a Canyon Crest Academy athlete in the boys 17/18 division, ran the 3000 M race, placing 9th in the nation and 1500M race, placing 30th.
---