Carmel Valley Middle School produces science fair standouts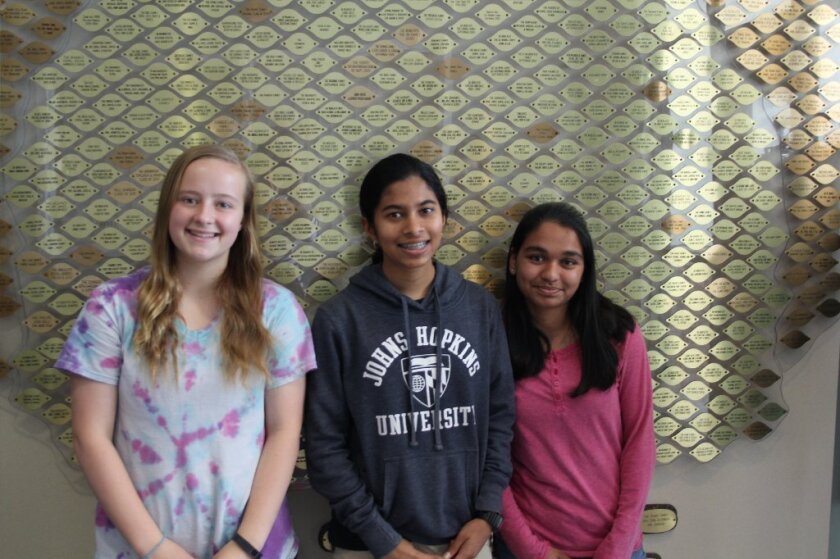 Three curious and bright Carmel Valley Middle School (CVMS) scientists were winners in the Greater San Diego Science and Engineering Fair. All of the winners were eighth graders and all of them were young women.
"I was very proud, happy and impressed that it was all young women," CVMS Principal Cara Dolnik said. "As a mathematics and science person, I encourage girls going into those fields quite a bit so I was very proud."
Alina Pollner won first place in the social and behavioral science division and was named the Junior Sweepstakes winner for "Electronic Media vs. Paper: Effect on Teenagers' Reading Comprehension."
"I was so surprised, my goal was to just win third place," Alina said. "It was amazing."
Alina's project also won three professional society awards from San Diego Mensa, San Diego Rational Inquiry Association and the San Diego Psychological Association.
Rachana Madhukara's project "Devising a Secure and Efficient Hybrid Cryptosystem" earned first place in mathematical science and won professional awards from the Association for Women in Science Award, the Armed Communications and Interactions Award, and the Naval Award.
Ruchi Agashe won first place in the microbiology division for "Abundance and Identity of Various Species of Bacteria in Sushi."
All three girls are headed to Canyon Crest Academy next year.
The girls all took on the projects on their own time, competing in the fair was not a part of their already full educational workloads where they are all excelling in their courses.
To complete her project, Alina received help from her science teacher Naomi Clum. Alina had 145 of Clum's students read two articles, one group reading on Chromebooks and another on paper. She then gave them a comprehension test that she created. On another day, the groups switched — those who had read on paper then read on electronic media and were given another comprehension test.
Alina found no statistical difference.
"It went against all the other research I had found. Other research had found that paper was better so it was very interesting after I conducted a big statistical analysis to get the results that I did," Alina said.
She believes that her results might have been different because other studies had used older test subjects who grew up with more paper sources. The younger CVMS students, however, have grown up with and are used to reading with screens so that is why the test produced those results.
Alina's win of the Junior Sweepstakes has qualified her for the California Students Qualifying Through Affiliates and the Broadcom MASTERS competition, a program of Society for Science and the Public. She also received a plaque and $400 in prize money.
Rachana, who as a seventh grader last year won the Greater San Diego Science Fair Junior Sweepstakes, devised her project this year after spending the summer in a math camp learning about error correcting codes and becoming interested in cryptology.
Rachana's father is in the hospital a lot and is often waiting on receiving medical results.
"They can't send it through email because of confidentiality risks so he has to get into a secure domain and log in," Rachana said. "A better way would be to access results through email."
Her project was a mathematical one and she began working on it back in November 2015.
"It worked really well, the judges were surprised and thought I should go through the patent process." Rachana said, noting she is considering the suggestion.
Both Rachana and Alina were envious of their fellow classmate Ruchi's ability to get lab access for her project. Through some family connections, Ruchi was able to work on her project in the Bio Lab at the La Jolla Public Library.
Understanding that a lot of food borne illness come from raw meat and sushi, Ruchi wanted to find what species of bacteria could be found in sushi and whether they were pathogenic or not.
Ruchi got her sushi from a local restaurant (that she would not name), grew out colonies of bacteria on Petri dishes, isolated and sequenced DNA into colonies and then into nucleotides and found the species.
"I found two species of pathogenic bacteria but they are only harmful to people with immune deficiencies and those who have Cystic Fibrosis," Ruchi said. "The only type of fish that had it was crab. Tuna and salmon had a lot of bacteria but none of them were pathogenic."
Ruchi said a lot of sushi-loving judges were very interested to see the results of her project.
All three girls are looking forward to continuing to study science and mathematics at the high school level. They will be in good hands — five of the six high school level Senior Sweepstakes winners came from San Dieguito Union High School District's CCA and Torrey Pines High. Those students will go on to represent San Diego at the Intel International Science and Engineering Fair in Phoenix in May.
---