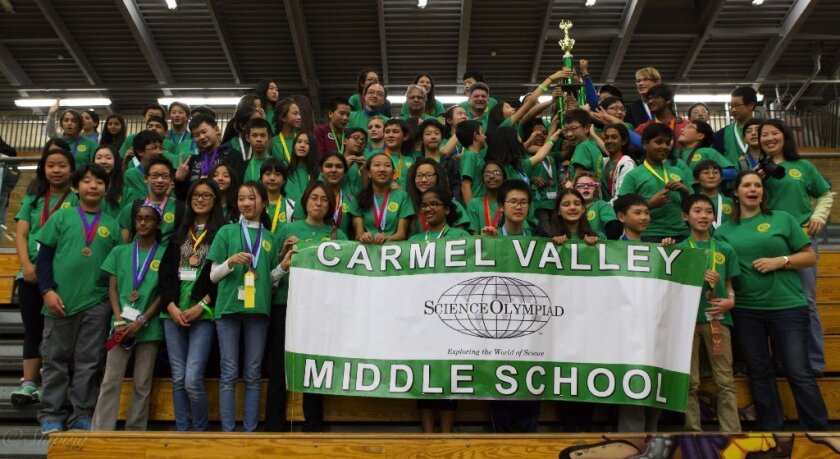 Six Carmel Valley Middle School Science Olympiad teams competed in the San Diego Regional competition on Feb. 6 and the school took home first place for the fifth year in a row. The team notched a resounding victory over second place Oak Valley, winning the tournament by 58 points. With the win, they qualified for the state tournament on April 2.
The teams worked diligently since early September in 23 subjects covering all phases of science and technology and their success is due to the hard work by both students and volunteer parent coaches. There were 113 teams from 33 schools in this year's tournament, making San Diego one of the largest Science Olympiad regional tournaments in the country.
CVMS won 97 medals, including 65 top-10 placings in route to their victory. Thirty-seven of the students won three medals. Another three won four medals. Sanjana Sambhwani, a 7th grader, took first in Picture This, second in Crave the Wave, seventh in Invasive Species, and eighth in Scrambler. Eighth graders Chris Wooden (first in Experimental Design, first inGreen Generation, fourth in Fossils, eighth in Meteorology) and Catherine Zhang (third in Fossils, seventh in Invasive Species, twelfth in Experimental Design, eighteenth in Bridge Building) also won medals in all four of their events.
The Carmel Valley program draws over 130 students every year, taking 90 to compete in the San Diego Regional competition. Fifteen students will move on to the SoCal State Tournament where they have finished second for seven of the past 10 years.
"This is a strong, deep program and one of the best teams we have had in years," Head Coach Scott Wooden said. "They have a realistic chance at states, although it will be a tough four-school race to win the coveted spot to Nationals."
---