Carmel Valley student awarded Second Place at SDYS Concerto Competition Finals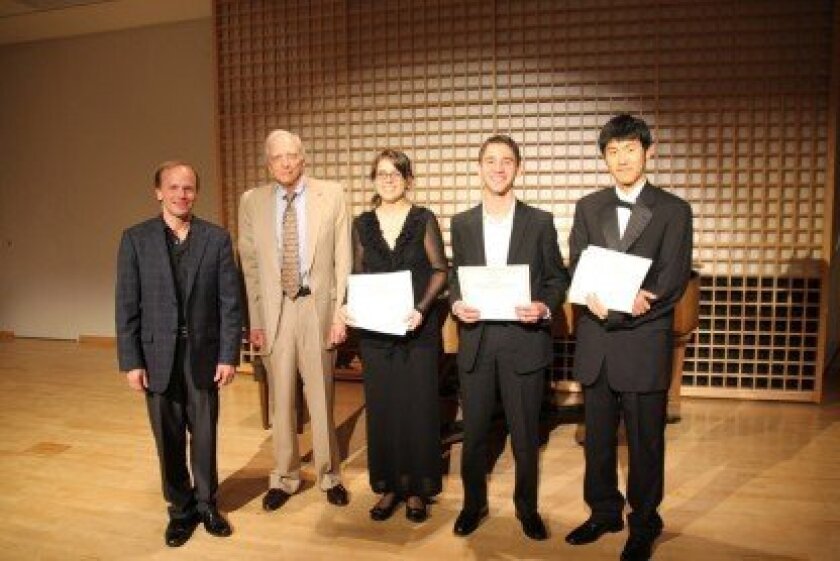 San Diego Youth Symphony and Conservatory (SDYS) recently announced the results of its 2013 Philharmonia and Symphony Orchestra Concerto Competition Finals with Torrey Pines High School student Omar Gadariov winning second place in this tough competition between SDYS' top students and sponsored by Advocates for Classical Music.
Omar, a junior at Torrey Pines High School, is the principal flautist for SDYS' Symphony Orchestra, Philharmonia, and Chamber Orchestra groups. His "breathtaking performance" of Carl Maria von Weber's Fantasie on "Der Freischutz" astounded both judges and the audience at the Mingei International Museum on Oct. 15.
"The SDYS 2013 Concerto Competition was a terrific experience for me. Of course, it was very challenging to learn 'The Freischutz Fantasie,' but I really think it helped me evolve into higher level of thought and a more sensitive musician, and perhaps even become more appreciative and better human being in general." said Omar. "The months of dedicated hard work to learn the toughest piece of repertoire I've played to this day, Paul Taffanel's paraphrase on the theme of famous XIX century opera 'The Freischutz,' to learn its history and live its characters, all became worth it when I got on stage."
Omar was first introduced to flute and piano at the age of 6 and has been performing with SDYS since 2005. Discovering his passion for musical performance early on, Omar won his first major musical award at the age of 10, taking first place at the 2008 H.B. Goodlin Scholarship Competition. Since then, Omar has received the top prizes at many events including the California International Young Artist Competition Festival, Southern California Mozart Festival, the San Diego Flute Guild competitions, and the MTAC state-level VOCE competition. He has been a featured performer with the Bellflower Symphony, the Young Artists Symphony, and the MTAC after winning their respective concerto competitions.
Under the guidance of his instructors, Omar continues to develop his identity as a musician with great enthusiasm and dedication. He enjoys exploring music outside of his flute studies, and his interest in singing and opera continues to add depth to his musicianship. Omar maintains a perfect grade point average and enjoys exploring subjects related to history and biology. He serves as a co-chair of Torrey Pines High School music club Panacea, student's run organization that raises school music funds by organizing and performing in concerts.
Omar never misses the opportunity to play at charity and community events over the years. He regularly performs at San Diego retirement communities and invited to play in public concerts and fundraisers. His recent accomplishments have paved the way for him to perform at numerous well esteemed events, including San Diego Mainly Mozart festival, the Discovery Series Prelude for La Jolla Music Society and at the 2013 La Jolla Music Society summer master class with renowned LA Phil associate principal flute Catherine Ransom Karoly.
Omar's musical growth has come under the instruction of a diversity of teachers and world-renowned flutists, including James Galway during his U.S. tours. In recent summers, Omar has taken part in William Bennett's international flute master classes in UK and USA, Alexa Still's summer flute academy at Oberlin, and Bonita Boyd's and Linda Toote's workshops at the ARIA International Flute Academy and the Tanglewood Summer Institute.
---