Carmel Valley student composer Emily Laliotis presents 'Eurydice' to Sage Canyon 6th grade students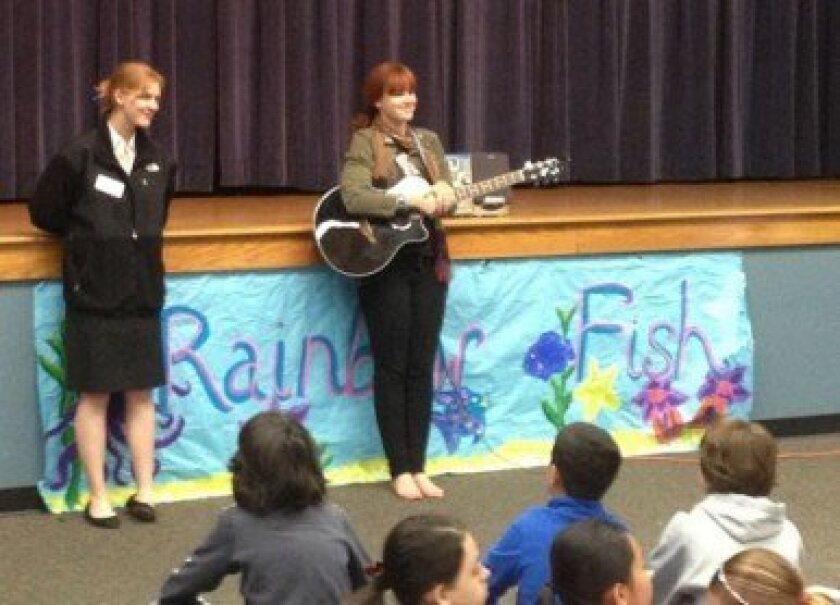 Canyon Crest Academy junior, Emily Laliotis, and CCA Theater Director Tarla Hill presented "Eurydice" to sixth graders at Sage Canyon Elementary School on March 26. "'Eurydice' is an adaption of mythology to everyday life," says Hill. "The play is particularly relevant to these students, as they study mythology during 6th grade, and seeing this show would be a wonderful tie-in to their studies."
In fact, the show perfectly meshes with California's sixth grade social studies curriculum goal to "explain the significance of Greek mythology and how Greek literature continues to permeate our literature and language today.
A live theatre performance will truly bring the show to life for these kids," said Hill.
Five classes of sixth graders, over 100 students, attended the presentation. Hill took time to explain "Eurydice" and give some background on the playwright Sara Ruhl to the students, who listened attentively and asked questions of both Hill and Laliotis. Laliotis, who composed 10 original songs for the show, brought her guitar and performed the opening song, her favorite "I'll Follow You," for the students.
At the completion of her song, one student asked Laliotis, "What inspires you?" Laliotis replied "My musical inspiration spans from Justin Vernon (of Bon Iver) and Anaïs Mitchell to Crosby, Stills, and Nash and the Goat Rodeo Sessions. I take inspiration from anyone who has been able to capture the soul and love in music."
CCA drama teacher and the show's director, Tarla Hill, extended an invitation to teachers to bring their classes to a special proposed afternoon showing, and Hill is embarking on classroom visits around the community to introduce them to the play.
"Our mission is to expand the learning experience to all students, and we are happy to facilitate that experience in any way we can. We are happy to visit classrooms, provide cast talk-backs and extend discounts to student groups."
Currently, Hill is scheduled to visit Carmel Valley Middle School, Earl Warren, and Solana Pacific this week. A parent of one of the Eurydice cast members commented that "Tarla is just amazing. She is out doing these presentations during her personal time, and then she comes back to school, teaches classes and runs a rehearsal until 8 p.m. Her energy and enthusiasm are a great inspiration to the students."
The cast and crew of Eurydice have agreed to try to add a special performance of the show during their finals week at 1 p.m. on Friday, April 5, specifically for these sixth grade students. The Eurydice cast is, of course, comprised of students and they have to balance their work on the play with demanding academic schedules. Nevertheless, they are excited that there is a demand for additional showings and are happy to perform an additional show for this special audience. In addition to the performance, there will be a cast talk-back immediately following the special student show.
The community is invited to attend the regular showings at the Canyon Crest Black Box Theatre at 5951 Village Center Loop Road, San Diego.
Show times are at 7 p.m. on March 28-29 and April 5-6, with a special student show at 4 p.m. on April 4. Tickets are available online at https://www.cca-envision.org/events.html. Ticket prices are $8 for students and $15 for adults. Group and special events ticket packages are available. Call 858-350-0253 ext. 4005 to inquire about special rates.
CCA Envision Theater is supported by the Canyon Crest Academy Foundation, a parent-led 501(c) (3) organization providing fantastic opportunities across academics, athletics, and the arts, and creating an environment where students can thrive. Your tax-deductible donation to the CCA Foundation is vitally needed to continue our support of these programs. You can donate online at
---