Carmel Valley student creates children's garden at VA Hospital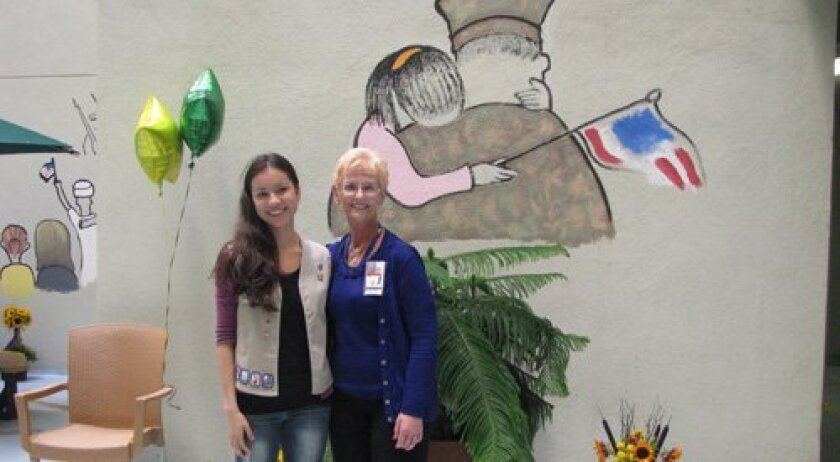 By Karen Billing
Olivia Lee, a Canyon Crest Academy senior, recently completed her Girl Scout Gold Award service project, creating a children's garden at the VA Hospital in La Jolla.
Lee said that more than 40 percent of service men and women have children and about 41,000 children had parents injured in the Afghanistan and Iraq conflicts. Those children, she said, also run a higher risk for emotional and stress problems.
"The VA can be a cold, sterile, scary and daunting place for a little kid," Lee said. "I just wanted to create a colorful, warm place for them to go."
Lee has been a member of Girl Scout Troop 1129 in Torrey Hills since the sixth grade.
"I really like volunteering, I really enjoyed that part of Girl Scouts," said Lee. "Our troop has such a nice atmosphere and at the end of the year you always felt like you got something from it."
While she participated in many volunteer activities as a Girl Scout, one of her favorites took place in the seventh grade when they helped set up tents for the Susan G. Komen 3-Day walkers. She remembers how grateful the very tired walkers were.
Her freshman year, her troop completed a "very stressful" Silver Award project of planning an encampment for younger Girl Scouts. Lee was in charge of supplies and she said it was very challenging making sure they had everything they needed at the right time while still staying on budget. At the time she said she wasn't sure she'd be able to handle the Gold Award process because the Silver had been such a challenge.
"Not everything goes as smoothly as you would like it to. There's always bumps in the way and you have to find out how to work through them," Lee said. "It was a good learning experience. In the end, everything turned out fine and that's what matters."
The process of working on the Gold Award is a long one and Lee got started in December of 2011 in the planning. She knew she wanted to do something with a military-influence as her grandfather was in the U.S. Army and her mother was an "Army Brat."
"(The VA Hospital) just resonated with me because it's so hard to be a part of a family who sees their spouse or dad or mom go away," Lee said. "It's very uncertain at the VA Hospital and it's scary and I really wanted to do something to help those kids."
Lee said the VA Hospital has pretty strict regulations about what can and can't be done on the grounds — she had hoped to build a playground but that was not allowed. Her goal then was to make the outside children's garden as colorful as possible with a painted mural and hopscotch games. The mural even has a little scavenger hunt within it so children can hunt for items.
Lee consulted with VA artist Joel Harris and about 20 volunteers worked from pictures of his artwork to first trace in chalk what the mural would look like. They then painted the chalk lines with black paint and filled in the color.
"None of us were really artists and drawing on a wall can be precarious, but I was very happy with how the whole thing turned out," Lee said.
Lee said it was "strange and surreal" to finally see the completed project in July after so much work had gone into it. The hospital waited until Oct. 26 to hold an opening ceremony, attended by Lee's family and friends, and several members of the VA Healthcare Systems volunteer service department, including director Lorelei Winn.
"Lorelei tells me that she sees children out there every day," said Lee.
As a high school senior, Lee is just wrapping up her college application process.
"It's a relief to be almost done with that," she said. Lee plans to major in political science. She spent the last few months doing local work for candidates in the November elections.
Lee said she is interested in going to law school after college and becoming a civil rights lawyer.
She said while many kids have their hearts set on top choice schools, she is "open to it all" and knows it will work out wherever she goes. She said she is glad that she kept up with Girl Scouts through her high school years and will miss her troop mates when she moves on to college.
"It's really strange just in general to be leaving," said Lee. "It's weird to think I won't be around here next year."
---