Carmel Valley student cycles from Yuma to Encinitas during spring break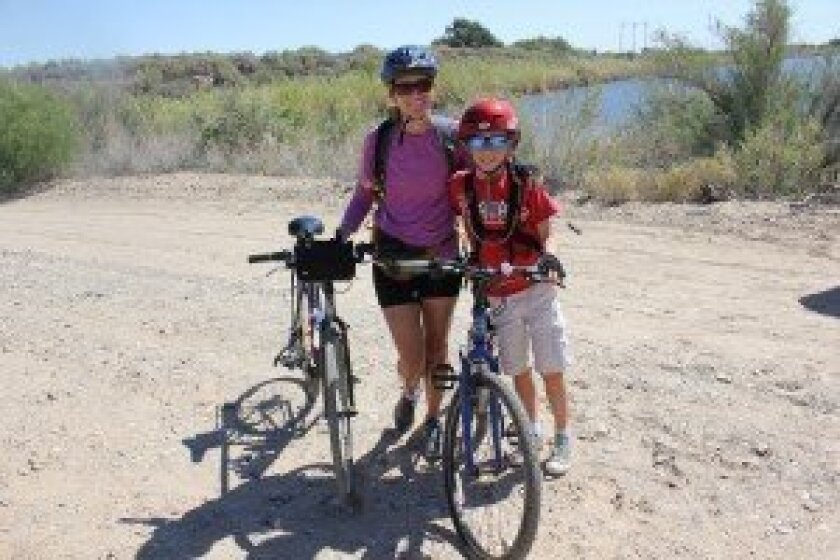 By Karen Billing
Last year, the longest Torrey Hills Elementary School fifth grader Andy Nelson had ridden his bike was a couple of round trips to school and a 10-miler. Recently, over his spring break, 10-year-old Andy rode 267 miles, from Yuma, Ariz. to Moonlight Beach in Encinitas.
Andy's journey was part of the Ride Across California River to Riptide Bike Tour, sponsored by the Rancho Family YMCA Bike Club, which aims to show kids that if they plan and train they can accomplish anything. Andy completed the ride along with a group of 75 children — mainly from the Poway Unified School District — as well as adult companions, including Andy's mom, Beth.
Andy dipped his back tires into the Colorado River in Yuma on April 6 and dipped his front tires into the Pacific Ocean at Moonlight Beach six days later on April 12.
"I thought it would be a good challenge and a good accomplishment," Andy said. "I hope that a lot more kids will do it because it was pretty fun."
Since September, the Ride Across America group held training rides on the San Dieguito River Trail, around Miramar Lake, and some 30-mile rides and hill climbs in Escondido. Andy also frequently road down the SR-56 bike path in preparation.
"It took a while to get in shape," Andy said, noting the hill climbs hurt the most.
When the ride started in Yuma, Andy said it was pretty flat because it was mostly desert. After Yuma, the ride continued through Imperial/Brawley, Ocotillo Wells, Anza Borrego, Julian, Santa Ysabel, Mesa Grande and Ramona.
A big truck carried the group's camping gear and at night they camped between rides. After a long day, Andy said setting up a tent felt like a lot of work.
Their longest day was 53 miles.
"The hardest day was when we went through Julian because we had to go up the Banner Grade, which is 5 miles uphill," Andy said. "I had to believe in myself a lot because it was kind of annoying."
As it turned out, the grade was easier for Andy than he thought it would be — all of his hard work training paid off because he didn't feel as tired as he expected and the hill even "felt like it should've been longer," he said.
His favorite place on the 267-mile tour was Julian because they were rewarded with pie.
When he finished his ride on April 12, his family and friends were waiting for him on the beach to congratulate him on a ride well done.
"They were proud of me," he said.
"The training rides and Ride Across California were special 'Andy and mom' times I will always treasure," said Beth Nelson. "I am proud of the dedication, effort and positive attitude Andy demonstrated. It was an honor to be along for the ride."
---