Carmel Valley student helps kids with 'Soccer 4 El Salvador' donation drive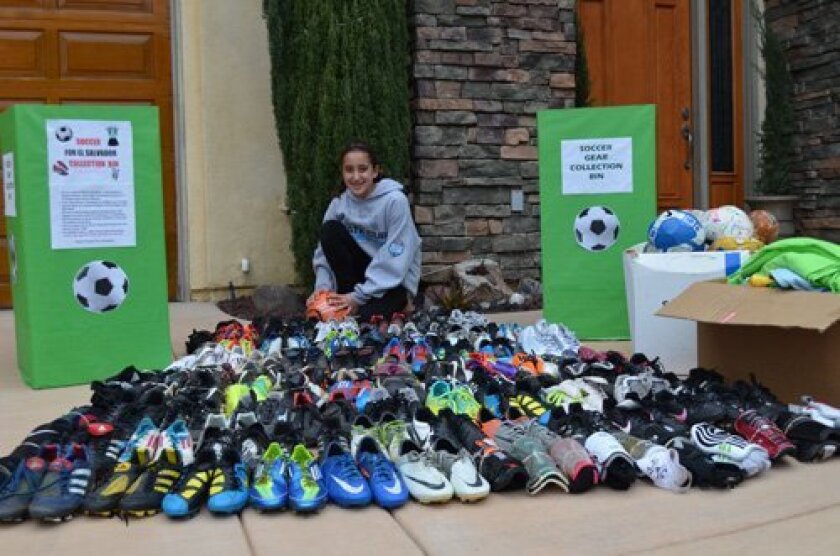 Back in November 2012 during the holiday season, Maya Kabakibi, a 6th grader at Solana Pacific Elementary School who plays competitive soccer, came up with the idea to organize a campaign to collect and donate soccer gear to the underprivileged community.
"I was thinking that there are so many kids that play soccer in Carmel Valley whose families' garages are probably full of unused soccer cleats, shin guards and jerseys, just like ours. These could all be used by children who love to play soccer in another part of the world."
With the help of Dr. Art Mendoza and Ildiko Tesak from the Del Mar Rotary Club, Maya was able to secure a collaboration with Club Deportivo, the biggest soccer club in El Salvador, to help donate the gear to local school children in the city of Antiguo Cuscatlan. Maya emailed all her friends and family to get the word out, including contacting the local schools and clubs to see if they would be willing to participate. Shannon MacMillan, the director of operations at DMCV Sharks Soccer Club, was also kind enough to send out multiple emails to notify the community about this worthwhile project.
In just four weeks — with the help of DMCV Sharks Club, Solana Pacific Elementary School, Solana Highlands Elementary School, Carmel Valley Middle School and the Pacific Athletic Club (now called Pacific Sports Resort), Maya was able to collect close to 100 pairs of cleats/shin guards and five boxes worth of balls and jerseys.
"It was great to come to school every day and see people dropping off the soccer items. It made me realize what a great community we live in. With everyone's help we can truly make not only our community but the world a better place," Maya said.
Maya's next project? Participating with Girl Scout Troop 1360 to earn their silver award.
---