Carmel Valley student helps man in distress thanks to lifesaving techniques he learned through Athletes Saving Athletes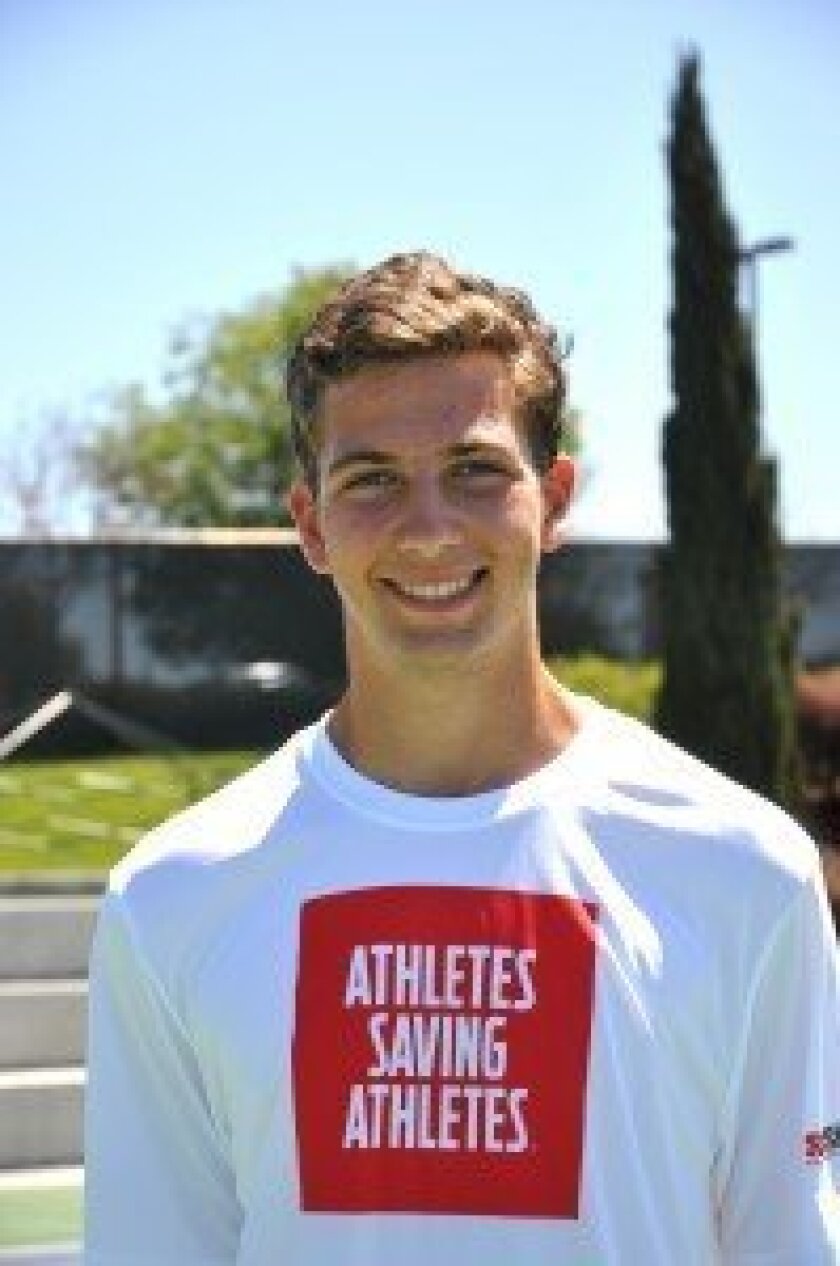 By Karen Billing
Trevor Brown didn't think or hesitate, he just acted when he saw a stranger have a cardiac event and stop breathing at Del Mar Highlands Town Center on April 10. The 17-year-old Cathedral Catholic High senior performed CPR until paramedics arrived and said it just seemed "obvious" to spring into life-saving measures.
The identity of the man Trevor helped is not known at this time, nor is his current status.
"It didn't seem heroic to me, a situation just presented itself to me and I had to go help," Trevor said. "It's not hard to help people when you know what to do."
Performing CPR was something that Trevor had just been trained to do a little over two weeks before at an Athletes Saving Athletes program at his school. He had even taken part in a CPR demonstration video.
Athletes Saving Athletes was created by Advocates for Injured Athletes, an organization co-founded by local resident Beth Mallon and her son Tommy after Tommy suffered a life-threatening neck fracture in 2009 while playing lacrosse at Santa Fe Christian School.
Student athletes are nominated to attend the day-long program to learn how they can help save a life in the event of head and neck injuries, sudden cardiac arrest, heat illness, diabetes and asthma.
"I just started sobbing when I heard, absolutely sobbing," Mallon said of Trevor's actions. "It's coming up on the four -year anniversary of Tommy's accident and to have the program actually bring a direct result, to know one of the athletes was able to recognize the situation and step up and intervene, that's the whole purpose of the program. It shows it works."
The program started in March 2012 and has trained over 1,000 athletes across San Diego County.
"It's been so much hard work and it was all worth it in that one minute," Mallon said
Trevor, the co-captain of the Cathedral Catholic tennis team, was selected to participate in Athletes Saving Athletes by his coach. The training session was held on March 18.
"I was going in pretty cold, I didn't know a lot of what they taught me, especially I didn't know much about cardiac arrest," Trevor said.
That Wednesday just a couple weeks later, Trevor and his mom were going to get a post-tennis practice snack at El Pollo Loco in the Highlands. As they were leaving, his mom pointed out that a man appeared to be in trouble.
"She said, 'That doesn't look good' and I looked over to see a man laying on the ground with his arms sprayed across the asphalt and a woman panicking on a cell phone, doing CPR with one hand," Trevor said. "I recognized from my training that one-handed CPR wouldn't be effective."
Trevor got out of the car and went over to tell the woman he could perform CPR. He found that the man was blue in the face, was not responsive and he couldn't get a pulse.
Trevor began compressions.
"After about 30 seconds he made a gasping, gurgling noise so I thought I must be doing something right so I continued compressions," Trevor said.
He kept doing compressions for what he said felt like a long time but was probably only about three minutes until the paramedics arrived, one bystander honking the horn of their car to alert the ambulance of their location.
After the paramedics treated the man and had loaded him into the ambulance, a few of them came over to congratulate and thank Trevor for his actions. One told him that he can usually tell who is going to make it and who is not and it looked like this man would recover.
"I was really happy and excited to hear that he was going to be OK," Trevor said.
Trevor realized that day he just happened to be wearing his Athletes Saving Athletes shirt during the incident. He said he definitely thinks the program is important and that the training can go far beyond just saving an athlete's life.
Trevor, who has always wanted to be a doctor, will attend Occidental College in the fall and plans on majoring in biology. He plans to play tennis as well.
"We nominate leadership athletes to take part in Athletes Saving Athletes," Mallon said. "For him to step up and have the confidence to say 'I can do this'…it's just so wonderful."
To schedule the Athletes Saving Athletes program at your high school or middle school, visit www.injuredathlete.org or contact Beth Mallon at 1-858-361-6553.
---