Carmel Valley students shine at Greater San Diego Science and Engineering Fair
By Diane Y. Welch
Several Canyon Crest Academy (CCA) students recently proved their science and engineering prowess at the 59th Annual Greater San Diego Science and Engineering Fair (GSDSEF) held at Balboa Park. Thirteen CCA students competed against more than 700 students from San Diego and Imperial County schools.
In the Senior Division, CCA participants were highly successful with 10 students placing first – qualifying for the California State Fair this month – and three students placing third in their respective categories. Of all the competitors at the fair only four were selected as Sweepstakes winners who will participate in Intel's International Science and Engineering Fair in Arizona this May.
Two of the winners were from CCA: Yousuf Soliman for his computer science project "MedVision–Developing New Al and Fuzzy Logic Techniques for Use in the Biomedical Image Analysis Toolkit" and Eric Chen for his microbiology project "Discovery of Novel Influenza Endonuclease Inhibitors to Combat Flu Pandemics."
There were also two runners-up: Vaishnavi Rao for his bio chemistry project "Novel Molecular and Physiological Evidence of Neurotransmitter Plasticity" and Sara D'Souza for her chemistry project "Iron Based Catalytic ROS Biosensor: Detection to Neutralization."
The four have benefited from the rigorous science, technology, engineering and math programs offered at CCA, usually acclaimed for its innovative arts programs.
Science teacher Wendy Slijk had the vision to start a science program – QUEST – that taught students how to conduct research when CCA was founded in 2004. By the following year Slijk and other science faculty introduced the program informally. Since then students have had an impressive record of achievement at the GSDSEF with winning sweepstakes placements every year.
For the last three years QUEST has formally been offered as part of CCA's science curriculum. Slijk heads up the program teaching classes along with Ariel Haas and Ed Gerstin.
A three-tiered program, the first tier focuses on research methods, the second tier on applied sciences and the third tier is a research internship. Slijk facilitates the partnership of students with mentors who assist them in reaching a higher level with their projects. "My role has been both formal and informal," said Slijk who also runs Inquiry, an extra-curricular science club.
Dillon Patel's project in the engineering category, "Perching a Fixed Delta M-Wing Micro Air Vehicle (MAV)," a first place winner, came from his own passion for aeronautical engineering, his involvement with QUEST, and also from his partnership with San Diego State University.
"I started working with Dr. Jacobs and Daniel Nelson, a Ph.D. student, to develop some ideas that I had [on landing MAVs] and from there I entered my project in the science fair."
Patel invented perching maneuvers by observing birds and emulated their landing characteristics which he then translated for a fixed-wing aircraft.
Nikita Akkala's project, in the medicine and health sciences category, "Differential Effects of Immunosuppressant Drugs on Human Glioblastoma Stem Cells," also placed first. She participated in QUEST for three years.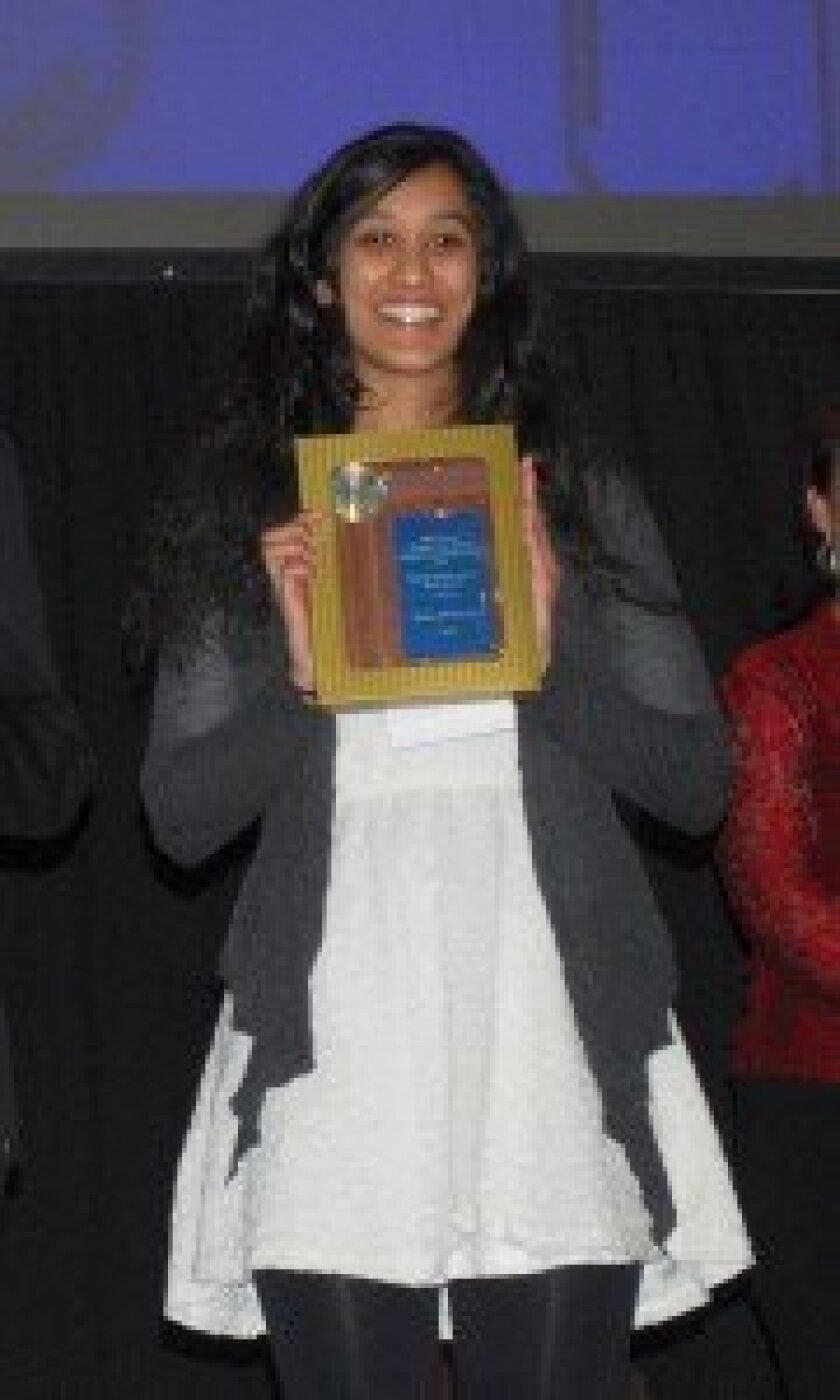 Nikita's research, in partnership with UCSD's Moores Cancer Center, involves screening different compounds and drugs to find novel therapeutics to treat aggressive brain tumors, she said. "I've been testing different chemotherapy and immunosuppressant drugs not typically used to treat brain tumors." Her in vitro results have been favorable. She is now analyzing these drugs to see if there is an active protein or a special gene contained in them. "If I can find that special advantage in other drugs maybe they can be used as new therapeutics for cancer," she said.
Many of the QUEST students go on to study science-related fields after CCA. "The science fair was the catapult to some of the best schools out there," said Slijk. Past winners have attended Yale, MIT, Stanford, Princeton, and Harvard universities, as well as several California universities.
Dillon's mother, Sunita Patel, has watched her son's passion for aeronautical engineering develop through CCA's strong science curriculum. "Wendy Slijk has prepared all these kids so well," she said. "Dillon chose the school because of QUEST. Although it is well- known for its arts programs, CCA needs to be well-known for its science programs too.
To learn more about QUEST visit CCA's website and link to https://teachers.sduhsd.net/ccquest/Quest_Faculty.html
The winners
Below is the list of CCA students, in alphabetical order, with their respective placement and professional society awards:
• Nikita Akkala, First
• Eric Chen, First
San Diego Zoo Global
Senior INTEL ISEF Trip Sweepstakes
Kaiser Permanente
Biophysical Society
• Sara D'Souza, First
Senior INTEL ISEF Trip Sweepstakes, runner-up
Harry Barnet Memorial Awards
San Diego County Water Authority
Journal of Youths in Science (JOURNYS)
• Akhil Kasibhatla, First
• Meera Keshav, First
Society of Women Engineers
• Simon Kuang, Third
• Dillon Patel, First
American Inst. of Aeronautics & Astro.
ONR (US Navy Science and Technology
Journal of Youths in Science (JOURNYS)
• Vaishnavi Rao, First
Senior INTEL ISEF Trip Sweepstakes, runner-up
American Chemical Society
Howard Weisbrod Memorial Award
Sigma Xi
Journal of Youths in Science (JOURNYS)
• Peter Shoemaker, Third
• Yousuf Soliman, First
Senior INTEL ISEF Trip Sweepstakes
Armed Forces Commun. and Electronics Assoc.
IEEE
American Statistical Association
Biophysical Society
Journal of Youths in Science (JOURNYS)
• Claire Wolcott, Third
• Adam Woodnutt, First
Society of Toxicology
• Catherine Wu, FirstBelow is the list of CCA students, in alphabetical order, with their respective placement and professional society awards:• Nikita Akkala, First• Eric Chen, FirstSan Diego Zoo GlobalSenior INTEL ISEF Trip SweepstakesKaiser PermanenteBiophysical Society• Sara D'Souza, FirstSenior INTEL ISEF Trip Sweepstakes, runner-upHarry Barnet Memorial AwardsSan Diego County Water AuthorityJournal of Youths in Science (JOURNYS)• Akhil Kasibhatla, First• Meera Keshav, FirstSociety of Women Engineers• Simon Kuang, Third• Dillon Patel, FirstAmerican Inst. of Aeronautics & Astro.ONR (US Navy Science and TechnologyJournal of Youths in Science (JOURNYS)• Vaishnavi Rao, FirstSenior INTEL ISEF Trip Sweepstakes, runner-upAmerican Chemical SocietyHoward Weisbrod Memorial AwardSigma XiJournal of Youths in Science (JOURNYS)• Peter Shoemaker, Third• Yousuf Soliman, FirstSenior INTEL ISEF Trip SweepstakesArmed Forces Commun. and Electronics Assoc.IEEEAmerican Statistical AssociationBiophysical SocietyJournal of Youths in Science (JOURNYS)• Claire Wolcott, Third• Adam Woodnutt, FirstSociety of Toxicology• Catherine Wu, First
---