Carmel Valley teen getting 'extreme' with martial arts
By Rob LeDonne
Fourteen-year-olds typically don't have lofty goals; most just want to chill out. However, Torrey Hills resident Demitri de la Cruz isn't like most 14-year-olds. Since a young age, his goal has been to dominate the relatively new sport of extreme martial arts, and in the past few years has not only done just that, but is quickly turning into a nationally known standout.
"I think I was about 6 when I started watching this animated Jackie Chan TV show," de la Cruz explains of how the seeds of doing martial arts were planted in his head. "At the time, I told my dad it was something I wanted to do. I thought it was pretty cool that you could do a flips and tricks, and beat up a bunch of bad guys. Of course I didn't want to beat people up, but I was very interested in the form."
From there, he started taking a once-weekly class at Church's ATA Martial Arts School in Carmel Valley, and a mere interest snowballed into something much greater. De la Cruz was immersed in the world of "Xtreme Martial Arts," which is markedly different compared to traditional martial arts skills. "Usually with traditional martial arts, you learn the basic form, how to spar, contact fighting and other general techniques," explains de la Cruz. "With Xtreme Martial Arts (or XMA), it gets much more varied. You learn punching, kicking, flips and tricks, in addition to life skills. So it's entirely different."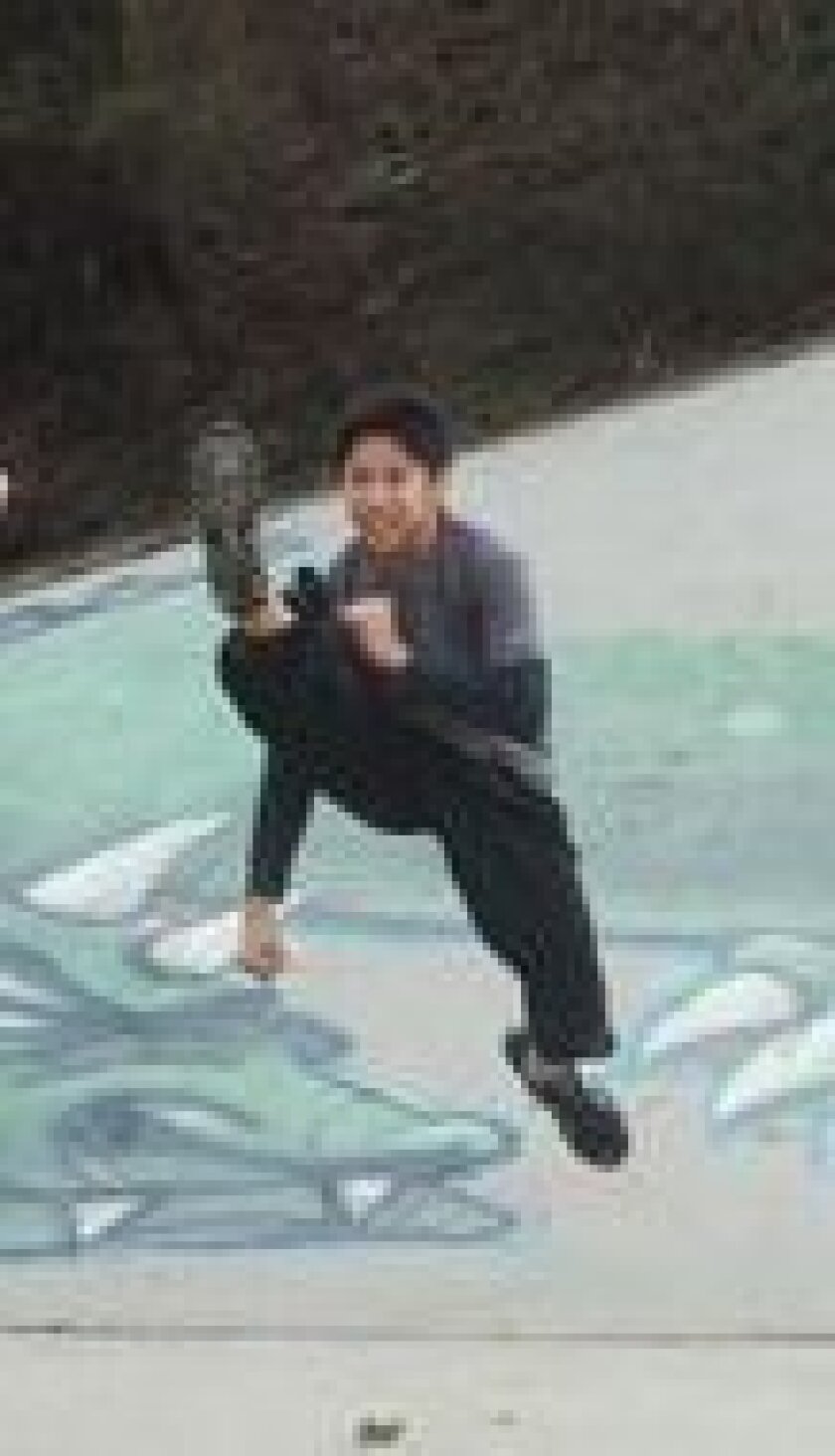 XMA rewards participants using a belt system (much like karate), and de la Cruz slowly worked his way up the ladder at Church's, constantly trying to improve his passion and learn new, more difficult techniques: "When I was first learning how to do more advanced stuff like back flips, I was pretty excited," he remembers. However on his first try, de la Cruz fell flat on his face. "It was pretty scary, but after practicing a bit more I started landing on my knees, and then after more time I was finally on my feet."
Demitri's parents, Michele and Norman, noticed their son had a knack and love for the process of XMA, so they enrolled him to take classes at the sport's World Headquarters in North Hollywood to expand his horizons. While there, he studies under Michael Chaturantabut (or Mike Chat), a former actor (best known for his role as one of the Power Rangers) turned martial arts expert who founded XMA. Chat, who was a mentor to "Twilight" actor Taylor Lautner during his early days, was just the person who could bring Demtiri to the next level.
"Sure, it was challenging at the time, but we saw his talent and interest" explained Norman, who knows all too well about the headache of driving back and forth to Los Angeles twice a week. "If there's something your kids are successful and talented in, and also have a drive to succeed, I think most parents would support them." Demitri echoes that sentiment: "I have the best parents in the world, because whatever I do they're there 100 percent."
Since studying with Chat, Demtiri's hard work appears to have paid off; he was recently a part of an official XMA demo team showing his skills around the country (which he says was "the best time" of his life), and recently became a third degree black belt, which is considered one of the highest honors in the sport. Demitri also has the distinction of being a part the very first black belt graduating class in XMA. In addition, Demitri is also pursuing acting (much like Lautner did); he has appeared in commercials for the video games Nintendo's DS Summer, Activision's Skylanders, as well as a Public Service Announcement with Ryan Seacrest of "American Idol" fame. "I'm loving all of this," Demitri explains. "It's so much fun to be a part of the XMA world." All of these accomplishments are on top of the World Championship gold medals Demitri won in 2008.
All the while, he has maintained stellar grades at Canyon Crest Academy. "Some of my good friends who know about my involvement with XMA think it's pretty awesome," Demitri says, who also has his share of admirers. This includes his younger brother, Darion, who is currently enrolled in XMA classes himself.
Sums up Norman: "I'm amazed at everything Demitri achieved at such a young age. He's done all of this, made the transition from middle to high school, and continues to get straight A's. We're just very proud."
---