Carmel Valley trampoline champion on his way to accomplishing several goals
By Karen Billing
If you didn't know any better, you might think the teenager soaring high into the air off a trampoline inside the Flip Force San Diego gym was on a collision course with the ceiling.
But the high-flying Christopher Lucio is in complete control, executing mid-air moves with power and style.
The Carmel Valley resident and incoming Cathedral Catholic High School freshman recently won the gold medal in trampoline in his division at the USA Gymnastics Trampoline and Tumbling Championships in Louisville, Ky. He also took home the bronze in power tumbling.
"They didn't display the scores until we were walking out; we were all nervous. It was disbelief for me," Christopher said when he finally saw his scores, the accomplishment he is most proud of in his career so far.
In trampoline competition, there are two rotations. The first is a compulsory set by USA Gymnastics where every athlete performs the same skills; the second gives the athletes room to create their own routines as long as they perform 10 skills.
Judges grade the gymnasts on sticking to their routines and for their technique. They also get points for the amount of time spent in the air.
At nationals, Christopher racked up 14 seconds of hang time on one of his skills.
"The biggest move I pulled was a double layout, backward, and I landed it," he said.
This is Christopher's third year competing in trampoline and tumbling, and his second trip to the nationals — in 2013, he won the level nine 13-14 boys division in power tumbling.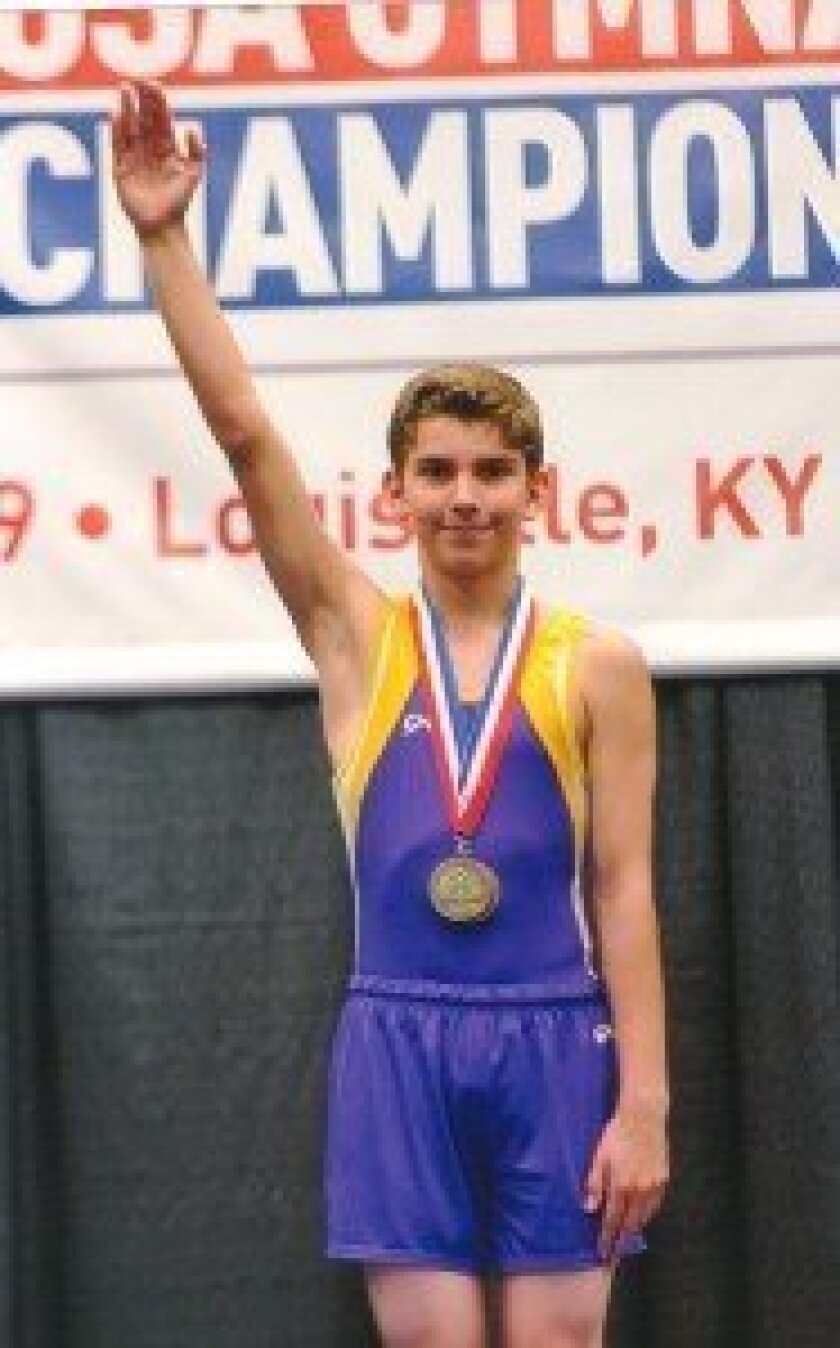 For five years, Christopher competed in artistic gymnastics, which includes the standard disciplines of rings, bars, pommel horse, vault and floor exercise. Some of his team members started making the migration over to trampoline and tumbling, and he followed to check it out.
What made him stick with it?
"Besides jumping on a trampoline?" questions Christopher. "You go pretty high, and the air time and flipping on trampolines is fun — it feels like you're flying."
In power tumbling, Christopher takes off down an elevated spring runway, executing acrobatic tricks in a flurry along the way.
Dedicated to his sport, he is in the gym Tuesday through Saturday, three to four hours each day. He sacrifices his Saturday mornings and fits in practice around his schoolwork.
Watching Christopher bound, twist and soar into the air during a recent practice, grandfather Everett remarked that Christopher could spend hours in the gym and would probably sleep there if given a bed.
At the gym, he works with head competitive trampoline and tumbling coach Ivan Flores and assistant coach Misha Yordonov, a pair with distinguished backgrounds. Flores is the owner of Flip Force; she competed on the Mexican National Gymnastics Team and continues to perform professionally as an acrobat at SeaWorld. Yordonov is a former member of the Bulgarian National Team for power tumbling.
"It's fun. I don't think I'd be better at any other sport," said Christopher, who also does parkour with a team of friends called Raven Krew, jumping off and flipping over urban obstacles.
Despite all his daredevil tricks, Christopher has yet to be seriously injured, just fracturing a wrist in tumbling and suffering basic scrapes on his hands and limbs from his parkour adventures.
This season was Christopher's last competing in the 13-14 division. Next year he moves up to level 10, the 15-16 age group.
His goal is to make the Junior National Team next year and eventually reach the junior elite level, the next level after level 10. Athletes must be 16 to become a senior elite, able to compete at World Championships and Olympic competitions. The Olympic dream always has a spot on his mind.
Thinking smaller and more locally, Christopher also hopes to get a trampoline and tumbling team up and running at Cathedral, where they field only a women's artistic gymnastics team.
He hopes he can expose more gymnasts and people to his sport — to see it take off and really fly.
---