Carmel Valley voice-over actress has always been drawn to the dramatics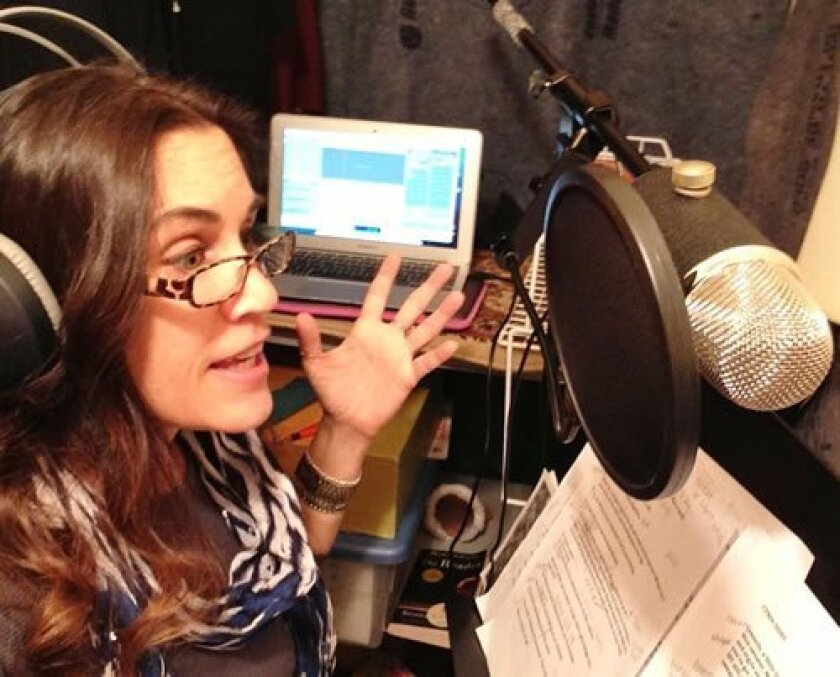 By Karen Billing
Sariann Monaco found her voice and made big changes in her life, starting a brand new career as a voice-over actress. The new Del Mar Heights resident has found some success locally in promos, commercial and industrial voice-overs, acting in a San Diego County Credit Union commercial and as the voice of
Nature Made vitamins.
"My catchphrase is 'reliable mom meets Lucy," said the bubbly Monaco, referencing Lucille Ball. "I'm always doing something silly or over the top. I'm always changing my path. My family is really so supportive, there's no way I could have done this without their support."
Monaco and her husband and two children were living in South Florida when she got her first itch for change. On a bit of a whim, they bought a home in Charlotte, North Carolina on their first visit there — a big, secluded home in the woods where she could go months without seeing a neighbor but often spotted cows
and llamas on her commute. They lived there for six years and Monaco started to get restless again.
"I had two close calls with my health and I realized life is so short and I just want to experience everything, live different places, volunteer and do different things," Monaco said. "I was craving vibrancy."
Monaco's friend was a life coach in Charlotte and they started working together. When her friend asked her what she would do if she could do anything, Monaco immediately answered that she would like to be an actress, even though she knew it sounded "so random it's ridiculous."
In her professional career she had done a variety of jobs; she worked as a medical assistant, did HR for a financial company, wrote a column in a newspaper and ran a pet care business but she had always been drawn to the dramatics.
As a youngster she would interview friends for a variety show she hosted on her tape recorder and loved to read aloud. Her grandmother used to call her "Sarah Heartburn," in a play on the name of actress Sarah Bernhardt because of her tendency to overact.
Monaco resolved to do something new and began researching acting jobs. She got an audition in Chicago as a host for a website. When she was offered the job, in another sudden upheaval, the family moved to Chicago.
She attended The Second City to sharpen her improv and comedy skills and after getting roles in two small films, she began to feel validated.
"I thought 'This is what I'm supposed to be doing,'" Monaco said.
After 11 months in Chicago, she wasn't sure she could handle another winter so they decided to move to California. In the last six and a half months, she has found the weather "glorious," loves being near the ocean and feels settled in now that she has her library card and found a yoga class.
Monaco said she is enjoying the success she's found in the industry, "rocking and rolling" in her first six months here.
She has built a recording studio in her Del Mar Heights home (in a "cubby hole" under the stairs) and travels to Los Angeles twice a week for jobs, auditions and private voice lessons. She also works as a standardized (simulated) patient for the UC San Diego School of Medicine two days a week.
She likes the voice-over work but also enjoys being on camera and on stage — she performs in Finest City Improv in San Diego and with her own improv group Yuk Ta Panda, which is performing at Twiggs Bakery & Coffeehouse in University Heights on March 23.
"I like all of it. I really like to entertain and I feel like it's my calling," Monaco said. "Life is short and there's no do-overs. If there's something out there that's calling to you and you feel like you want to do it, go for it. What's the worst that can happen?"
Learn more about Sariann at
---