CCA senior helps women in need as part of Girl Scout Gold Award project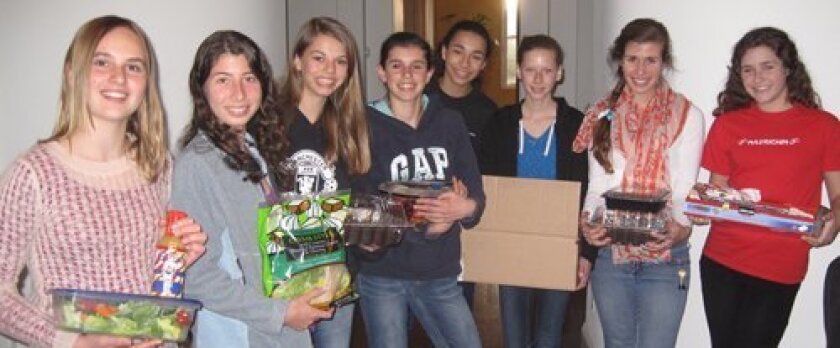 For her Girl Scout Gold Award project, Solenne Wachsman, a senior at Canyon Crest Academy, has designed and implemented a service-learning component into the curriculum for students at Congregation Beth Israel. On Feb. 10, she organized and led a group of 8th and 9th grade students in preparing and serving dinner to over 30 women at Rachel's Women's Center, a safe temporary environment for displaced women, backed by the Catholic Charities Diocese of San Diego. The girls, led by Solenne, are part of Rosh Hodesh, a program aimed at empowering Jewish adolescent girls through a curriculum designed to strengthen both self-esteem and Jewish identity.
The program's theme for the month of February was centered on the formation of healthy interpersonal and community relations with others and understanding abusive relationships, thus making the opportunity to reach out and provide services to others a natural supplement to the girls' curriculum. The evening was deemed to be a great success, and there is discussion on implementing this experience into the program for next year's group of girls.
Solenne, a member of Girl Scout Troop 1129, has been a Girl Scout since kindergarten and earned her Silver Award in 2009. As part of her Gold Award Project, she also worked with the 4th grade students and staff at Congregation Beth Israel to aid the organization and coordination of the first annual Mitzvah Mall, a community service expo that exposed the kindergarten through 6th grade students to diverse community organizations in need. This endeavor raised over $4,000 for 15 deserving organizations.
---