Cirque du Soleil characters prowl San Diego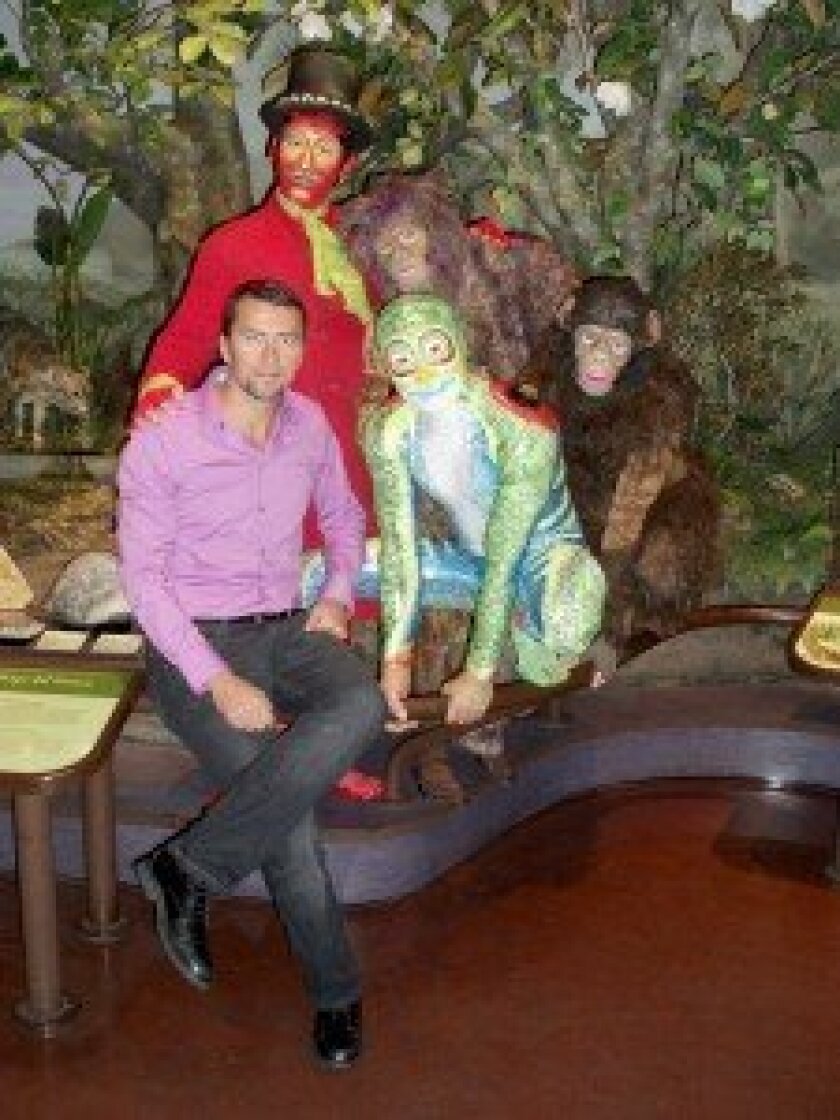 By Marsha Sutton
Four Cirque du Soleil actors surprised and enchanted wide-eyed visitors at Balboa Park's Natural History Museum last week to promote their newest touring show, TOTEM, which arrives in San Diego at the Del Mar Fairgrounds on April 25 for a limited engagement.
Dressed in full makeup and costume as a frog, monkey, caveman and human tracker, the actors leaped, staggered, posed and pranced around the museum display depicting early evolution, with characteristic Cirque du Soleil dazzle and grace.
The performers charmed their impromptu audience with personal interaction and unrehearsed spontaneity, giving mesmerized children and delighted adults an up-close view of elaborate costume designs and makeup creations for which Cirque du Soleil is famous.
Accompanying the actors were the show's artistic director Tim Smith and head of wardrobe Amanda Balius who said the tracker's makeup takes about 90 minutes to apply.
Costumes, she said, are inspired by both the story line and nature itself. The frog's Lycra body suit, for example, matches the colors of real frogs, with an added shine to give it its wet reptilian look, she said.
One of the main characters, the Crystal Man, wears an eight-pound leotard with 4,001 mirrors glued in place. This, Balius said, was probably the most challenging costume and is checked carefully each day to ensure the mirrors are in good condition.
The costumes, Balius said, must be made to give the artists maximum flexibility to move freely in acts that often involve highly skilled acrobatic maneuvers, without sacrificing the integrity of the costume design.
The story line for TOTEM traces the evolution of humankind from its original amphibian state to scientific heights. TOTEM is inspired by many cultures' founding myths and illustrates through its 11 separate acts the evolutionary progress of the species.
Artistic director Tim Smith said the show evolves with each performance and each performance presents challenges that require actors and support staff to prepare for any occurrence.
"There's a chance for anything to happen," said Smith, who leads the show's artistic team.
TOTEM features 52 acrobats, musicians, singers and actors from 20 different countries.
The artists in character appearing at the Natural History Museum last week were Yann Arnaud (caveman) from France, Joe Putignano (monkey) from the United States, Ante Ursic (tracker) from Germany and Caoliang Wang (frog) from China.
Premiering in April 2010, TOTEM is currently playing in San Jose and will appear under the blue and yellow Grand Chapiteau at the Del Mar Fairgrounds on April 25. After its run in San Diego, TOTEM will travel in 60 trucks to Boston to continue its North American tour.
Headquartered in Montreal, Cirque du Soleil began in 1984 with 20 street performers and now has 21 different shows around the world and 5,000 employees, including more than 1,300 artists from 50 countries. Cirque du Soleil scouts seek out performers from throughout the world.
Tickets for TOTEM, which range from $53.50 to $110.50 for adults and $40 to $80.50 for children, are available now at: www.cirquedusoleil.com/totem.
---