Coast Under-16s take home Junior Olympic Gold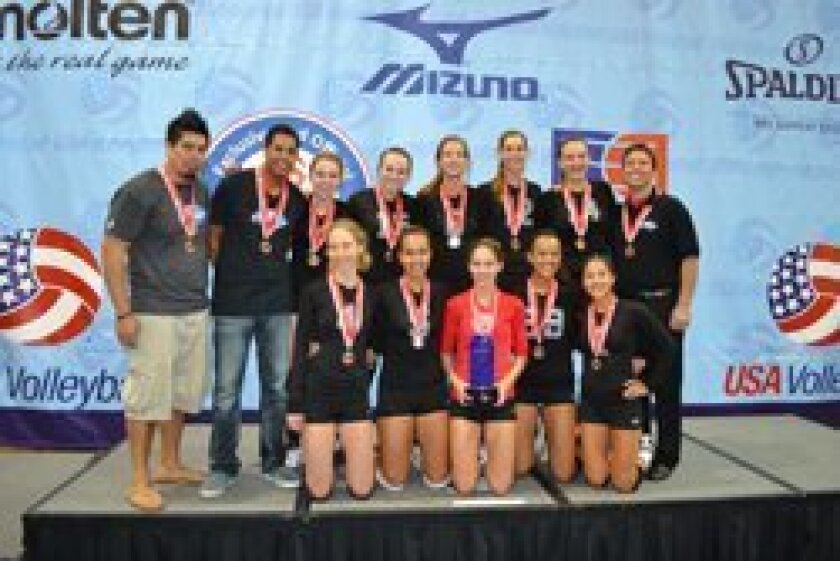 By Gideon Rubin
It was during team-building exercises earlier this year that the Coast Volleyball Under-16 team set a goal that couldn't have been more ambitious.
Before they'd even played their first match, their players set out to win a Junior Olympics gold medal, something few San Diego-area club teams have ever done. Medaling at one of the nation's premier amateur volleyball events is itself a rarity.
"I tried to talk them out of it," Coast coach J.J. Van Niel said. "It wasn't that I didn't believe them, it's just that it's very difficult. So many things can happen, regardless of how talented your team is."
Everything happened for Coast.
The team went on to post an 87-2 record (for a .976 winning percentage) on their way to fulfilling their goal.
Their amazing season culminated with a victory over highly-regarded Skyline Dallas in last month's championship game in Columbus, Ohio.
"What I'm most proud of is the fact that they set out to win gold and they did it," Van Niel said.
They did it playing a brand of volleyball that was light on the crowd-pleasing flashy plays popular in the club circuit, and heavy fundamentals, emphasizing solid defense and precise passing to go along with what was probably the best serving in the tournament, Van Niel said.
Coast's blue-collar style came in such stark contrast to that of their elite opponents that a reporter told Niel that "other coaches who played or watched [Coast] don't get how they win."
"My response was that we have a solid all-around team," Van Niel said. "I think there were contributions from everybody throughout the season and throughout the tournament.
"We just had a lot of solid players and everybody contributed and we played consistently good volleyball."
On a team that revolved around getting everyone involved, it was fitting that the tournament MVP was Coast's Kelsey Horvath, a setter whose job is to get everyone involved.
"A lot of times hitters are who people notice," Van Niel said. "Sometimes people don't notice setters."
Also getting noticed were all-tournament selections right side Brittany Abercrombie and middle blocker Alexandra Loitz, both of whom are 6-foot-2.
Carmel Valley resident Cassidy Rooke the team's smallest player at 5-3, was a big factor for Coast at defensive specialist/labero, Van Niel said.
Rooke is no stranger to high-pressure competition. She was the starting labero as a sophomore last season on a La Jolla Country Day team that went to the Division IV state finals.
"She's one of our best servers and she made a lot of key defensive plays," Van Niel said. "She's really fast and she's a really good defender.
"She's a great kid too."
Coast showed some resilience too. The team experienced their only loss of the tournament in their last game of pool play.
The loss put the team in a tough position. Instead of getting a bye in the next round, Coast went into the championship round knowing that a single loss would end their championship bid.
But instead of panicking, Van Niel saw his players singing and dancing outside a room where they were studying video of an upcoming opponent during a break.
"My first reaction was 'are you kidding?' " Van Niel said, "but as I reflected on it I thought maybe that's a good thing. I think it showed that they were relaxed, and that they were confident."
It turned out to be a very good thing.
"From that point on we didn't lose another set in the tournament," Van Niel said. "We played very strong volleyball the rest of the way."
Just as impressive was how they carried themselves.
After the tournament, former NFL quarterback Trent Dilfer, whose daughter Maddie plays for the Northern California-based Vision club team that Coast faced, congratulated Van Niel on his team not just for winning.
"He told me he was really impressed with how classy our team was and how much fun we seemed to have." Van Niel said.
Van Niel relayed the former Super Bowl champion's message to his players shortly afterwards.
"It meant a lot because he's a former athlete at the highest level and it wasn't just the congratulations for winning, it was really a comment on how classy our team was," Van Niel said.
Dilfer's message was especially gratifying for a team that during the same team-building exercises before the season established what Van Niel said were the "pillars of success," which included a mission statement for how to conduct themselves.
"It meant a lot for others to see that," Van Niel said. "I feel very fortunate to coach a team that showed a lot of class and had a lot of camaraderie."
As it turned out, it was the pillars of success the team started out with that they built a championship on.
"I think we did a good job of being consistently good," Niel said. "A lot of players contributed, and if one person was off it seemed like there was always another player that filled in.
"There were teams there that ran fancier offenses and would do all kinds of tricky things but we toned it down quite a bit and we played really well when we had to."
---