Community holds candlelight vigil in honor of comatose Carmel Valley skateboarder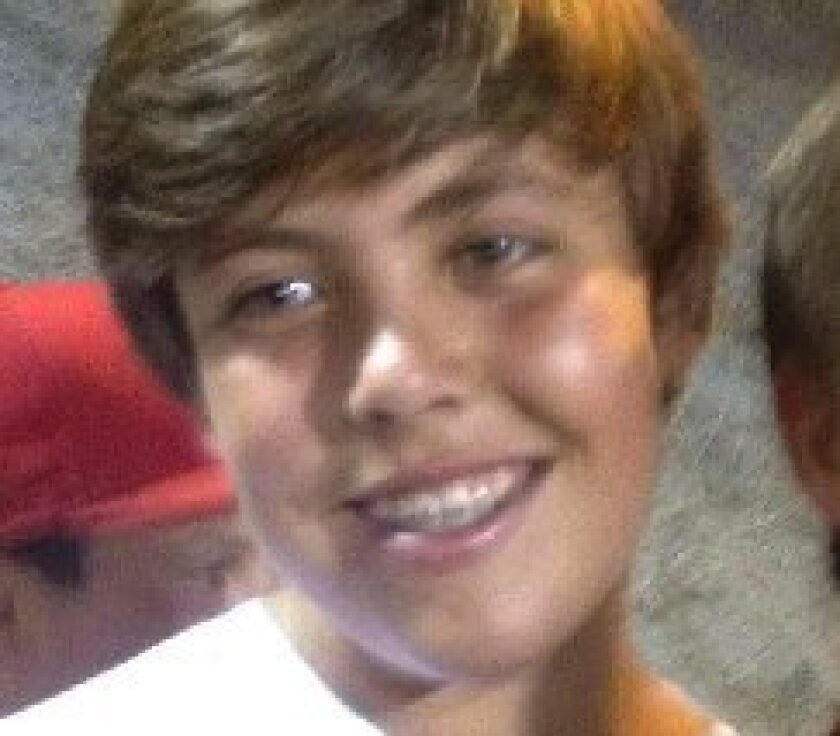 By Kristina Houck
With his parents by his side, Carmel Valley teenager Alex Hargis is in a coma at Rady Children's Hospital in San Diego.
The 13-year-old fell while skateboarding just a few weeks ago. He wasn't wearing a helmet.
Dozens of family, friends and community members gathered to pray for Alex and raise awareness about helmet safety during a candlelight vigil held Oct. 2 at a park across the street from Pacific Sports Resort in Carmel Valley.
"We want all these kids here to know how fragile time is," said Lenita Maljan, Alex's step-grandmother. "Your life can change in an instant."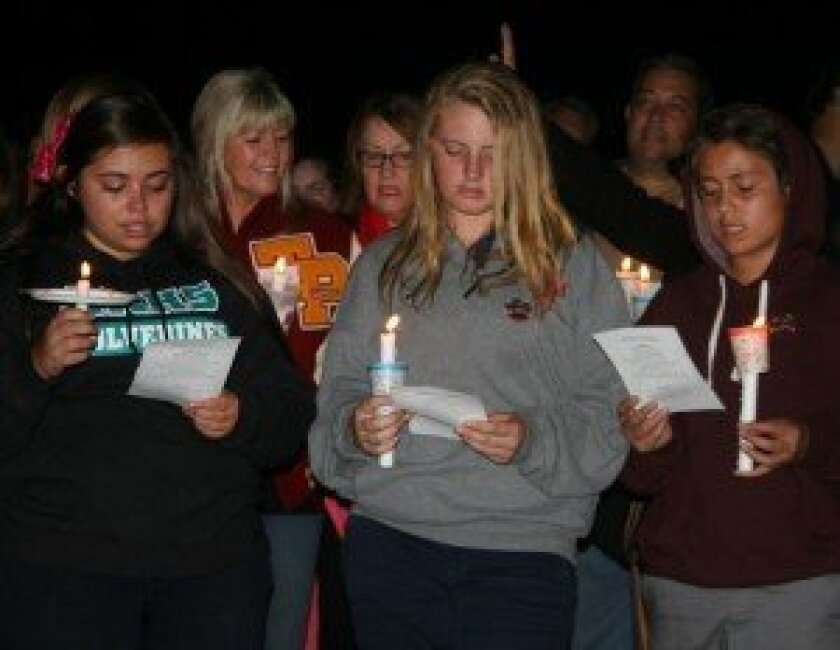 Alex, an eighth grader at Carmel Valley Middle School, was skateboarding in front of his house on Sept. 19 when he fell and hit the back right side of his head, the same spot where we was injured as an infant and had multiple surgeries. He was knocked unconscious and suffered a seizure, which caused him to repeatedly hit his head on the street.
A CT scan showed Alex suffered a fractured skull and brain damage. Doctors placed him in a medically induced coma to minimize swelling. The neurosurgeon who performed surgery on Alex as an infant was among the doctors who reviewed his scan.
Alex always wore a helmet, said his uncle, Todd Colburn. Recently, however, he began complaining about wearing safety gear.
"When kids get older, they think wearing a helmet isn't cool," said Colburn, who noted doctors said
Alex would have suffered minor injuries or no injuries at all if he had been wearing a helmet. "There's peer pressure not to wear helmets."
Colburn, who has three sons of his own, said he and his family plan to reach out to skateboard manufacturers to ask them to encourage pro skaters to set an example and wear safety gear.
"It's almost like a badge of honor to not get hurt," said Colburn of La Jolla, whose parents owned Skateboard Heaven, a skateboard park in Spring Valley, in the 1970s. "Hopefully, we can change that so younger skaters think it's cool to not get hurt."
Many attendees wrote notes to Alex and wore stickers that read, "Support Alex. Wear Your Helmet."
Aaron Acosta, an eighth grader at Carmel Valley Middle School, met Alex when they were in kindergarten and played on the Carmel Valley Stingrays youth basketball team.
"I just want to support him and his family," Aaron said. "I hope he gets better."
"We're thinking about them," added his father, Gary Acosta. "We're incredibly sympathetic and we know that he's going to pull through this and recover 100 percent."
Chad Frontiera, the junior high pastor at Grace Point Church, read scripture and led the crowd in prayer. Attendees also sang worship songs, including "Amazing Grace." A number of Alex's classmates and neighbors talked about their friend.
"I was scared and shocked," said 11-year-old Cade Ramseyer as tears fell down his face. He and his 13-year-old sister were there when Alex fell.
"He was nice and he loved to just hang out with everyone. He was a really good friend to all of us."
Dave and Paige Hargis, Alex's parents, stayed by their son's side in intensive care during the vigil. His 18-year-old sister, Lauren Hargis, was at UC Davis.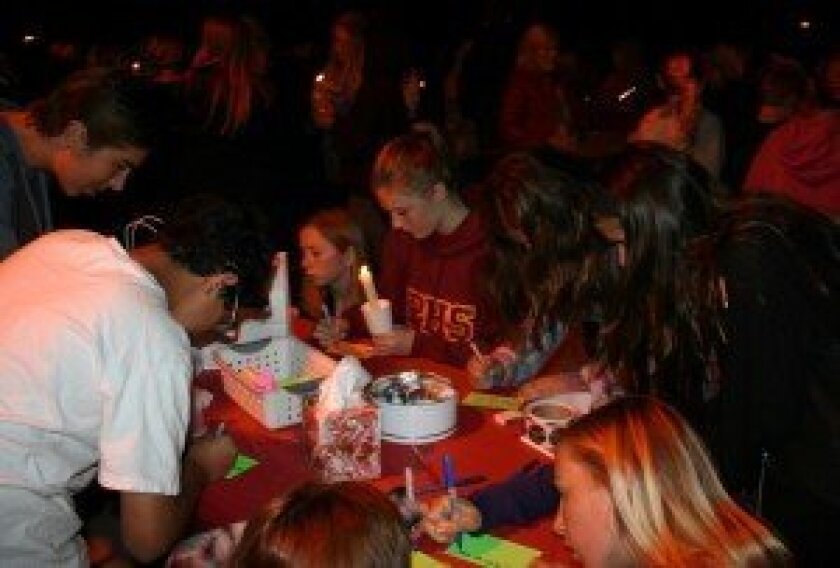 Colburn read a letter from his sister, Alex's mother, who thanked family, friends and community members for their support.
"We believe that Alex's incident must have happened for a reason," read Colburn. "Our hope and comfort is that things will change in regard to helmet safety and awareness. There are so many kids and teenagers in our community that do not wear helmets when they ride their skateboards, bikes and scooters.
"I think he thought that wearing one wasn't cool," said Colburn, as he continued reading the letter. "After all, none of the pro skateboarders he saw in magazines and videos wore them. But the reality of the situation is watching your child fight for their life in ICU and attached to life support equipment is really not very cool. Our deepest hope is that others will hear about Alex's story, learn from his horrible accident and choose to always wear their helmets."
For more information about Alex, visit
https://www.caringbridge.org/visit/alexhargis
.
---