Community service, exploration help open world to Grauer School students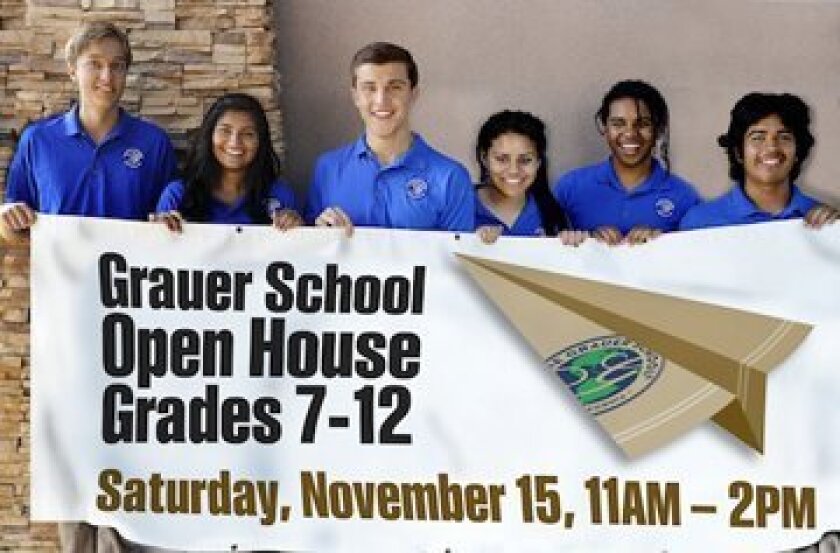 Although she lives in Carmel Valley, being a student at The Grauer School means Divya Bhatia goes beyond the classroom and even outside North San Diego County to learn.
A freshman at the Encinitas-based school, Divya, 14, has already participated in several school-sponsored expeditions, including trips to the mountains in Big Bear and the museums in Washington D.C.
"Expeditions make me look at the world in a different way," said Divya.
An independent college preparatory school, The Grauer School offers rigorous academics, enriching arts and competitive athletics. In order to graduate, students are also required to complete 50 hours of community service and a total of five weeks of expeditions.
In September, Divya was among a dozen ninth- through 12th-grade students who traveled to Navajo Nation in New Mexico. During the five-day trip, students visited Navajo Middle School, toured the Zuni reservation and hiked Canyon de Chelly.
"The whole point of an expedition is to do something you wouldn't do otherwise," Divya said. "Navajo Nation was a once-in-a-lifetime opportunity. I'm really glad I could do it."
Math teacher Rachel Persons led the expedition. Having previously taught at a school in Navajo Nation, Persons was able to plan a daylong visit with the Zuni people. Students learned how to weave baskets and make bread. They also ate a traditional meal with a family.
"It pushed the kids past their comfort level," Persons said. "It is hard to go in any new community."
Founded in 1991 by Dr. Stuart Grauer, The Grauer School offers 160 classes for 150 students in grades seven through 12. The school's teachers adhere to the Socratic model, encouraging inquiry and discussion.
But more than the school's academics and extracurricular activities, it's the school-sponsored expeditions that prepare students for life after high school, Persons said.
"Our kids are more aware of the world and how their actions contribute," she said. "Because they have all these experiences, hopefully they're going to go off and make a difference."
Located at 1500 S. El Camino Real in Encinitas, The Grauer School is hosting an Open House for prospective students and their families from 11 a.m. to 2 p.m. Saturday, Nov. 15. Tours will take place every 20 minutes.
For more information, call 760-944-6777 or visit www.grauerschool.com.
Business spotlights are developed through this newspaper's advertising department in support of our advertisers.
---