'Cool as ever' — longtime partners are thriving 'Ad Men' at agency MeadsDurket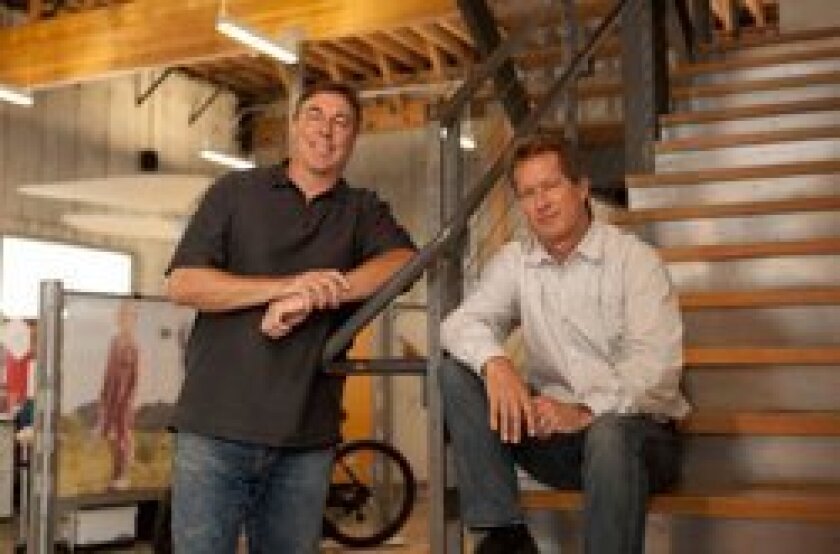 By Catherine Kolonko
Anyone who has lived in San Diego County for a while knows that the jingle "Where the Turf meets the Surf at ol' Del Mar" indicates summertime horse racing is about to begin.
Del-MarThe television advertisements feature the catchy tune that harkens back to earlier days when actor-singer Bing Crosby held court at the Del Mar Racetrack. To keep the campaign fresh but still consistent with its history, this year features a pretty blonde who recently posed nude in Vanity Fair Magazine.
Yes and it's even racier than you might think. In the TV commercial the model – fully clothed – sits atop a carousel horse, but in real life she is successful horse jockey Chantal Sutherland. (She raced opening day this year at Del Mar, riding filly Miss California to victory in the first race of the 75th anniversary season.)
The commercial is part of an overall campaign dubbed "cool as ever" and conceived by MeadsDurket, an advertisement agency run by partners Gary Meads and Tony Durket, both 56. The pair have been working together for 24 years and were introduced to each other by their wives. Durket lives in Carmel Valley, Meads in Point Loma and their company is located in downtown San Diego.
"We do different things and I think that's one reason we have lasted so long," Meads said of his partnership with Durket.
Both Meads and Durket worked at Phillips-Ramsey, a large San Diego ad agency owned by McCann-Erickson, before buying remaining assets of Phillips-Ramsey and forming their own company in 2004.
Meads is the front man of the operation and runs the account and business side of the agency. Durket is the creative director, which includes managing artists, writers, and other creative staff. Durket started his career as a writer and outside of work, enjoys writing screenplays.
Durket and Meads became friends through business and their common love of advertising. Durket said his partnership with Meads is extremely important because their business is built around ideas.
"He knows a good idea and that's a very intuitive thing," Durket said of his partner. "There's a lot of people that just don't. They don't appreciate and they don't see the value of it. I really respect the fact that Gary does and knows how to nurture it and knows how to develop it…
"We both believe in the transforming power of idea. You know, all the companies we work with started as ideas."
Eight years ago, the duo adopted "Where the Turf meets the Surf" for the Del Mar race track ad campaign, said Meads. Bing Crosby wrote the song with John Burke and James Monaco in 1938, one year after Del Mar opened.
"We took the original recording and remixed it with a variety of genres (rock, reggae, jazz, etc.) but always led by Bing Crosby singing," Meads explained in an email.
The genesis of this year's campaign grew out of a theme of the classic pin-up girl, explained Meads.
"Then we thought, 'Well, who would be the perfect pin-up (model) and Chantal immediately came to mind because not only is she a beautiful woman but she's also an athlete and she's running at Del Mar," he said. "It just seemed to make a lot of sense and we presented the idea to her and she loved it."
When they first asked her to star in the TV spot where she also appears in jockey-style fashion, they were unaware of the Vanity Fair shoot, Meads said. The magazine photograph circulated throughout social media and raised Sutherland's celebrity profile so even though the timing was coincidental, it helped the campaign, he said.
When MeadsDurket takes on a new client they "dive in deep" to learn about company culture, values and what message the client wants to present to the public, Meads said. All these things add ingredients to the main recipe that Meads and Durket develop. It's building the brand, an advertising buzz word that Meads agrees seems ubiquitous these days but he says means a number of things to different people.
"For design studios often times it just means a logo. For us, it's really more the essence of who the company is and how they speak. It can come down to the way that the automated phone message is produced or the uniforms or the environment is designed. All of those things to us speak brand."
Meads said it's important to get the client on board with a campaign because they must take the lead on internal changes.
"We take it to a pretty deep level. Often times, I would say that 50 percent of the recommendations that we ultimately make to a client we don't execute because a number of them are internal" and they have to do it the way they operate, Meads said.
How a company can tell when it's time to seek outside help varies among clients, but one thing is almost certain, said Meads, it doesn't happen when a company is doing great.
"Usually there's a problem," he said. "It's like going to the doctor. Usually there's a slippage in business, there's a change in philosophy, there's a change in personnel. Something triggers the contact of a company like ours," Meads said.
Typically a client believes strongly in its product but can't figure out the best way to express its value to the market. The client needs a new way to talk about what the company does or what it sells — that's where Meads and Durket offer their expertise.
Solutions can be as simple as looking at past communications and realizing that more consistency is needed to present an understandable message to the public and potential customers. Other times it's reacting to the new kid on the block who has changed the competition in the market, Meads said.
"It's absolutely honest and it comes from the client," Meads said. "We're not fabricating a philosophy on a client. We're trying to uncover and understand what they are already doing really, really well and then articulate that."
What MeadsDurket provides "goes way beyond advertising," explained Durket, with a central creative idea that drives all communication for a company. To bring the brand alive Meads and Durket will collaborate with other companies who have various expertise, for example, in digital graphics or animation or videography.
"One of our strengths has always been to pull together the best resources to execute our ideas," Durket said.
That's why they chose photographer Michael Elins to work on the pin-up art done for the this year's Del Mar Racetrack.
"We basically sought out the number one pin-up artist (photographer), I would say, in the world and asked if he would be interested," Durket said. "Usually if it's a really good idea, they're interested…We couldn't have picked a better person."
The duo created familiar advertising campaigns in San Diego for clients that include utility company SDG&E, Pick Up Stix Restaurants, California Coast Credit Union and local auto dealers Honda and Jaguar Landrover in Carlsbad. Their vision for their own future is to be successful but not so much so that they lose touch with what they enjoy most.
"We like being a little smaller where Tony and I can both be intimately involved with our clients," Meads said. "So we don't want to get too big. But on the other hand, we are always looking to grow and expand and find new interesting and creative opportunities."
To see an example of the Del Mar Racetrack campaign and other works by MeadsDurket go to https://www.meadsdurket.com/.
---