Couple shares love of antiques and five generations of heritage at Bellini's in Solana Beach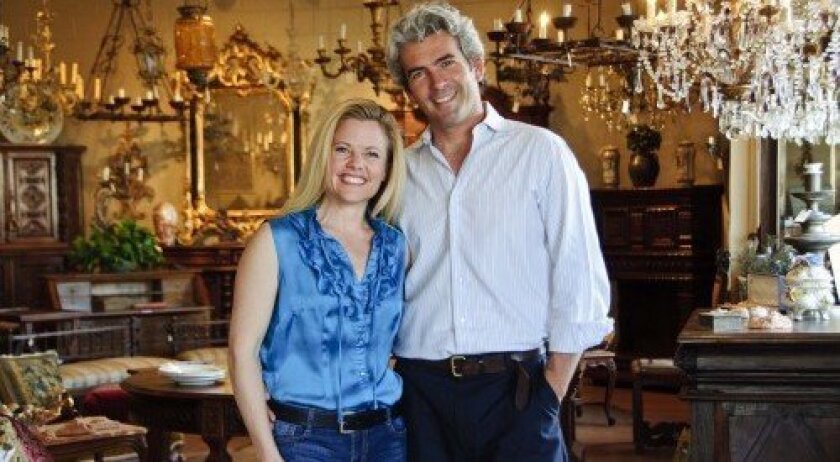 By Claire Harlin
He was a fifth-generation Italian antique businessman. She was the co-owner of a family antique business in Solana Beach. They met at an antique auction he was managing in Vista in 2001, fell in love, and in 2002, Bellini's Antique Italia was born.
Jacopo and April Bellini's store, where shoppers can often find Italian relics dating back to the 16th century, stood at the southeast corner of Cedros Avenue and Lomas Santa Fe Drive for about a decade before it moved to its current, more visible location across the street, where people driving to the beach or strolling the Design District can catch a glimpse through the window of ornate pieces of decor and sparkling chandeliers. But the Solana Beach landmark isn't the first Bellini's — Jacopo's father also had an antique business, as did his father's father, in Jacopo's hometown of Milan, Italy. He said the first family business was in existence around 1850 in Florence and was run by his great-great-grandfather. But back then, he said, the antique business was defined more by dealers and traders working out of warehouses than shop owners selling to the general public.
"Now it's about decoration, but back then it was about people collecting something they liked, something that was uncommon or strange or an artist's work that had perceived value," Jacopo said, adding that the first antique collectors in his family were collecting items dating back to the 15th century — items that would likely now be locked away in a museum or worth millions.
Jacopo's father, for instance, collects angel wings that were removed or broken off of statues during the early 1900s or prior, when sculptures — usually in the form of winged angels or demons — were most commonly commissioned by the church.
"There was a time when people didn't like the religious sculptures," he said. "They wanted something different so they took the wings off to not have the religious connotation, and it was hard to find a sculpture that wasn't commissioned by the church."
Bellini's keeps up the tradition of accommodating collectors, who will let Jacopo know what they are looking for before the shop owner heads off on his quests for antiques. Jacopo takes several trips to Italy each year, spending up to three weeks there, both visiting his family in Milan and traveling nationwide, visiting his sources who buy directly from private people and families, many of whom have held on to the antiques through many generations.
"Sometimes you can even get the story of a piece when it's been in the family," he said, adding that items are all packed carefully and fumigated for 28 days before being shipped in bulk to the U.S. If someone tried to buy a single item in Italy and ship it back under the same requirements, he said the process would be much more expensive.
The oldest items at the shop right now are a 17th century prayer bench, as well as some ornate wooden doors from that same time period. The couple recently sold a 17th century Venetian headboard for $14,000.
When it comes to seeking out items to sell in their shop, the couple has always employed a collaborative process. Jacopo even sends April photos from Italy of items in order to get her feedback.
"We kind of complete each other," Jacopo said.
April added, "We love what we do and the pieces we sell, and we share an appreciation for the story behind them. I always think about the time period, that maybe the person who made it was carving by candlelight, and I think about the tools they chiseled it with … It's an honor to bring these pieces here and to be able to provide them to others who might not know about them … It's about sharing the love and appreciation, but also the educational aspect."
For more information, visit
Bellini's Antique Italia is located at 117 Lomas Santa Fe Dr., Solana Beach, 92075; (858) 509-9399; Email: belliniimports@gmail.com.
Note: Business spotlights are developed through this newspaper's advertising department in support of our advertisers.
---