Culinary trio creates new catering and events company
By Kelley Carlson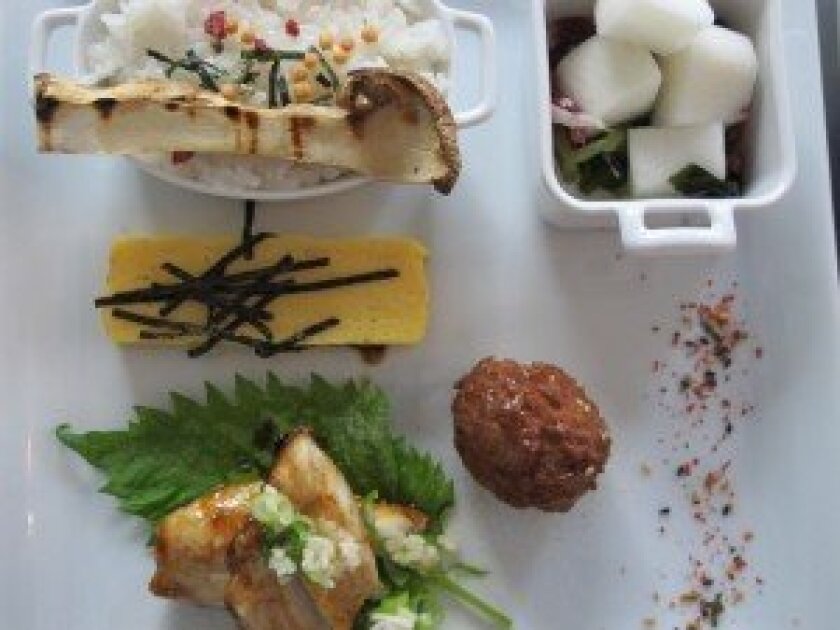 Stingaree Executive Chef Antonio Friscia has blended his culinary talents with two other chefs' skills to create a new catering and events company in San Diego County.
Campine, which officially launched this month, is the collaboration of Friscia; chef/partner Andrew Spurgin, formerly of Waters Fine Catering; and Brian Malarkey, chef/owner of Searsucker, Burlap, Gingham, Gabardine and the upcoming Herringbone. The venture assists with event planning — from backyard soirees to black-tie galas — and presents cuisine paired with mixed drinks from Snake Oil Cocktail Co. Campine has the ability to draw from resources made available through the chefs' restaurants, including talent booking, menu conception and event production.
"I'm thrilled to be working alongside two incredibly talented chefs and comrades in a way that allows us to evolve from the walls of our restaurants and bring the best of our offerings to people in unique and private settings," said Friscia, a Del Mar resident.
The 45-year-old is able to draw from years of experience in the food industry. His culinary training began at age 5, when he helped his father, Antonio, and grandfather, Carlo, at wholesale seafood distributor A. Friscia Seafoods in San Francisco's North Beach Italian community.
"It was my inspiration for cooking — seeing all the chefs as a kid, and all the action going on in the kitchen," Friscia said in an interview. "It was exciting to me."
He also discovered that the skill came naturally to him.
"In my family, all of them are really good cooks," Friscia said.
Upon earning a bachelor's degree in hotel and restaurant management from San Francisco City College, he left for Italy and studied under Chef Gualtiero Marchesi and Chef Nicola Tadescino at Scuola Albergeria, mastering Italian pizza and perfecting the art of rotisserie and grilling. He served as sous chef for Tadescino's Ristorante Pedrocchi, as chef/pizzaiolo for Ristorante Sei Camini, and was contracted to design and open an Italian restaurant at the Surya Beach Hotel on Bali.
After spending two years in Italy and one in Indonesia, Friscia traveled throughout Southeast Asia and Thailand, and took notes for future culinary endeavors.
Once he returned to the United States, Friscia opened five restaurants in the Bay Area. In 1998, he moved to Del Mar and became director of operations and executive chef for Alfiere Mediterranean Bistro at the Sheraton San Diego Hotel and Marina, before partnering with the Enlightened Hospitality Group to open Stingaree in 2005.
The idea of Campine — named for a heritage breed chicken — came to fruition last June. Malarkey and Friscia, who had done much fundraising work together and were longtime friends, began to toss around the idea of a catering company, despite being busy with their restaurants. According to Friscia, both agreed that their colleague Spurgin would be the best person to bring in for a catering and events business.
"Neither one of us is as much of a logistics type as he (Spurgin) is," Friscia said. "Both of us are chefs."
So they contacted Spurgin — who has won prestigious industry awards such as Catersource's ACE Award for Best Caterer in the West and the Spotlight Award for National Caterer of the Year — and he agreed to come on board.
"I have been in the catering business for 35 years and have experienced firsthand all of the incredible growth within the industry," Spurgin said in a news release. "That said, I know when it's time for a change, and Campine is exactly the invigorated change the catering business needs."
According to Campine's blog, the company's moniker was chosen because "sustainability and respect for food and its providence is a shared value to our kitchen. Without heritage breeds like the Campine and heirloom crops we risk losing critical biodiversity. We support local and regional farmers, fishers, ranchers and artisan producers first where possible. Choosing the name Campine symbolizes this important component of our makeup."
Each member of the trio has found a niche within Campine. Spurgin handles the logistical aspects and sales, while Malarkey, who was a contestant on Bravo's reality competition show "Top Chef," is a "PR machine," according to Friscia.
"Taking our show on the road to create incredible experiences that are different than what we're each individually known for, but are altogether uniquely Campine, is going to shake up the private event world," Malarkey said in a news release.
Friscia serves as the production chef and collaborates on menus, working out of the same space for Campine and Stingaree. He noted that he enjoys creating menus for people on the most special days of their lives.
"I like taking care of people, feeding them well, seeing them happy — it's the rewards of the job," Friscia said.
"I love what I do; I love cooking," the chef added, who is also accredited as an advanced sommelier with the Court of Master Sommeliers. "I always challenge myself. I have to play with food."
In fact, along with balancing Stingaree and Campine, the hard-working Frisica has recently taken on an additional role, as chef-partner at Galjin Noodle + Sake House in downtown San Diego. The restaurant opened at the end of February.
Despite working around the clock, Friscia manages to find time to spend with his wife, Stacy, and sons Nico, 13, and Zane, 9. Stacy has lived in Del Mar since she was a child.
"I'm happy to be doing what I'm doing, and to have the opportunity that I have," Friscia said.
For more information about Campine, go to www.campinecatering.com or www.facebook.com/CampineSD, or call (619) 704-7025. Campine is also on Twitter, at www.twitter.com/CampineSD.
---