Current and former Major League Baseball players speak at TPHS, offer advice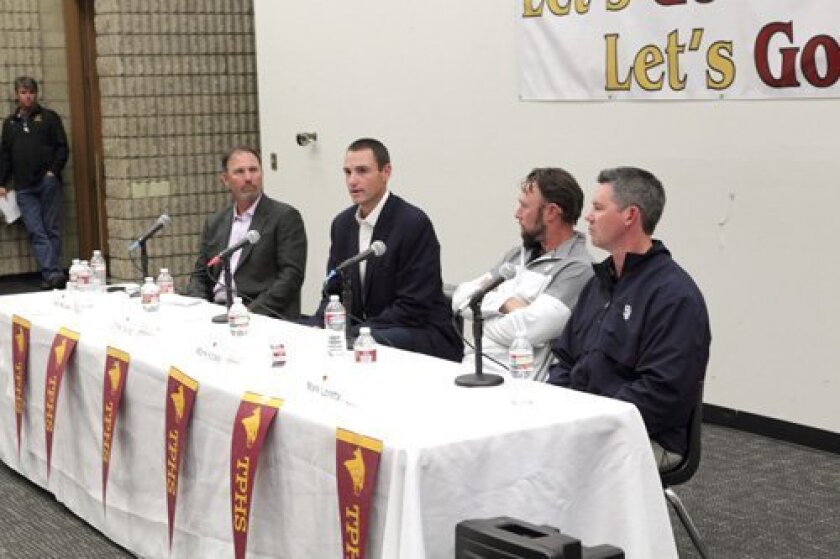 Panelists: TPHS Varsity Coach Kirk McCaskill (Univ of Vermont & MLB), Chris Young (Princeton University & MLB), Mark Kotsay (Cal State Fullerton & MLB), Mark Loretta (Northwestern University & MLB)
By Kristina Houck
How does a high school baseball player go on to play in college and beyond? There's no magic formula, current and former major league players told high school players during a panel Jan. 14 at Torrey Pines High School.
While a baseball player at Cal State Fullerton, Mark Kotsay won the Golden Spikes Award and was named College World Series Most Outstanding Player. But it didn't come without hard work.
The former major league player shared stories about his baseball career during the event, which also featured MLB pitcher Chris Young and former MLB infielder Mark Loretta. Presented by the Torrey Pines High School Foundation, event proceeds benefitted the TPHS Baseball Program.
Kotsay recalled how he sat out his first 15 games of his freshman year. His father drove from his Southern California home to see his son sit on the bench during an away game at Stanford University.
"I didn't pitch, I didn't hit and I didn't play. Out of the 25-man roster, I was the only guy that didn't play the game," Kotsay said. "It was one of those moments in my life I could either sulk or say, 'Hey, they made an honest mistake. At some point, I'm going to prove to them they made a mistake by not playing me.'"
With hard work and dedication, Kotsay started his 16th game. He went on to start every game in his college career and was later selected by the Florida Marlins as the ninth pick of the 1996 MLB draft. After the 2013 season, he retired from the San Diego Padres.
"Don't let size, don't let people's opinions determine your fate. Let yourself decide," Kotsay told TPHS baseball players. "Believe in yourself and set your goals. Hopefully, by hard work and dedication, you'll reach those goals."
Kotsay and his colleagues couldn't give a specific routine or tip to the players, but they repeatedly championed hard work.
"It does take thousands of hours," said TPHS Varsity Baseball Coach Kirk McCaskill, a former MLB pitcher. "While you're inside playing video games, there's a guy out there hitting, fielding."
Young, who made his major league debut for the Texas Rangers in 2004, said that fact still drives him today.
"It's almost a fear that somebody else is putting in more time than I am," said Young, a former Padres pitcher who recently re-signed with the Nationals on a minor league deal. "Mentally, I just can't get past that. I always think that I'm not doing enough. I need to do more and I need to keep working because if I'm not, somebody else is.
"Ultimately, if you want something badly enough, you'll put in the time and the effort to do it. You can't just say, 'I want to play college baseball' and hope it happens. You have to work for it."
In addition to practicing and playing, marketing helps.
Wearing Padres jackets, Kotsay and Loretta had just come from amateur scouting meetings. They explained that scouting "isn't an exact science," and encouraged players to market themselves to prospective colleges.
"Don't sit back, no matter how good you are, and expect schools to come to you," said Loretta, who made his major league debut for the Milwaukee Brewers in 1995 and retired after his 2009 season with the Los Angeles Dodgers. "Get out there and market yourself."
From showcases to highlight reels, every little bit helps. After all, only 5.6 percent of varsity high school baseball players ultimately play at the collegiate level, according to High School Baseball Web.
Still, with hard work and a little bit of luck, 5.6 percent go on to play in college, and some of those players go on to play professionally. Others realize new dreams through education.
Even after the Pittsburgh Pirates selected Young in the third round of the 2000 amateur draft, he completed his college education at Princeton University.
"You might have the same dreams we had, but your parents can't want it more than you do and you have to be realistic with yourself and know whether that's possible or not. But I'll tell you what is possible: your education," Young said. "If you hit the books hard, you can achieve and realize any dream you really have through your education."
---