Dancers at local North County Dance Arts studio win at competition
Members of the North Country Dance Arts competition team won multiple awards at the recent Count Down National Dance Competition Tour event held recently in Fallbrook. Over seven studios competed with some from as far away as Anaheim and Temecula. The venue includes some of the most competitive performances in the country. Various Carmel Valley residents were amongst the dozen dancers from NCDA who participated and placed. The categories included soloist and group acts in the areas of tap, jazz, lyrical and contemporary.
Melanie An, a sixth grader at Ocean Air Elementary School, performed a tap dance to "I Wish." Jacob Soble, a seventh grader at Carmel Valley Middle School, tapped to "Fishtrap." Both placed in the Top Ten for their division. Other winners included Rosemarie Marabella with a Scholarship Award, Christine Marabella, Melissa Schneider, Zackary Sommer, Lilah Horton, Neekon Fooladi, and the NCDA Jazz Line group also performed and placed.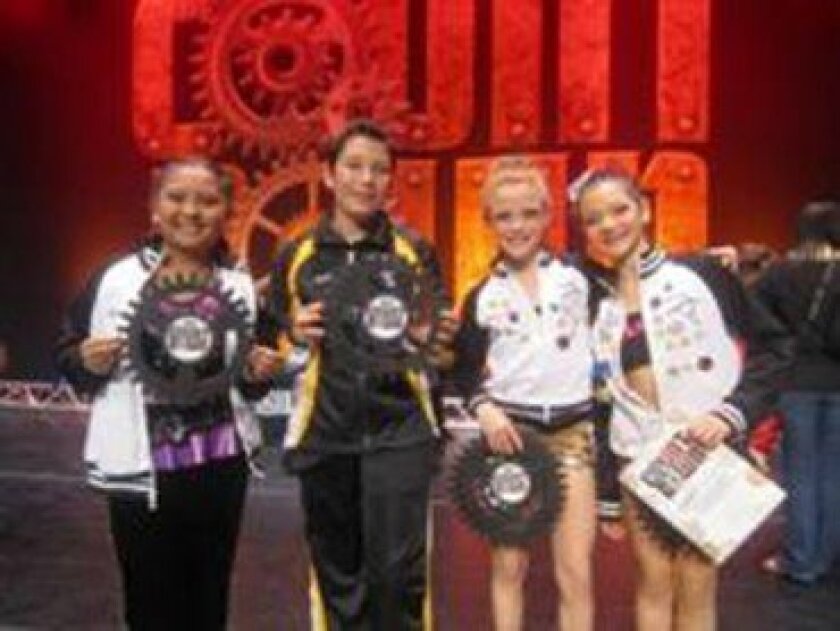 The dancers were all excited to have fared so well amidst the fierce competition. Melanie said, "This was a fun and challenging competition but, what makes it extra special is having our dance teacher Louis McKay with us back stage as we prepare to perform. He helps us prepare mentally which is just as important as knowing the dance routine."
With over 20 years in Carmel Valley, NCDA is one of the most established and well known dance studios in the area. It was started by husband and wife duo Louis and Tanya McKay who are both dancers with extensive backgrounds. Louis was choreographer and lead singer to Debbie Reynolds traveling with her show for eight years in the early 1980s. Tanya is a classically-trained ballerina in the Vaganova style. The current location is the last of what at one point included four studios for the dancing couple who still teach various classes.
When asked how he describes the studio atmosphere, Louis replied, "Home, we are all like a family with a true sense of caring. Our motto has always been 'When Love and Art Come Together, expect a Masterpiece.' As owners, instructors and choreographers, we take pride in bringing a passion for dance into the studio every day." He adds, "It's the loving environment that we, our staff and our students create that makes North County Dance Arts desirable. The studio has always been a happy and healing place for us and our dancers. Our goal is to continue to create excellent dancers and people."
Stephanie Heisay has three daughters who have been dancing at the studio for six years. She says, "I swear there is some type of magic fairy dust they sprinkle at that studio because the students there are just exemplary. The older ones serve as role models for the younger ones."
North County Dance Arts offers a special feature where dancers who are high school seniors are able to work at the front desk assisting with office functions and accompanying dancers to competitions. Tanya says, "We promote a mentoring environment at our studio. There are some young dancers who place their names on the list when they are 4 years old!" Some of the senior participants say it teaches responsibility as they catapult into college. Tara Aftahi, a senior at Torrey Pines High School, has been dancing at the studio since she was 3 years old and currently staffs the reception desk. She says, "Being a desk girl is something I have been looking forward to since I started dancing at NCDA. It's a blessing to be at the studio as a role model for the young dancers." She says she considers Louis and Tanya her second set of parents.
Many local talent personalities have been groomed at the studio, including actor Mario Lopez. Actresses Taryn Manning and Jolie Jenkins also studied at NCDA before making it big in the entertainment world. The studio will be holding its annual showcase recital at the Mandeville Auditorium on the UCSD campus July 27 at noon and 6 p.m. More information can be found at the website
---