'Dancing With the Stars' contestant latest in string of La Jolla Playhouse performers to hit big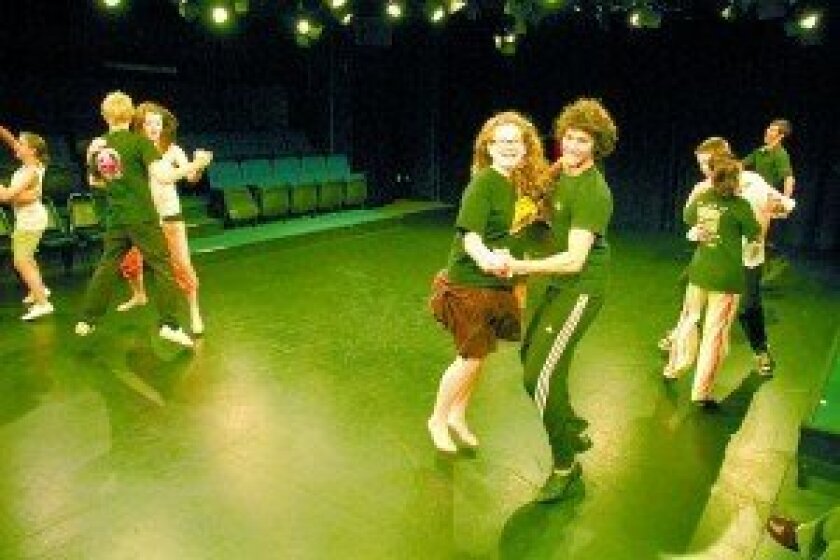 By Rob LeDonne
The current season of "Dancing with the Stars," one of television's most popular shows, features a who's who of recognizable faces. There's "Price is Right" host Drew Carey, NHL superstar Sean Avery, and legendary actor Billy Dee Williams — just to name a few. In addition, there's also one of San Diego's very own: James Maslow, the actor/singer who rose to fame as part of Nickelodean's Big Time Rush boy band.
Maslow, who was raised in La Jolla and attended Torrey Pines Elementary School, Muirlands Middle School, and San Diego School of Creative and Performing Arts, first stretched his acting muscle in the San Diego area and was active in local arts, including at the La Jolla Playhouse.
"I remember when he first auditioned for our conservatory program when he was about 17," said Steve McCormick, the Education & Outreach Director for the Playhouse. "The conservatory program is for the more advanced students, and I remember him being incredibly generous and comfortable. Some people come in and have an attitude, but not James. He gave a very relaxed audition."
The team at the Playhouse, including McCormick, saw something special in Maslow and he was admitted into its summer program.
"You have to have that certain spark to achieve greatness or fame, you can't teach it," notes McCormick. "In most cases, as an educator you can only perceive it and tease it out. James always felt like he knew his path, and he was always eager to learn. He asked a lot of questions and was forward thinking. We just enjoyed being around him."
A year later, Maslow sent his audition tape to Nickelodeon and was later cast as the character of James Diamond, who's referred in press materials as "the handsome one" of the group.
"He always knew what he wanted to do, and went down every avenue to pursue it," said McCormick of Malsow, who landed his first agent at age 14. "He's always had that drive to be a leader, and had confidence in himself as well — in the best way. When I heard he made it to Nickelodeon, it just made sense."
Maslow's partner on "Dancing with the Stars" is Peta Murgatroyd, and in the first few episodes he's won high praise from the judges and viewers alike. He's also not shy to remember his roots on the show: his official biography on the ABC website mentions the Playhouse (as well as his time studying at the San Diego School of Creative and Performing Arts), and in a recent episode he talked about his time growing up in San Diego.
Aside from Maslow's current notoriety on "Dancing With The Stars," the La Jolla Playhouse is no strangers to seeing locally trained talent explode on a national level. Sutton Foster, who appeared in the Playhouse's production of "Thoroughly Modern Millie" after its original lead actress dropped out, later went on to win a Tony Award for the role and is now the darling of Broadway. Nikki M. James, who played "Dorothy" in La Jolla's revival of "The Wiz," later starred in Broadway's "Book of Morman" and won her own Tony for the role in 2009. Christopher Douglas Reed, a native of Clairemont and a Playhouse conservatory alum who appeared in its production of "Tobacco Road," currently stars on the hit FX series "Sons of Anarchy" and has also appeared on Disney's "Wizards of Waverly Place" and HBO's "Eastbound and Down" — just to name a few.
Overall, McCormick (who's been working at the Playhouse for about a decade) is no stranger to seeing La Jolla Playhouse alum on television and in the movies. "It happens all the time," he explains. "Even if it's a small role. However, I'm not surprised James is as big as he is now."
"Dancing with the Stars" airs Monday nights on ABC (www.abc.go.com/shows/dancing-with-the-stars).
---